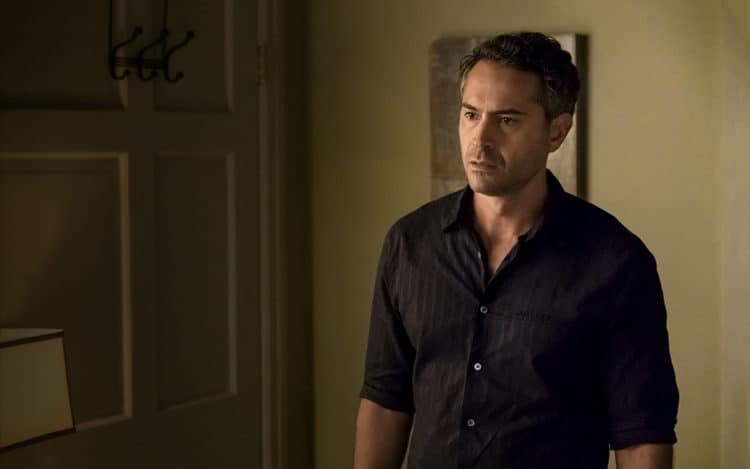 Most people wouldn't really know who Omar Metwally unless a movie is mentioned which he took part in. Omar has been gracing the silver screen for close to a decade now and yet he still remains in the shadows — perhaps because he is not interested in all the glitz and glamour that comes with being famous. You probably know him from Miral (2010) or Rendition (2007). His very well-known roles include Dr. Vik Ullah in the television series The Affair which airs on Showtime or Dr. Fahim Nasir in Non-Stop. His ongoing role as Agent Santiago on the television series owned by USA Network Mr. Robot is presumably his best works yet.
Who exactly is Omar Metwally?
Omar Metwally was born on 10th April 1974 in Queens, New York to a Dutch mother and an Egyptian father. He was however raised in Orange County where they moved to when he was 3 years old. Metwally graduated from the University of California Berkeley with a BA in History and earned a Master of Fine Arts in acting while acting in Bay Area from the American Conservatory Theater, San Francisco. Below is a list of things you didn't know about the rising star:
1. He is of mixed heritage
As stated in his bio above, Omar Metwally's mother is Dutch and his father is Egyptian. In terms of nationality, he considers himself to be American as he was born and raised in the US but still does not fail to acknowledge his mixed heritage Growing up however and trying to find acting gigs, young Metwally had to hide his heritage. According to LA Times, Metwally says the Arab community of actors get only pre-proposed roles as they are usually enlisted to act as terrorists, roles which leave most of the actors feeling conflicted and very guilty.
2. He is a director
Omar Metwally has directed a number of films and plays including directing, alongside Campo Santo, the world premiere of Habibi which was written by Sharif Abu Hamdeh. Another addition to his director hat is the Atlantic theater and NY Arab American Comedy Festival among others.
3. His character Dr Vik Ullah in The Affair was not a series regular
When Metwally auditioned for the character of Dr. Vik Ullah, he knew it was only supposed to be a 2 episode gig. However, the creator of the series Sarah Treem decided to turn his character into a series regular owing to the impressive work ethic that Omar Metwally had portrayed.
4. He hadn't initially planned on being an actor
Metwally attended the University of California Berkeley where he studied History so that he could become either a lawyer or dive into teaching. It was his little sister who actually convinced him during his last semester at UC Berkeley to enroll in an acting class. A decision which he says he enjoyed and which influenced him to enroll into the American Conservatory Theater for the graduate program for Fine Arts.
5. He worked on Broadway
Most, if not all, actors and actresses in Hollywood had their brief stints or started out on Broadway. Metwally isn't an exception. Sixteen Wounded was a show he performed on Broadway and according to Talking Broadway, the jump to Broadway brought him positive acclaim and he was named among the top 8 performers to watch out for in a New York Times article. The performance also bagged him a Tony award nomination in 2004.
6. He performed a monologue
He performed a character on a 3-part play called the Fever Chart in 2008 and his part of the play was a monologue titled The Retreating World. The play involved the memories that the characters held about the place they once knew as home. The play also dealt with various serious political topics such as the turmoil in Iraq, Israel, and Palestine.
7. He is Robert Downey Jr's doppelganger
A lot of people might miss this and if one is not keen you might end up missing it but if the two actors are placed side by side there's no telling the difference. The two actors are identical to the last bit. From their haircuts to their rugged boyish charm and look, the two are practically twins.
8. He is an author
At this point, it is safe to say that Omar Metwally is a jack of all trades. Apart from being an actor and director, he is also a writer and has written a few books. His most notable one is probably Fredrik's Winter: A Novel about Love, Mental Illness, and Rebirth. In this book, he talks about the experience that comes with psychiatric illness and the journey of self-discovery that the illness ultimately brings. The book is available for purchase on Amazon.
9. He is leaving The Affair
Towards the end of season 4, we learn that Metwally's character Dr. Vik Ullah is suffering from pancreatic cancer. His character eventually dies and Metwally leaves The Affair as a series regular. This doesn't mean that it is over for Metwally as fans may still get to see Dr. Vik Ullah in some episodes in a different capacity.
10. He was part of the cast of Nassim
Nassim is a theatrical off-Broadway play produced by Nassim Soleimanpour and directed by Omar Elearian. Theater Mania describes the play as follows: no rehearsals, a sealed envelope, a different guest actor with every performance and more surprises. Omar Metwally went on stage on December 15th at 7:30 pm.
Tell us what's wrong with this post? How could we improve it? :)
Let us improve this post!