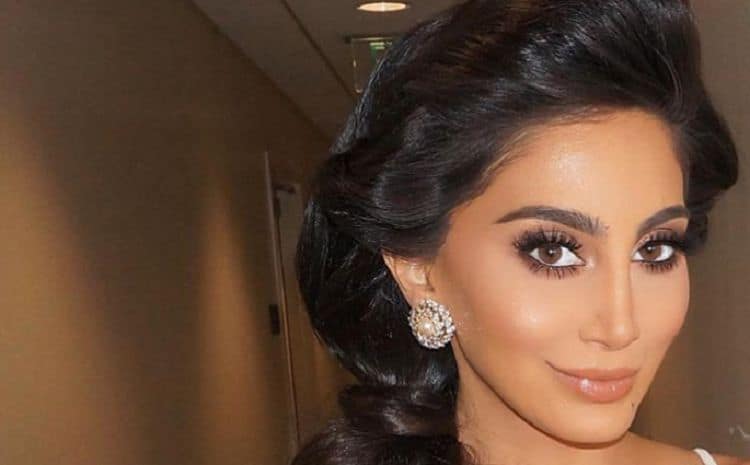 If your guilty pleasure is reality TV then you must have come by the name Lilly Ghalichi or heard it somewhere. Lilly Ghalichi starred in the reality show Shahs of Sunset that airs on Bravo where she rose to fame. Ghalichi, however, isn't new to the whole acting scene as she has made notable appearances in episodes on TV series such as Big Morning Buzz Live, Good Day LA, Bethenny, Dr. Mona Vand: The Modern Pharmacist, and The Shahs Come Clean with Nadine being her screen credits. For those who have no idea who Lilly Ghalichi is, this post might let you in on some information about the celebrity.
Who is Lilly Ghalichi?
Born as Neelufar Seyed Ghalichi, Lilly was born in April 1983 in Houston Texas in a Persian Muslim family. She has 2 siblings, a sister named Yassamin and a brother named Mohammed who also appeared in Shahs of Sunset. Her brother is actually a cardiologist by profession. Ghalichi attended the Mccombs School of Business, at the University of Texas for a Bachelors degree in Business. In 2008, she attended the Loyola Law School in Los Angeles to get her law degree. She received her Juris doctor and passed the bar to become a licensed attorney of the state of California. Here are 10 facts about Lilly Ghalichi that you probably didn't know:
1. Lilly Ghalichi is a nickname
When the reality TV star was born, she was given a Muslim name, Neelufar Seyed Ghalichi. When she moved to Los Angeles from Houston where she was raised, she changed it and begun referring to herself as Lilly to keep up with her growing social status.
2. She hated practicing law
While it is obvious that Ghalichi isn't just another beauty without brains considering her 2 degrees, the star actually hated practicing law. According to Arabian Business, Ghalichi says she felt really out of place being an attorney and therefore decided to quit law to pursue her real dreams. One would wonder why she decided to study law in the first place but for Ghalichi, law was her contingency plan in case her dreams didn't pan out as she planned. From where she sits, quitting the practice was the best thing she ever did.
3. She started her business with no experience whatsoever
It is not difficult today to hear of a successful brand that begun with little to no experience. Lilly Ghalichi joins the pack. After quitting the legal world, she decided to begin her first business with zero experience. The business was her swimwear line. She obtained a $10,000 loan from a friend and added her savings to it and decided to start her 'Have Faith Swimgerie which was inspired by lingerie. It is now a big swimwear line in the US today.
4. She's a successful entrepreneur
Lilly Ghalichi owns and runs Ghalichi Glam which houses her very own false eyelashes line called Lilly Lashes which are the number one falsies brand in the US today, worn by stars and celebrities such as Kylie Jenner and Christina Aguilera. The company also includes her own hair extensions line called Lilly Hair which she attributes to her Texan nature to love big hair, a line of exquisite jewelry called Lilly Ghalichi by Avitan, a brand of non-alcoholic champagne called Glampagneand an online clothing retailer called 'WantMyLook which provides affordable luxury clothes for its buyers. She also runs an online beauty academy called GhalichiGlam.com which provides makeup and hair tutorials as taught by leading Hollywood celebrity artists.
5. She is actually not a rich kid
Contrary to the stereotype she portrayed in the Shahs of Sunset as the Persian Barbie, Ghalichi didn't grow up with the luxuries she enjoys today. Her parents having been immigrants, they had to work extra hard to provide for her and her siblings.
6. She left Shahs of Sunset on her own and was not fired
Every reality show has its own drama and Ghalichi's costars have been speaking to tabloids and spreading rumors that she was fired from the show since she didn't bring in more drama. Lilly Ghalichi left the show on her own to focus on her growing business empire.
7. She is also a designer
At this point, it is apparent that Lilly Ghalichi wears many hats. Apart from being an entrepreneur by day, she also designs her own clothing line. She premiered her 'WantMyLook' collection at the New York Fashion Week.
8. She is the mother of one
Just by looking at her, you'll be forgiven to assume that Lilly Ghalichi is a 20-something-year-old who has never given birth a day in her life. She recently gave birth to her first child Alara and she has since been open about her motherhood journey.
9. She plans to be an author
Her writing plans according to Bravo TV are inspired by the struggles she underwent during her pregnancy and the delivery period. She plans to write a book called 'The Truth about Childbirth' to inform and teach new soon-to-be mothers about the journey.
10. She has had plastic surgery
Unlike other celebrities in Hollywood, Lilly Ghalichi is quite open about her plastic surgeries and the complications that come with the procedures. She detailed her lip filler injections on her Instagram stories and her blog and also documented her breast implant recovery after one of her implants ruptured.
Conclusion:
We all love a great success story and Ghalichi's story is one. Raising a multi-million empire with no experience and only relying on faith and little education is truly a great inspiration. Ghalichi plans to expand her false lash line Lilly Lashes to the Middle East. There's stiff competition from other beauty gurus such as Huda Kattan who have already popular lash lines in the market in the Middle East but the star is ready for what is to come. Lilly Ghalichi is not only a ground-breaker, but she is also a break-away concept from the usual socialite cliché with so much working out for her.
Tell us what's wrong with this post? How could we improve it? :)
Let us improve this post!