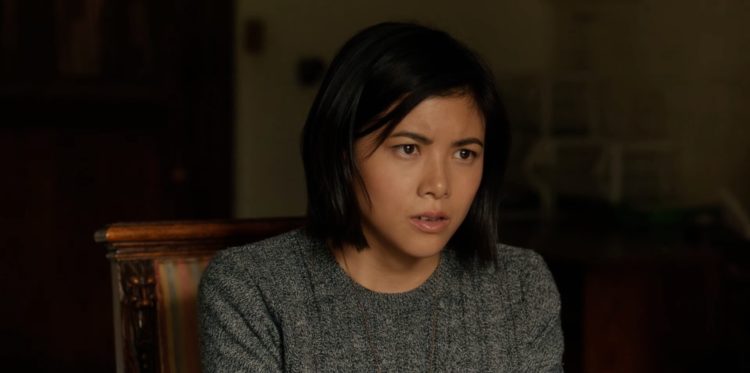 Celine Tsai certainly doesn't have the longest acting resume (yet), but in just a few years she's already managed to get more than a dozen on screen credits. Through the work she's done, she's shown that she has everything it takes to have a long lasting career and that's exactly what she's working towards. Anyone who has ever seen her work knew that they were witnessing something special, and those who haven't seen her in action yet are in for a real treat. While she doesn't have any upcoming projects on the way at the moment, we definitely haven't seen the last of Celine. Continue reading to learn 10 things you didn't know about Celine Tsai.
1. She's Into Improv
Celine is always looking for ways to express her creativity, and a few years ago she realized that improv was the perfect way to do that. During an interview with LRM Online she shared that she had gotten involved in the improv scene and she was working on some sketch comedy with a friend.
2. She Has Theater Experience
On screen roles are what has gotten Celine the most attention from the mainstream, but she got her start in theater and the stage is where she feels the most at home. Now that her film and TV career has taken off a bit, it'll be interesting to see if decides to continue auditioning for theater roles.
3. She's A Writer, Director, and Producer
Oftentimes, people are encouraged to pick one lane and stay in it, but Celine has never let that way of thinking keep her from exploring other interests. She also enjoys telling stories from behind the scenes and she has written, directed, and produced a couple of projects over the years.
4. Social Media Isn't Really Her Thing
If you were hoping to keep up with Celine on social media, I have some bad news for you: there isn't much to keep up with. Although she does have an Instagram account, it doesn't have any posts at the moment. It's unclear whether the account is new or if she's simply chosen to take all of her posts down.
5. She's A Singer
Acting isn't the only type of entertaining Celine is good at. Celine is a very talented singer although it doesn't appear that she has released any music. Unfortunately, since there isn't a lot of information online about her, we weren't able to find out any information about her history with singing.
6. She Loved The Opportunity To Play Someone With A Dark Side In Stealing School
One of the best things about acting is that it gives people a chance to step outside of themselves and be someone completely different. This was the main thing that attracted Celine to her role in Stealing School. She enjoyed being able to play someone who had a little bit of a bad side.
7. She Had A Great Time Filming Ready Or Not
Celine's role in the 2018 film Ready or Not wasn't very big, and she even joked when talking to LRM Online that if you sneeze while watching the movie you'll miss her. Despite that, she still had an amazing experience on set and she's thankful to have been part of the project.
8. She Has A YouTube Channel
Since we've already established that Celine isn't the most active social media user, you can probably guess that there isn't much to see on her YouTube channel. Although she created the channel back in 2010, she has only uploaded a handful of videos since then and many of them have featured her singing covers. Even though she only has 100 subscribers at the moment, she her channel has more than 1,800 views.
9. She Likes Her Privacy
When people work in the entertainment industry, the public tends to assume that they love being the center of attention. That isn't always the case, however. There are lots of actors who prefer to stay away from the spotlight when it doesn't have anything to do with work. So far in her career, Celine seems to be one of those people. In addition to not being active on social media, she also doesn't do many interviews.
10. She Loves Languages
We may not be able to learn anything about Celine by scrolling through her social media, but her bio does reveal some interesting information about her. According to her Instagram bio, she is a "language nerd" which leads us to believe that she likely speaks more than one language. We weren't able to confirm this, however.