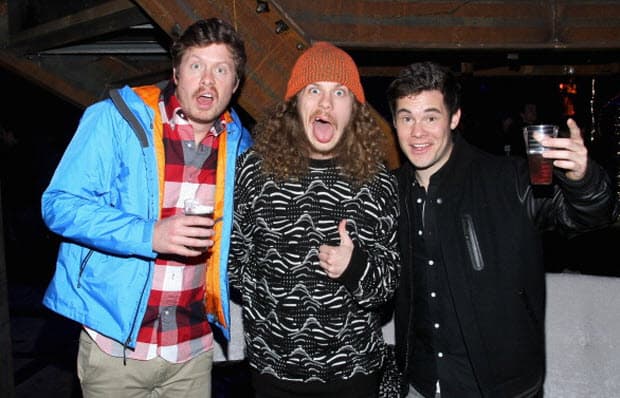 I'm really going to be depending on Workaholics in a couple weeks because a lot of my weekly shows are beginning to finish which only puts more pressure on whatever's left to entertain me; and last night's episode, "Timechair," felt like nothing more than a disappointing filler episode. It felt weird that to see the Workaholics actually at work for once, especially when this season has made it feel like Bill is the only one who works there with the guys. This season has just felt absent of its supporting characters which, exactly like my weekly TV schedule, then relies entirely on Adam, Blake, and Ders to be funny while also having a great story arc. When this works, it can create some of the best Workaholics episodes; like I've been saying, this season we got "Brociopath," "We Be Clownin'" and "Beer Heist," which were fantastic. Yet, on the other side of the spectrum we get episodes like "Timechair".
After trying to weasel their way into riding go-karts at another company's employee appreciation day, Adam, Blake and Ders head inside and angrily confront Alice about TelAmeriCorp never showing employee appreciation. After she puts them down, they are cheered right back up with the discovery of a flyer offering a free massage chair. Of course the three slackers would love to have one of these in their house but find out that there is another person scheduled to pick it up at 2 p.m. but if they can get there first, it's their chair. They barely get out the door of the building before arguing about who should get the chair and then the episode turns into an episode of Workaholics Mario Kart.
The rest of the episode was a race of shenanigans between Adam, Blake, and Ders to see who could reach the massage chair location first. Blake steals Ders' car and pops both of his back tires, forcing them all to steal go-karts from the opening scene. From here the episode just gets boring as they try to sabotage one another hoping to get a lead in the race. Eventually Adam gets a sitting on the front of an ice cream bicycle, Ders steals a RipStick and Blake exchanges his drugs for a ride from a pizza delivery person. They finally arrive at the house but discover they are moments too late as they watch their prize get swept away in a truck.
Recognizing that they have screwed up, the guys are back together and have devised a plan to make it seem like Adam has been hit by a car and his arm is badly broken. The first part is a success and the man with the chair stops to call 911. This gives Blake time to tie the chair up with rope so that he and Ders can hoist it up from the overlooking bridge. Per usual, there plan appears that the guys are going to succeed, the chair is securely within their grasp, Adam runs away, and the truck driver leaves without knowing what just happened; however, these guys never truly had a chance from start, and right when the chair seems to be theirs, a semi-truck comes speeding by, hits the chair head on and explodes it. So they return to the office, filled with disappointment and defeat, but like all Workaholics episodes, they find out that they find out that their efforts were unnecessary and end up ruining situations for everyone. Alice tells them that she thought about their employee appreciation complaints and was having the massage chair picked up for everyone in the office to use. Womp.
"Timechair" wasn't a terrible Workaholics episode, but it just felt so bland. It's fine that they follow same story structures, like I've said before, it works, that's why myself and other people like the show; but when the show completely relies on the dialogue and interactions between Adam, Blake and Ders, there's a chance it will be a miss. I thought that last night's episode had some good one-liners but could have delivered more; maybe this comes by bringing Jillian and Montez back. Either way, the Workaholics fourth season has delivered a bunch of great episodes, but I hope that they can bounce back from the two week rut.
My Moments of the Night:
– Adam's going to Heaven because before he dies he is going to join every single religion.
– Their little Friendship, power, perseverance song was funny.
– The chair should definitely go in Ders' room because he has upscale décor and a 300 disc music carousel.
What did everyone else think of last night's Workaholics episode? Let me know why you did or didn't like it!
[Photo via Rob Kim/Stringer]