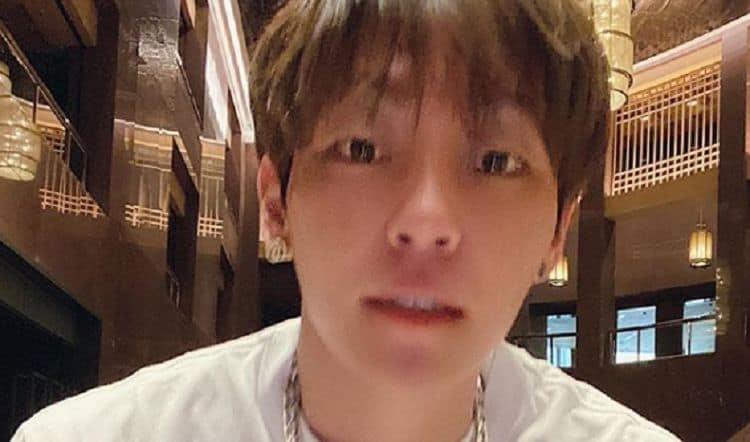 Since August 2017, the K-Pop band, The Rose, have been a sensation with their debut single "Sorry" garnering more than 3 million views in four months. The group comprises four members and Woosung's control over his raspy vocals was so impressive that Rolling Stone India had to comment on it. Now that he launched his solo mini debut album on July 25, 2019, you must be wondering who this artist taking the world by storm is. Well, we have gathered a few facts disclosed on Channel Korea and rounded them up for you.
1. Having bad skin lowers his confidence
If there is one industry that will always have a ready and willing market, it has to be the beauty industry. People care about their looks, so they spend hours in the salon, gym, and doing yoga. However, no matter how great your hair and body look, if the face has blemishes and pimples, your self-esteem is bound to take a hit. Woosung feels that having clear skin is part of his job description, and even when he was in high school, bad skin made him feel less confident.
2. He splurges on skincare products
Since Woosung's career depends on his looks, he is not shy about spending loads of money on skincare products. Although Jaehyeong, a fellow group member, has the most extensive skincare routine, Woosung spends over a hundred dollars on toner, lotion, and serum. He and his colleagues were shy about visiting shops to buy beauty products. However, now Olive Young has become the go-to store for all their skincare needs. The store is according to Allure, an equivalent to Ulta and Sephora combined.
3. He was the last to join The Rose
Most of the times, when you are behind the formation of a group, whether academic, music or otherwise, you want to be the leader. However, The Rose comprises four members, and Woosung was the last one to join, yet he is not only the lead vocalist and electric guitarist, but he also is the leader. The band began with Hajoon and Jaehyeong in 2015. Jaehyeong then recruited Dojoon as 2015 ended and later on Dojoon recruited Woosung, whom he had met through a mutual friend.
4. He can't speak Spanish despite learning it in high school
Scientists say that learning another language when you are much older is difficult and Woosung has proven it to be true. Some people can speak three or more languages fluently, but usually, it is because they were exposed to them at an early age. Even "Daddy Day Care" showed how the principal of Chapman Academy was proud to expose her pupils to different languages when she said they were introducing Portuguese. Woosung was in high school where he was taught Spanish for three years, but he cannot speak a word of it today.
5. He has a movie-watching ritual with the other members
Couples will usually rent out movies for that romantic night and go all out on candle-lit dinner for their anniversary. However, as for Woosung and his members, they welcome each month in style. Instead of going out to have fun, they watch "Sing Street" on the first day of every month. Whether it is an attempt to keep the bond alive or just their way of being grateful for another month, The Rose enjoys the musical comedy-drama. Perhaps they can relate to the experiences of the band in the film.
6. His favorite movie is "The Lion King"
For a person who was born in 1993, it is no wonder that Woosung considers Disney's "Lion King" a movie he loves to watch. It was the favorite of almost all the 90s kids, and it must have been captivating enough for Jon Favreau to make another film based on it. Woosung also loved the movie so much that his favorite animal is the lion. Being that the lion is the king of the jungle, Woosung must get his inspiration from the animal to enable him to facilitate his duties as the leader of The Rose.
7. He does not mind showing off his body
Women will shave off their legs and lose a few pounds preparing for summer to wear bikinis because they want ideal bodies lest the pictures are ruined. Men usually do not have a problem with their looks and Woosung is so comfortable in his skin that he walks around naked in the house. This fact is despite living with his members in the same house, so nudity must not be a problem for the young musician.
8. He is lactose intolerant
Most people suffer through abdominal cramps and bouts of diarrhea before realizing that they are lactose intolerant. Woosung was diagnosed early enough, so he has to avoid all kinds of dairy products. So bad that he cannot enjoy the delicious yogurt, or maybe he does with the help of a few tablets to help digest lactose in milk and milk products. Whether he takes dairy products or not, he still looks healthy, so it is not that much of an issue.
9. He has tattooed his mom's birthday on his arm
People do all sorts of crazy things as a show of their love. A man will take his partner to Paris to propose, and a woman will tattoo the face of her boyfriend or his name, hoping their love lasts a lifetime. Woosung's gesture of love towards his mother was to tattoo her birthday in Roman numbers on his arm. Or maybe since men are forgetful, he had to make sure he never forgets her birthday by carrying it with him wherever he goes. The bottom line is Woosung seems to have a close relationship with his mother, and he would never want to forget to wish her a happy birthday.
10. He looks up to his father
As an artist, you would expect Woosung's role model to be someone in the music industry. Dojoon's role model is American singer-songwriter Jason Mraz, but Woosung has gone down a different path. Woosung's role model is his dad, although not much has been disclosed as to why he looks up to his father.The Lion King
Tell us what's wrong with this post? How could we improve it? :)
Let us improve this post!