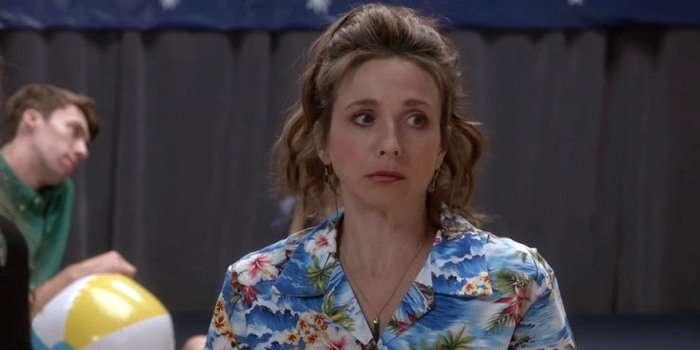 Believe it or not there are still stars out there like Marin Hinkle that are basically just kind of there to do their own thing and aren't a part of anyone else's agenda when it comes to show business. She's been around long enough now to know the game and to understand how it's played and yet she doesn't seem to ascribe to a lot of it as she goes her own way more often than not in order to get the job at hand done. There are so many actors to get to know in Hollywood that it might take a solid month to even make a dent in their numbers, but a lot of them are at least worth knowing something about since they tend to pop up when you're not expecting it. Marin has been around for a while and she's seen enough of the business to know when and where her chances are best to be a part of something great.
Here are a few things you might not have known about her.
10. Her original plan was to be a ballerina.
This would have afforded her a much different career choice but unfortunately an injury at the age of 16 kind of curtailed that dream and she turned to acting instead. It almost seems fortuitous since ballerinas tend to work so much harder on their bodies than actors in various ways. But it was a nice dream all the same.
9. She's been a stage actor.
In some ways this almost seems like it should be a prerequisite for actors these days since it seems that a lot of them, especially those that have managed to keep and maintain solid careers, have had their turn on the stage.
8. She was in I Am Sam.
It's a bit hard to find her in this film but anyone involved in it had to think that they'd been a part of something special. It would be hard for even the most jaded viewer to say that the film was in any way mocking those with any type of mental deficiency since the roles were performed beautifully and in a very realistic manner.
7. She had a role in the recent Jumanji film.
If it's hard to find her in I Am Sam then it's a fleeting moment of here and gone in this film since she plays Spencer's mom, meaning that she's there for a brief moment and then gone for the rest of the film since it focuses on the kids and the adults that serve as their avatars.
6. She's had a lot of TV roles.
Marin hasn't been idle in her time as a star since she's been seen in many a TV show, in TV films, and has made her way throughout the business in the couple of decades that she's been around. Chances are she's seen a little bit of just about everything since she's one of those that might be close to being called an old-timer. But not yet.
5. Her career started in 1994.
Those that started in the 90s had a distinct edge in that they were getting in on a decade that was seeing a massive amount of change as the 80s were over and in the past and there was no telling what was coming up next since the 90s was almost completely new without as much nostalgia to work with when it came to show business. The Attitude Era wasn't just in the WWE after all.
4. Her parents met while serving in the Peace Corps.
This is the kind of story that you might want to tell your kids if they were born in the last fifty to forty years and it would seem entirely feasible. But given the state of things now many peoples' parents might tell a different story.
3. She's been nominated for awards in the past.
Her contributions to the screen haven't gone unnoticed and it's been enough to be nominated since it means that she's doing something right and that people have lauded her for it. Winning would be great, but too much winning tends to make actors a bit too overconfident and can weaken their grip on the edge that's needed to really give their best.
2. Her net worth is in the millions.
Quoting what she's really worth might not be such a good idea, in fact it's not a good idea with any actor since it can fluctuate and it's nice to be as close to accurate as possible. But guaranteed she's worth more than just a pretty penny.
1. She's just now becoming active on social media.
It might be hard to believe but not everyone is hooked up to social media in the same way that the newcomers and those that have adapted to their online presence are. She's getting there, just don't expect her following to grow overnight.
She's definitely one of those actors that a lot of us miss since she's all about the job.