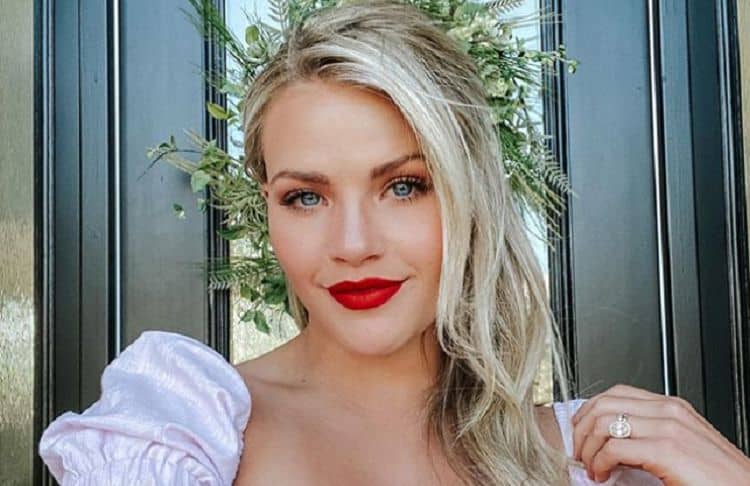 Generally speaking, most people will recognize Witney Carson because of her role as a Latin ballroom dancer on Dancing with the Stars. However, she has been involved in other ways with other projects, meaning that it would be a mistake to think that she is nothing but that. Here are 10 things that you may or may not have known about Witney Carson:
1. Born in American Fork, UT
Carson was born in a place called American Fork, UT. Initially, the place was called Lake City. However, a choice was made by its residents to change its name to American Fork in 1860 for two reasons. One, there is a river called the American Fork River that runs through it. Two, the residents didn't want their home to be confused with the more prominent Salt Lake City. As such, Lake City became American Fork, which is the name that it continues to use in the present time.
2. Started Training When She Was Young
Perhaps unsurprisingly, Carson started training when she was still young. In fact, she was no more than three when she set foot on the path that would see her become a professional dancer. Naturally, while Carson is best-known for being a Latin ballroom dancer, she is trained in a wide range of other dances as well. Examples include but are not limited to ballet, hip hop, and tap.
3. Got Noticed Because of So You Think You Can Dance
Carson got a lot of attention because of her participation in Season 9 of You Think You Can Dance. In that season, she managed to make her way into the top 6, though she winded up being eliminated before she could proceed further. Still, Carson managed to make quite an impression on a lot of people out there. Moreover, she was memorable enough that she was invited back as an all-star in Season 10 of the show.
4. Has a Family History of Cancer
It is interesting to note that Carson's family has a history of skin cancer. Both Carson's mother and Carson's father had skin cancer, which is why they made sure that their family members would get checked for skin cancer on an annual basis. This makes sense because while there is a wide range of factors that can contribute to someone getting skin cancer, genetics is definitely one of them.
5. Cancer Survivor
Fortunately for Carson, her parents' thoroughness paid off in the sense that the medical professionals managed to find a cancerous mole on her left foot before it could spread. As a result, the medical professionals were able to solve the problem by removing the cancerous mole plus the surrounding tissues without having to use chemotherapy. Something that should serve as an excellent reminder to people that preventative career has real benefits that make it more than worth the time, effort, and other resources spent upon it.
6. Successful Rehabilitation
Given the fact that Carson is now a professional dancer, it should come as no surprise to learn that she managed a successful rehabilitation with the help of her doctor, who worked to clean out the scar tissue again and again. This is notable because professional dancing is very physically challenging, which is why there are many, many people out there whose dream of becoming a professional dancer has been derailed by one kind of physical woe or another.
7. Her Father-in-Law Wasn't As Lucky
Unfortunately, Carson's father-in-law wasn't as lucky. Initially, it was thought to be a relatively minor issue. However, it turned out that his pancreatic cancer was much worse than what had been hoped, seeing as how it had already spread throughout his abdomen. Due to this, there wasn't much that the medical professionals could do because our cancer combating capabilities are still very limited in nature, though it should be mentioned that Carson's father-in-law did decide to fight against his disease anyways by going in for another round of aggressive chemotherapy before the end.
8. No Longer Sees the Scar on Her Foot in the Same Way
Nowadays, Carson no longer sees the scar on her foot because of her skin cancer in the same way. It used to be that she was disgusted by the sight of the scar, not least because it was a reminder of the worst time in her entire life. In part, that was because Carson felt betrayed by her own body because she was so helpless for so much of the time. However, there was also the fact that she couldn't confide in many people because she was afraid that the news of her skin cancer would cost her her dancing career, meaning that she was stripped of much of her potential support network. In the present time, Carson sees the scar as more of a catalyst for everything that has happened since.
9. Supports the Fight Against Cancer
Naturally, Carson is very much a supporter of the fight against cancer. For instance, she has been known to speak out about her own struggle with skin cancer, which is critical because more awareness means more people taking the steps needed to catch their own cancers in time for the best chances of survival. Likewise, Carson has been known to visit people who are struggling with their own cases of cancer, thus providing them with support.
10. Is a Mormon
Religion-wise, Carson is Mormon, which is perhaps unsurprising considering that she came from Utah. There is a strong connection between Utah and Mormons because the Mormon leader Brigham Young led the Mormons to what was then the Utah Territory in the mid 19th century. As such, the center of Mormonism remains Utah. Furthermore, there are more Mormons living in North America than in any other continent, though it is interesting to note that the faith has spread enough that there are now actually more Mormons living outside of the United States than in the United States.