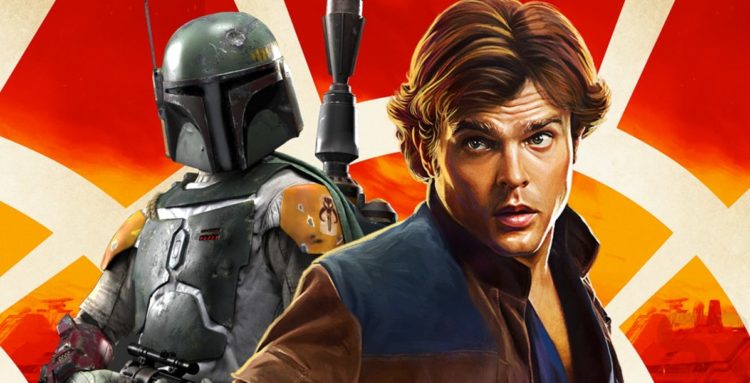 If you think there's a chance that Han Solo, who is arguably the most well-loved Star Wars character ever, will ever appear in another Star Wars movie again, you're probably dreaming. As a matter of fact, I wonder how much Disney paid Harrison Ford to make his small cameo appearance in the Rise of Skywalker? Probably a lot, but that was worth it, because that emotional moment he had with his son Ben was one of the highlights of that movie. I honestly didn't think Harrison Ford would ever reprise his role again, given how adamant he was about killing off Han Solo. Again, they probably wrote him a pretty check, but I wouldn't bet money on him ever reprising that role again. Depending on how you felt about it, the last Han Solo appearance in a Star Wars movie was in the 2018 Solo: A Star Wars Story movie itself. It was a fun ride, but to the dismay of many fans, it wasn't Harrison Ford. How can you possibly have Han Solo without Harrison Ford? Well, they did it and it wasn't the smash hit it should've been. That's probably not how many fans would want the character's last big movie appearance to end, but does it really count if there's no Harrison Ford? If you're torn on this, I get it, I kind of feel the same way. Either way, I think the journey of Han Solo is at an end.
Now if you're expecting a sequel to the 2018 Solo movie, that might happen. That's another thing I wouldn't bet money on, given that the movie fell short at the box office, but I believe in never say never. If it happens, then good, we got another Star Wars movie where we get to see Han Solo go on his adventures with Chewie. And let's just make peace with the fact that Harrison Ford probably won't return. I know that's heartbreaking, but he seems more interested in finishing the story of Indiana Jones. So I'm still pretty torn on what Star Wars should do with one of its most iconic characters. I do think they should leave his story at where it ended. On the other hand, it's hard to say no to more Han Solo. Is there more of his story to tell? Given that he has lived for so long, at least compared to most Star Wars characters, I'm certain there's much more to his story than what we saw in the movies. I'm not just talking about his time as a smuggler either.
Let's divert for one minute and talk about a particular upcoming Star Wars Disney+ series. We now know that The Book of Boba Fett will premiere on Disney+ on December 29th. That's exciting news, because we really just want to see more Boba Fett in action. Oh, how The Mandalorian truly made him a character we can finally really appreciate. I'm very stoked to see his adventures, but there's something about it that's making me wonder. It's called The "Book" of Boba Fett for a reason. That reason is that the book itself is basically a hit list of the people who have wronged Boba in the past. So the synopsis of the series is Boba Fett, along with his partner Fennec Shand, hunting down those who tried crossing him. He also took the throne of Jabba the Hutt and has now established himself as the new crime lord of Tatooine. This could mean that Boba Fett might have a lot more than revenge on his mind. It's possible he could be looking to consolidate his hold on the criminal underworld of Tatooine and begin to build a syndicate of his own. That sounds very awesome, but he still has a lot of enemies he needs to deal with.
We can only assume there are a lot of rival bounty hunters and old clients he has a grudge against, but we do know there is one particular enemy of his who permanently scarred him. Remind me again who unintentionally knocked him into the Sarlacc Pit? Our favorite smuggler, Han Solo. Yeah, we know Han didn't intentionally hit his jetpack, but that probably means little to Boba Fett. Would it make sense for Boba Fett to seek revenge on the man who was responsible for maiming him and losing his armor? Oh, I strongly believe so. This leads me to believe that Boba Fett is bound to have another showdown with Han Solo. Five years after the events of Return of the Jedi, the two men are living two totally different lives. Boba Fett had to spend time licking his wounds and searching for his lost armor, while Han Solo began a simpler life with Leia Organa. By the time of The Mandalorian, Han Solo had already had Ben with Leia, but we know that their relationship didn't last very long. And as for Luke, he was off attempting to rebuild the Jedi Order from the ground up. With Han Solo struggling to be a father and doing his smuggler work on-and-off again with Chewie, him and the others didn't think twice about Boba Fett surviving the Sarlacc Pit.
This time around, it looks like Boba Fett is taking a more anti-hero approach. He's not going to go back to working for the Empire, but he doesn't forget who has crossed him. We get why he would want revenge on Han Solo and his friends and he'd be more dangerous this time. This is something that would be cool to see, but I can't see it happening. The obvious reason is Harrison Ford's desire to move on from Star Wars. Could he possibly do what Mark Hamill did and make an unexpected cameo appearance? They would have to de-age him and give him some seriously cool moments, much like Luke. Or maybe Luke can accompany Han and they can both have their rematch with Boba? That sounds like something fans would lose their minds over. Again, Harrison Ford wants to be done with Han Solo and Star Wars, but I also say never say never. Either way, I'm still very excited to see Boba Fett back in the saddle and do his thing.
What say you, Star Wars fans?