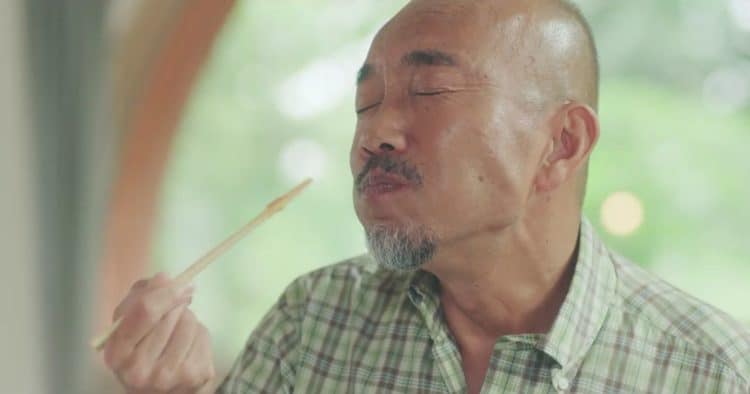 Samurai Gourmet almost sounds as though it has a second season at least that hasn't been aired in the states, but that sounds more like a rumor than anything, and the fact that the few comments that have been found have stated that it was obtained and downloaded off of a pirated site. But it's enough to say that while the critical reviews of the show don't seem to be very flattering, it still seems like a fun and engaging program that could possibly go on for another season at least simply to show the main character's continued development and his ability to finally regain an identity that has nothing to do with work. The look of pure pleasure on his face as he realizes that he no longer has to conform to his work schedule and can do what he likes during the day, especially when it comes to eating, is pure bliss, and reminds people what it is like to not have to live by a schedule or the same rules as you've done for so long.
There are a few good points to be made from this show actually.
Enjoyment of life is important during and after work.
Obviously most of us aren't able to really enjoy a drink during the middle of the day, but the main character can't even enjoy it during his retirement. Almost four decades of work has trained him to reject any and all alcoholic beverages during the middle of the day, as these were always working hours during which one's mind could be befuddled by drink. But after retiring and realizing that he had nothing else to do that day it became a problem that he had yet to solve. He wanted a drink badly, but he still knew that drinking during the middle of the day might be frowned on. However after his vision of a masterless samurai emboldened him, he ordered the drink and enjoyed it fully. No matter the situation, one should be able to enjoy themselves with every breath and every bite. Food should not be just for survival, it should be for enjoyment as well.
The cultural significance of the samurai is very poignant.
Unless one has studied the ways of the samurai closely and without missing anything this elite class of warriors still remains a very culturally-based part of history that the Japanese feel particularly close to. The spirit of samurai is something that is both wild and disciplined all at the same time, free and self-contained as one can see in this show. It is also the inspiration that the main character needs to let his voice be heard when it comes to that one part of his day that brings about the most enjoyment. It's not just act of having a drink in the middle of the day, it's the liberation that it brings with it. Masterless samurai were commonly known as ronin, but the main character in this story simply refers to the vision he sees as samurai. It is more or less the man's attitude and self-confidence that he seeks to emulate, and the manner in which he simply enjoys himself as he sits down to drink in the middle of the day. You can't deny that there are days when a cold drink simply goes down better than anything.
The freedom of being able to pick what he wants to eat and when is seen in his face whenever he selects a place.
After working so long and having lunch in the same spot, with the same thing for so long, it would no doubt be an absolute pleasure to have something different and be able to go where you want, eat what you want, and of course, drink what you want. His face during each of these moments is simply sublime. It is as though he's experiencing each sensation for the first time, and in some ways he is. The hectic schedule of the average worker is so great that it requires giving up great amounts of time to one's job and having little left when all is said and done. But the enjoyment that comes when one is finally able to take the time to breathe and simply slow down is easily seen on the faces of those that have never taken the time to just calm themselves and see what lies beyond their job, what other venues they've been missing. This is where the spirit of the samurai enters him each time as his confidence begins to rise and his desire to go out and see and experience more continues to expand.
The show is, thus far, quite entertaining as one can only imagine what it would be like to finally experience life in your 60s, breaking free of the fetters that a busy working life would impose for so long. Just watching his face light up each time is more than enough. Hopefully Netflix will bring a season 2 to their lineup eventually.
Tell us what's wrong with this post? How could we improve it? :)
Let us improve this post!