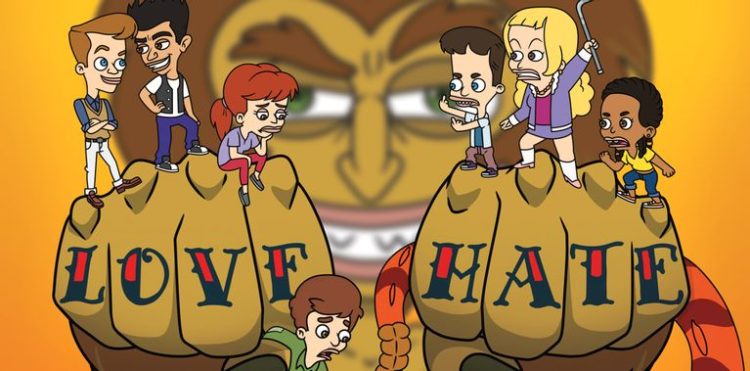 Anyone who thinks that cartoons are just for kids has clearly never seen the animated series Big Mouth. The show, which premiered in 2017, is a comic of age story about a young boy named Nick Birch who is trying to find his way. However, Nick is somewhat of a late bloomer and this often leads to him feeling insecure about his appearance. Although the main character is young, the series is geared towards adults and it's got plenty of great humor that the mature audience can enjoy. On top of that, Big Mouth has an awesome cast of voice actors who all bring their characters to life in unforgettable ways. As the show gets ready to enter its fifth season, fans will be happy to know that their favorite cast members are returning. Keep reading to learn more about the cast of Big Mouth season 5.
Nick Kroll
As the voice of Nick Birch, Nick Kroll is the show's main character. He also voices several other characters on the show. Kroll has been acting professionally for nearly 25 years and during that time he has done a variety of voice and live-action work. His background in comedy writing has also come in very handy in his role as Nick. Outside of the show, Nick is working on a handful of other projects that will be released over the next couple of years.
Jason Mantzoukas
With nearly 100 acting credits on his resume, Jason is no stranger to putting on great shows. Jason is well-known for a variety of projects and he has shown that there really isn't anything he can't do. In addition to the work he's gone as an actor, Jason is also a writer, director, and producer. He has also had a successful career as a comedian.
John Mulaney
John Mulaney may not be as widely known as some of the other cast members on Big Mouth, but that's because he's spent a good portion of his career behind the scenes. He was a writer on Saturday Night Live from 2008 to 2018, so it goes without saying that he knows a thing or two about comedy. Although he has several voice acting roles before Big Mouth, the series has given him his biggest acting opportunity to date.
Jessi Klein
Like John Mulaney, Jessi Klein is another Big Mouth cast member who has spent most of her career behind the scenes. Aside from her role on Big Mouth, Jessi is best known for being a writer and producer. She was also a writer on Saturday Night Live and has produced several shows including Big Mouth and Dead to Me.
Ayo Edebiri
During season four, Ayo Edebiri replaced Jenny Slate as the voice of Missy Foreman-Greenwald. The role was Ayo's first-ever voice acting opportunity and she had previously been best known for her work as a stand-up comedian. On top of Big Mouth, Ayo has two other projects in the works: a movie and a film.
Maya Rudolph
Maya Rudolph has been doing her thing in the entertainment industry for the last 25 years, and she has become internationally known during that time. She voices several characters in Big Mouth and her work on the show is a true testament to her versatility as a performer. Maya's fans will be excited to know that the next few years are going to be big for her. She's working on some big things including a currently untitled TV series for Apple TV+.
Jordan Peele
At this point in his career, Jordan Peele is someone who doesn't really need an introduction. After the success of his sketch comedy series, Key & Peele, Jordan has gone on to have a very successful career in the film industry. However, even though he's very busy doing things on the other side of the camera, Jordan still likes to make time to do some acting. However, Big Mouth is the only voice role he's done in the last few years.
Fred Armisen
Fred Armisen is an incredibly talented person who has spent his career doing multiple things. When it comes to acting, though, he has gotten enough experience to last several lifetimes. He currently has more than 170 acting credits and the list is constantly growing.
Andrew Rannells
From the stage to the screen, Andrew Rannells' acting chops never cease to amaze the audience. His career has been extremely well rounded and he still has lots of great things to share with the world. In 2021, he also made his debut as a director with an episode of Modern Love.
Tell us what's wrong with this post? How could we improve it? :)
Let us improve this post!