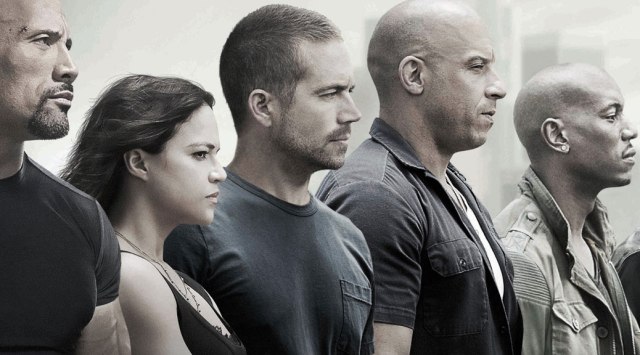 The late Paul Walker's signature character is undoubtedly Brian O'Conner from the Fast and Furious franchise. When the actor tragically died in 2013, the character's future was left up in question. What was really complicated was the fact that Walker's fatal car accident happened during the time Furious 7 was being filmed. For those who saw it, you already know what happened. Paul Walker's brothers stepped in as body doubles and with a combination of camera work and CGI, we got to see Paul Walker as Brian O'Conner one last time. There was no question about it, that final scene of Furious 7 was the best part of the movie. It was a good farewell for the character and for Paul Walker himself.
In my opinion, the ending of Furious 7 should be the last we see of Paul Walker's Brian O'Conner. It was a good call on the film crew's part to retire the character rather than kill him off. In the subsequent sequels, we know that Brian O'Conner has given up the wild lifestyle and is content with being a family man. His name has been mentioned several times and his current role in the franchise has been the babysitter for his children, as well as Dominick Toretto's son. I think that's the right role for him, but if you've been keeping up with the movies, you'll get a hint that Brian may return.
But hold on, how is that going to even work? By all accounts, it really shouldn't. Without Paul Walker, there is no Brian O'Conner. I do believe that the characters are bigger than any one actor. However, in this case, the legacy of Paul Walker will always entail his work in the Fast and Furious franchise. From the very beginning and even before Vin Diesel became the hero of the franchise, Paul Walker was the first main protagonist of Fast and the Furious.
The original story of Brian O'Conner wasn't too original, but it worked for the setting of the movie. He was an undercover cop investigating the hijackings of multiple semi-trailer trucks. His investigation led him to an illegal street-racing operation, where he met the mastermind of the whole thing, Dominick Toretto. As you Fast and Furious fans all remember, a whole chain of chaotic and also familial events kicked off from there. Oh yeah, the magic word of the Fast and Furious franchise. Well, maybe "family" wasn't the motto for it back then, but it didn't take too long for the word to stick.
For me, Paul Walker's Brian O'Conner is what began the Fast and Furious franchise and I say that without acknowledging Vin Diesel's Dominick Toretto. That's because I actually didn't begin this franchise with watching the first movie. I actually started with the 2 Fast, 2 Furious, where Brian was the again the main protagonist, but there was no Dom Toretto to overshadow him. Instead, he got to have a buddy-cop-like adventure with Tyrese Gibson. Seriously, his Roman Pierce has got to be the funniest character in the whole franchise. I'll be honest, he's a part of the reason why I'm still watching these movies. Yeah, I said it. Sue me.
Okay, so if you did see the last Fast and Furious movie, you'll remember the final scene quite well. Some of you may think F9 went way overboard with the action and you are totally right. The very last scene heavily implied that Brian is indeed making his return. Just like the last few Fast and Furious movies, the little family celebrated their latest victory by having a backyard barbecue. And in the closing minutes of the final scene, something surprising happened. Okay, so it wasn't really a cameo, but we did see Brian pull up in his blue Nissan Skyline to join them.
That's where it ended. Brian did pull up in his cool car, but we didn't actually get to see him get out. We actually didn't even get to see him in the car. I mean, is that really unexpected? Not at all, but this little "cameo" does raise some questions. Will Brian O'Conner make his return to the Fast and Furious franchise? We know that there are only two movies left (or so Vin Diesel says) and I'm guessing they're shooting for a big bang of an ending. I'm talking about all kinds of emotions and mindless action you couldn't possibly think they could pull off. But where does that leave Brian O'Conner?
All kinds of rumors have been being thrown around the internet about the possibilities of Brian's return. Some suggest his return is likely while others suggest the character should stay retired. But if these movies are finally ending soon (they really should) then I doubt they'll resist bringing back Brian for one final goodbye. Is it really necessary? I would still argue no, but I understand the desire to see Brian O'Conner again. If I had to guess, I would say the franchise will probably bring Brian back for one final appearance. It will probably be short and emotional, but how else would you do it? The answer is you can't. You simply can't.
And how will he actually physically appear in the movie? The answer is the same as how it was done in Furious 7. His brothers come in as body doubles and some improved CGI. That is the only way. But even so, I don't think it should happen, but I understand why it would. For this franchise to end, you know it's going to emphasize on the importance of family. For that to happen, it has to include Brian for that final send-off. It won't just be for him, but for everyone in the family. I will take it, but I just hope it doesn't feel forced. Lately, the most forced thing in these movies is the action. You know, much like how Dom's super strength just keeps getting stronger. Hopefully that won't be the same situation when or if Brian does return. I guess time will tell.
What are your thoughts, Fast and Furious fans? The tenth movie has started filming and the title has been revealed. Unfortunately, Justin Lin has also stepped down from directing, so it will be interesting to see how things progress from here. One thing's for certain, you can always expect a lot of drama and excitement when it comes to this franchise. Speaking of which, what about Dwayne Johnson's return?
Tell us what's wrong with this post? How could we improve it? :)
Let us improve this post!