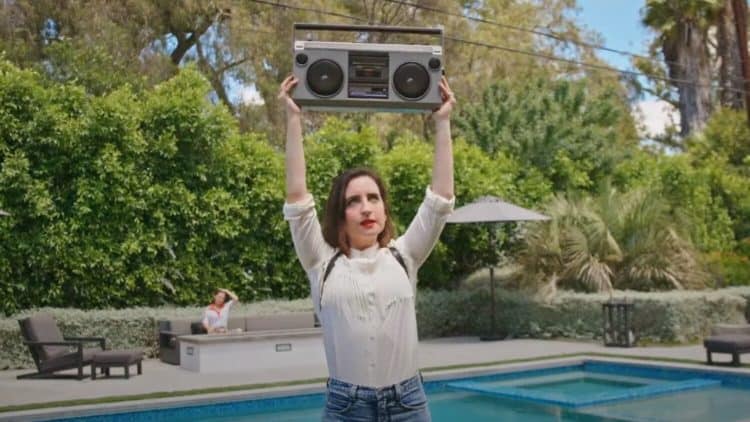 Well, there are worse ways to meet the end to be quite honest, and everyone appears to be consigned to the fact life on earth as they know it is going to end, and they're celebrating, or perhaps that's not the correct word. It would appear that they're taking this time to do and say the things they wanted to for a long time since there's no more of a need to hold back. Plus, there's no rioting, looting, anarchy, or anything else that can be seen. That's the key though, we don't see any of it. Turning the end of the world into a dramatic comedy is certainly different and it would appear that it could be something that people might find endearing and entertaining since it doesn't impose the same kind of chaos on the audience as a typical end of the world movie might and it's about a woman that goes around attempting to speak to the people in her life to gain a bit of closure and perhaps even a little bit of redemption. It does bring up a good point that it's likely better to die with a clear conscience than to die with a heap of regret that was never taken care of earlier.
This is kind of an intriguing idea, to be honest since it's something we don't get to see a lot of since most disaster movies feature people running for their lives and attempting to carry whatever they can to whatever safe shelter might exist that can save them from a falling asteroid. The flow of this story still feels like it's going to be a bit choppy as the young woman attempts to get her life in order before the asteroid hanging in the distance during the trailer impacts the earth and changes things in a very monumental way. Accepting this kind of impending doom though is definitely not the usual formula that's seen when making such a movie, and that's one reason why this could be worth the effort.
Another reason would be due to the large number of famous names that are going to be showing up in the movie. It's hard to say if they're going to be playing themselves or if they'll just be added characters in the movie, but the fact that there are so many stars attached to this project is kind of interesting. It does almost feel as though some might comment that the whole setup isn't quite dire enough, that it's too accepting of fate, or something else along those lines. But when one really thinks about the chaos that comes with such movies on a regular basis, this might be a nice change of pace at the very least since it's possible that it might show things from a different perspective than a lot of people are used to, thereby giving us a different tale that could be worth watching. It's true, fighting against fate is a very human thing to do, in fact, it's what any living creature tries to do when they feel that the deck is stacked against them. But at the same time, accepting one's fate when there's nothing else to be done carries a message as well, even if it's one that a lot of people don't want to own up to.
Folks have been going on and on about the end of the world for years now, as some folks thought civilization would end when the year 2000 came around, and then others thought that 2012 would mark the end of the world as we know it. The fascination with the end of all things that we know is something that one can't help but admit is fascinating since for one reason or another, contemplating our end is one of the things that humans are best at, even if we're not that great at accepting it. Thinking that this movie is about giving up and bending the knee to fate though doesn't sound like it covers everything since it does appear that there's more to this story than the overall acceptance that life is about to end and there's nothing that can be done for it.
Instead, it feels like an attempt to create a story that's bound to make people feel good and give them a different experience about the end of the world and how people might react in a different way than one might expect. It's easy to state that it might be a more gentle way of showing how the world might end since a lot of people might still agree that humanity might very well collapse, but at the very least it's something that could be seen as a different way to look at things. Every story has some validity after all, and some might have more than people give them credit for.