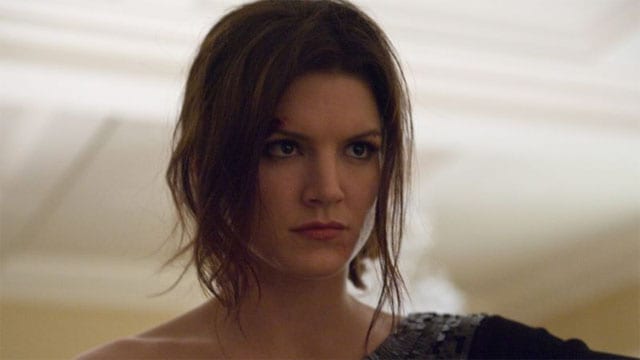 Gina Carano is one of the actresses in Disney's "The Mandalorian," and she's been under fire most of 2020 after posting several different things on Twitter that garnered a lot of controversies. The 38-year-old star of the Disney series is being bombarded by her unhappy fans who are now calling her "transphobic," among other names. Her Twitter postings are causing a lot of controversies right now, and she's found that the hashtag "Fire Gina Carano," is currently trending. What happened to cause her fans to want to see Disney fire her from her job? Let's find out.
The Tweets
Gina Carano is exercising her freedom of speech by posting her personal feelings, thoughts, and stories online. She is well within her rights as an American citizen to do just that, but it seems her opinions are not overly popular with the demographic her followers fall into. In early August, she tweeted an old photo of German Nazi soldiers with one circled. She told the story of a man who changed his entire way of living and his beliefs because he fell in love. We don't know the story, but when fans told her that her tweet was clearly not in good taste, she explained that it was not about celebrating Nazis or what happened to so many millions of Jewish people during that ugly time in history, but it was about telling the story of one man who was a Nazi but changed his ways because of the Jewish woman he fell in love with.
Once explained, it becomes easy to see she was trying to send a message that people can change and that anything is possible. Her choice of photo is what fans found controversial. One commented that she could have chosen any other photo that was not just dozens upon dozens of Nazi soldiers posing for a photo. In the meantime, however, fans also began to remember other posts she'd made that they did not like. They accused of her posting anti-mask posts and of being racist. The hashtag Gina Carano is Over Party began to trend in early August.
She Kept Going
Gina Carano has made it very clear she's not worried about what people think, and she's not going to let that stop her from posting whatever she wants to post. She came under fire again in September after encouraging business owners and churches to open their doors. She told them she feels they should use whatever safety measures they feel comfortable with while also commenting that "You're telling me that COVID-19 knows the difference between a protest or praise and worship," in her tweet.
While we agree that those places still locking people down need to open back up, it was the protest comment that sent her fans back into a rage. They accused her of being racist, of not supporting the BLM movement, and – a few weeks later – of being transphobic because she refused to put her personal pronouns in her Twitter profile in support of the transgender community. When she finally changed her bio, she added the words, "Beep/Bop/Boop," and fans began accusing her of not supporting the trans community. She's come out numerous times to say this is not true, but that it's her personal right to put whatever she wants in her profile and simply did not care to be bullied, name-called, or coerced into doing things just to show her support. She feels she can show it in her own way without having the do the exact same things others do. Fans still are not pacified by her answers.
Cancel Culture
2020 is the year of the cancel culture. You don't like what someone has to say? Ask for it to be canceled. That's what many fans are doing now that the actress has posted her political views regarding election and voter fraud, her lack of desire to wear a mask, and the fact that she's made it very clear she is not supporting the Democrat party right now. Fans are now making "Fire Gina Carano," a trending hashtag on social media, and they are asking Disney to relieve the star of her duties on "The Mandalorian," as a result. Fans also want her to use her platform differently, and they're asking her to do that in their own tweets.
Long story short, fans aren't happy with Gina Carano right now for using her social media platform her own way rather than the way that they want her to. She's yet to respond to any of the hashtags or the cancel culture situation.