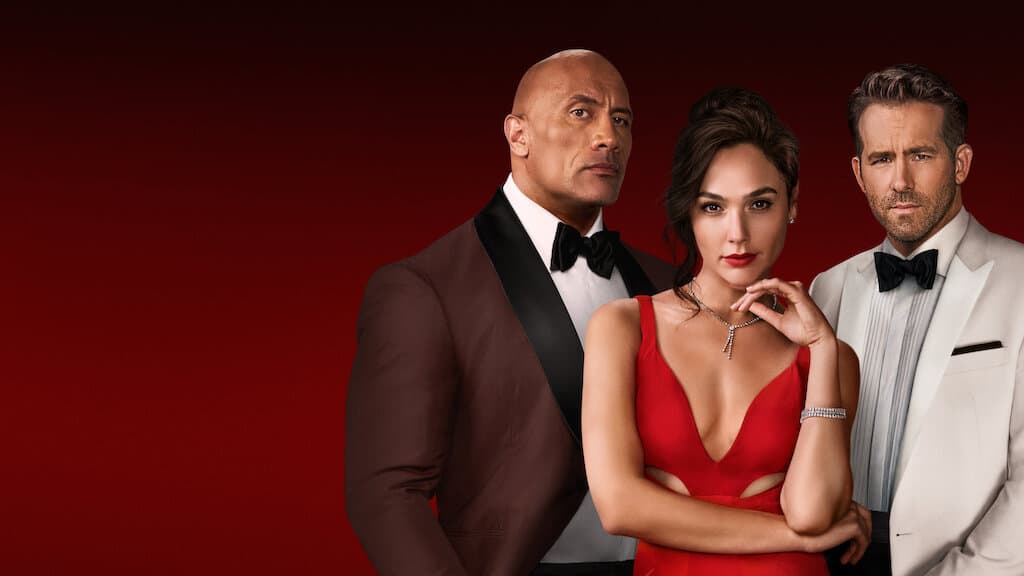 Despite thinking that Red Notice was a fun action movie, which it was, it does feel that there shouldn't be another one, which it appears that there might be since there's been talk about a Red Notice 2. Right now that's all it appears to be, just talk, but experience should be telling a lot of us that there could very well be a serious lean in the direction of a sequel seeing how the first movie, that just released today, ended on a very ambiguous note. Oh yes, there will be spoilers, so if you haven't seen the movie yet, well, stop reading or go watch it, that's up to you. As I did state, the movie wasn't that bad, but it did hearken back to the 80s and 90s style of action that a lot of us might have grown up on and found familiar in a big way, with a few added twists here and there to keep things in the current era. In other words, a lot of the action was the type that is hardly believable and was so amazing that the viewers likely didn't care.
The idea of one master thief having an issue with another master thief and one of them always getting over on the other is something that's been done before, as has the buddy-buddy team-up that went on between Johnson and Reynolds' characters, Hartley and Booth. The two men were highly opposed to one another and opposed to The Bishop, played by Gal Gadot, making this a triangle of absolute hatred that would play out until the end, or so we thought. Remember, I did tell you there would be spoilers, and here we go. By the time the three individuals find the last item they're looking for, a priceless and fictional artifact called Cleopatra's Egg, it's been established that as much as they don't like each other, Hartley and Booth have grown used to each other and aren't about to just walk away.
That is, until Hartley reveals that he and The Bishop are doing more than working together, they're actually a couple, and they've been playing Booth the entire time. This is when we get the swift montage of how Hartley, who poses as an FBI profiler, and The Bishop were staging each scene, save for a moment when Bishop had to actually apply a pair of electrical clamps to Hartley's downtown region. The pair make the big reveal to Booth, leave him cuffed to a tree for Interpol to find, and then vanish. Of course, despite being bad guys, they're still more like modern-day Robin Hoods since they do manage to deliver the eggs to the billionaire that wanted them, but the individual ends up being arrested by Interpol for receiving stolen property and the eggs are confiscated. That would appear to be the end of that, at least until Booth catches up with the pair at the end of the movie and makes a proposition, he either turns them into Interpol or they pull another job with him that will be even bigger. Of course they take the job since they don't want to be caught, and this is where the first movie ends, with what many would think of as a perfect line to a sequel.
So far nothing has been given the green light, and it's a hope that it doesn't since this movie is good enough as it is as a second might only reinforce the idea that sequels aren't always bound to be as good of an idea as people think. There are plenty of exceptions to the rule since there have been sequels that have been miles beyond their original movie and have gone on to become even more of a face for their franchise than the original could ever be. But this doesn't feel like it's bound to happen with this movie since while the first one didn't set the bar inordinately high, it did manage to create an effect that made one feel that it should be cut off and left as it is. A lot of people probably won't disagree since leaving an opening like this at the end of the movie would beg for another one to see what happened, but the fact is that an open-ended finish like this could also be a way to state that the trio went on to do great things without needing to actually show it.
One of the main reasons for my opinion at this point is that while this was a fun action movie, it doesn't feel as though it had much more to go on that would wow the audience any further than it already did. Instead, it would be a lot more of the same, which is likely why it would be the desire of many to see a sequel made since they want to stay in the comfort zone this movie provides.