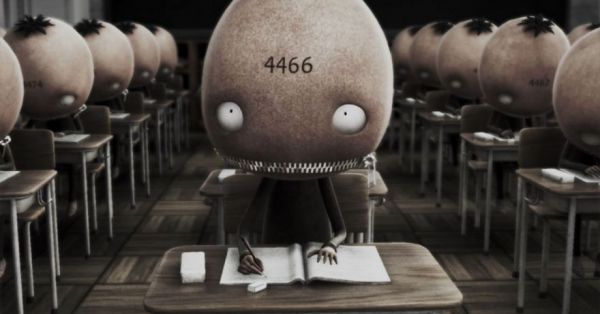 Children is a creepy look into the regimented lives of kids, and a good lesson on why children need to be themselves, unique individuals that have more to offer than complete obedience. Life is already a hard enough task from the moment we're born to the day we pass on, why make into something both depressing and unbearable? The current environment in which we raise our children has not yet come to this point but with the current trends it seems to be headed that way very quickly. The problem with such a life is that it isn't a life. It's not even a ghost of a life compared to what a child needs in order to truly expand their minds and their experience.
The constant testing, the conformity, the idea that kids should be seen not heard, and everything else that goes into raising children correctly is a regimented practice that has no true place in the development of children. Kids are going to be loud, they're going to question authority, and they are bound to break free of their bonds when the time presents itself to announce to the world that "I am". It's a natural part of life to want to be curious, adventurous, rebellious, and of course throw caution to the wind.
Should children be bound by rules and regulations every minute of every day then there is no life, there is no growth. There must be a healthy balance between what is important to their learning and what is important to their development. The soccer game was what really got to me, as both teams were allowed to score to keep the game even so that no one would really win but no one would really lose. The participation awards that have been granted throughout society these days are a placating act that is geared towards making children feel great about the fact that they tried even if they didn't win. But it does a great deal more harm than good.
Life doesn't reward you if all you do is try and don't succeed. If you attempt to do your best and still fall short life won't give you the consolation prize of a job and a decent living. Life will not grant you a wonderful life if you know how to take orders and nothing else. And life certainly will not reward you if all you can do is keep your mouth shut and your head down. Some might argue with these points but for children this is no way to live. They are not meant to be mindless little automatons that never question and never do anything but what they're told.
Children must be allowed to speak, to act, and to grow in their own individual ways. Their development is dependent upon many things, but one of them is to be free to act, to speak, and to be who they want to be.
There can be no true freedom in a system that forces children to simply obey and not question.