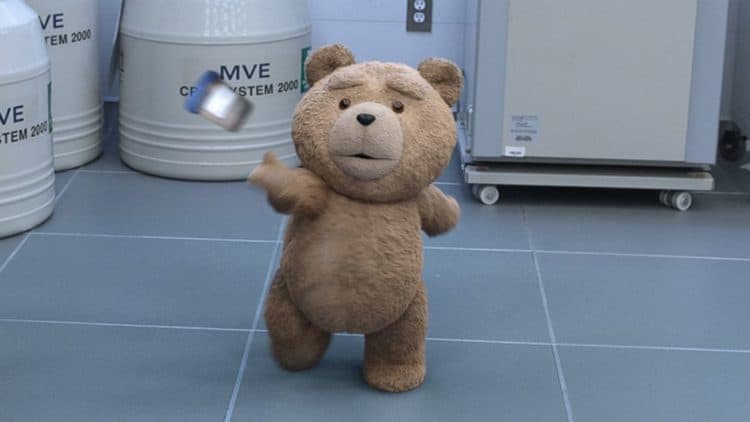 Back in 2012, Seth MacFarlane surprised the world with the hilarious Ted. The first film was actually a huge box office success, garnering over $550 million worldwide. Of course, the executives needed to milk this cash cow dry so a sequel was made three years later. Unfortunately, Mila Kunis was unable to reprise her role as Lori due to her pregnancy, so she was completely written out of the film entirely. This time around, the focus is mainly on John and Ted, one who's now a bachelor and the other a married man (or teddy bear). Ted decides to adopt a child; however, the law states that he's a property, not a human being. The foulmouthed bear takes his issues to court to right the wrong that's been made.
The sequel had a lukewarm reception upon critics, with the film boasting a 44% on rotten tomatoes. However, Ted 2 only made $34 million domestically opening weekend and ultimately $216.7 million once it's theatrical run came to an end. In retrospect, the number isn't too bad as Ted 2 did make back the movie's production costs; however, it clearly paled in comparison to the first film. MacFarlane has not ruled out the possibility of a third film, though the silence regarding Ted 3 strongly indicates that the likelihood is slim. Though to be fair, a Ted series is scheduled for Peacock so the brand isn't doing too bad. So, what happened? The first Ted was pretty much a cultural phenomenon that took the movie world by storm during its release. Let's dig deeper into the reasoning on why Ted 2 killed the franchise. I won't reinstate the obvious of the box office numbers strongly coming into play.
Ted 2 Was The Definition Of An Unnecessary Sequel
There was absolutely no need for a sequel to Ted. Granted, Ted 2 is far from a bad movie; In fact, the sequel does provide a good number of laughs, but a good portion of the film comes off as lazy and the lack of Mila Kunis hovers over the film. Don't get me wrong, Mark Wahlberg and Seth MacFarlane have amazing chemistry; however, the first movie made audiences go through a journey in John trying to win the love of his girlfriend back. So, when John returns as a bachelor and tries to start a new romance with Amanda Seyfried's Samantha, it feels that time audience invested in the first film was wasted. However, the core premise of the first movie was about a man needing to finally grow up, and by the time the credits roll, John's character had nice developed into a mature adult. There were no teases of a sequel nor was there any lingering questions that needed to be answer. Basically, Ted 2 was not a movie that needed to be seen in theaters. Audiences likely shrugged at the opportunity to revisit the world of the foul-mouthed teddy bear and his companion.
A Million Ways To Die In The West May Have Killed Some Of Seth MacFarlane's Momentum
A Million Ways to Die in the West isn't a good movie. While the premise is original and the cast is top-notch, MacFarlane falls back into his typical low-brow humor all too often and squashers the film's potential. MacFarlane has built his name thanks to his cartoons Family Guy and American Dad; however, his brand of humor doesn't exactly have the full mainstream appeal. Ted did have some of MacFarlane's classic humor, but it was smoothed out thanks to a surprisingly sharp script. Ted 2 sort off leans back on that, which likely reminded fans who absolutely hated A Million Ways to Die in the West. Of course, the lackluster reviews likely didn't sway many audiences to shell money to buy a ticket. Word-of-mouth is a powerful source that also hindered the box office performance, and though the $34 million opening pales in comparison to the $50 plus million opening its predecessor, that's still a big number of people who did watch the film. Given the sizable drop the following weekend, that big crowd clearly didn't spread any good news about the unnecessary sequel.
Ted 2 Was Overshadowed By Several Big Movies
Two movies made over $50 million domestically during the same weekend as Ted 2. Jurassic World was the hottest movie on the market at the time, staying on top of the box office charts for three weeks and garnering a staggering $54 million in its third weekend. Inside Out managed to pull out over $91 million in its first weekend, and then earned $52.1 million the following week. Both the Jurassic World and Pixar/Disney brand has been highly established to main stream audiences; however, those movies were on another level during its theatrical run. Despite catering to a different audience, Jurassic World and Inside Out played well to most demographics. As I previously mentioned, the sequel never felt like a movie that needed to be seen in theaters. I wouldn't be surprised if Blu-ray or streaming sales were strong, but Ted 2 was doomed because of how hot those movies were.
Tell us what's wrong with this post? How could we improve it? :)
Let us improve this post!