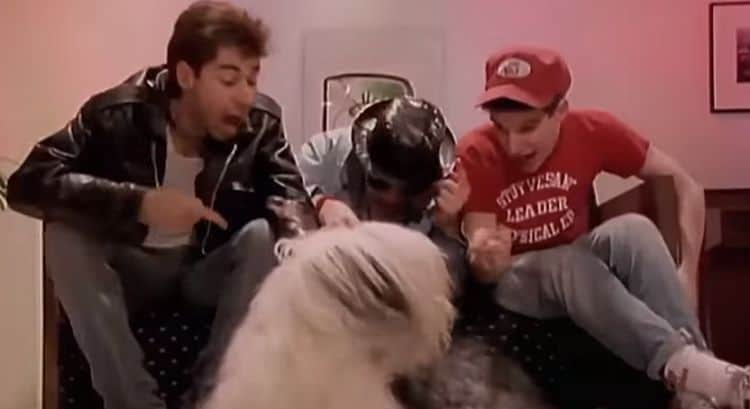 If anyone even dares to say they don't know about the Beastie Boys in this day and age it's a saddening thing to be sure since throughout their long run the Beastie Boys were one of the most popular groups to ever come along and their sound, despite needing to grow and mature at first, eventually became something that was absolutely great for the time. There are plenty of people that will still sing along to such songs as Fight for Your Right, Sabotage, Whatcha Want, and even Interplanetary since they were great songs from a great band that had their day in the sun and inspired a lot of people. The documentary that's going to be shown on Apple TV+ is about as good as we're going to get when it comes to explaining how this trio turned up the volume on their career and wowed more than one generation when they came out with some of their greatest hits. When it comes to music it's kind of obvious that not everyone is going to agree on what's good and what's worth the effort of listening, but the Beastie Boys have been worth it for a long time now and their sound is one of those that has changed over the years in a way that's hard to fully describe but is easy to hear since their earlier material definitely had a different feel that was easy to detect.
The documentary will of course be going over just how they came to be a group and how they decided to get into music while also explaining how they came to be seen as rappers since back in the 80s rap was already making leaps and bounds when it came to being wildly popular and yet white boys didn't stand much of a chance for various reasons that I could go into but will refrain from for the most part. It could have been that rap was seen as belonging to the black community for a number of reasons or it could have been that a lot of white boys just weren't that good at it, but that idea kind of went by the wayside eventually as the trio came together and decided to create sound that was all their own in an era where being unique still held a lot of weight. The best thing about rap music, or at least one of them, is that it can inspire a lot of people to start writing about their life experiences and even coming up with lyrics that might not speak to a life of hardship but are still addictive since they speak to a crowd in a different manner that's seen as appealing. Carvell Wallace of MTV wrote something that kind of shines a light on the white rapper of old.
If one thinks back to how small of a venue these guys used to play in and how few people really knew about them in the 80s they might not believe it to this date. But people would surely realize that the Beastie Boys became one of the biggest sensations in the 90s and in later years. The fact that they took a break for a while didn't even matter as their popularity had already soared high enough that bringing it down would have taken a lot more than a hiatus of any sort. The loss of Adam Yauch was a heavy blow to the group however and preceded what would be the eventual end of the band since Mike D. and Ad-Rock couldn't really see doing anything further as the Beastie Boys without the guy that had been there for so long with them. The loss of John Berry, another founding member of the band, in 2016 didn't help since he'd been with the guys for so long. So really, asking for anything other than this documentary would be too much obviously, and it makes a lot of sense considering how influential Yauch was when it came to his friends. Sasha Frere-Jones of The New Yorker had more to say about Adam. To date their music has been prohibited from being used for TV ads either, and Mike D. and Ad-Rock actually won a lawsuit against Monster energy drinks over this. There's no joking around when it comes to some artists and with the Beastie Boys the feeling has usually been that the three friends were always doing what they could to look out for one another.
Sad as it is to have seen them stop the music, it's still enough to think that people can play their tracks any time they want, and might even hear them spread cross pop culture now and again since some of their tracks have been seen to highlight several movie and TV scenes to great effect. The documentary is more or less a way to honor what the band has done over the years, and possibly to thank the many fans with an in-depth look at how they came to be.