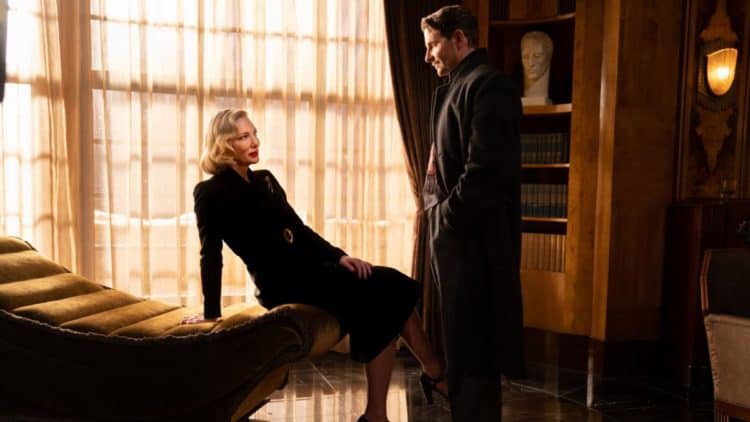 In the midst of Spider-Man mania was Guillermo del Toro's Nightmare Alley, a neo-noir psychological thriller based on the 1946 novel of the same name by William Lindsay Gresham. The film stars Bradley Cooper as Stanton Carlisle, who bonds with a clairvoyant and her has-been mentalist husband at a traveling carnival. Stanton ultimately plots to con a dangerous tycoon with the aid of a psychiatrist, though stealing from the wealthy elite surely won't be an easy game. This was Guillermo del Toro's first feature since The Shape of Water, which won four Academy Awards including Best Achievement in Directing and Best Motion Picture of the Year. With a stacked cast and a respected director, Nightmare Alley had all of the ingredients of a successful film; however, the Bradley Cooper vehicle only drew $3 million in its opening weekend. Now, it's too early to call the film a box office bomb because Nightmare Alley could end up having incredible legs, but there's no denying that the opening weekend is extremely disappointing, especially since the budget for the film is $60 million. So, what happened? Let's dive deeper into the reasoning why audiences mostly ignored Guillermo del Toro's Nightmare Alley.
Guillermo del Toro's Filmmaking Style Isn't Particularly Suited For Mainstream Audiences
This should go without saying, but Guillermo del Toro is definitely one of the elite directors currently working in Hollywood. However, del Toro's work is akin to Wes Anderson or Paul Thomas Anderson, meaning that most of his films feel like arthouse features better suited for the independent scene. Guillermo del Toro has seen some mainstream financial success as writer/director, notably the first two Hellboy movies, Pacific Rim, and Blade II, but even those films are considered barely successful with del Toro having trouble securing funding to finish off his beloved Hellboy movies. Even then, that four-films had mainstream appeal. Pan's Labyrinth, Crimson Peak, and The Shape of Water are notable for del Toro's distinct style of filmmaking, yet none of those features saw big box office returns despite the positive critical reception. It's odd because del Toro's features are usually thought-provoking and stunning visual eye candy; however, most audiences have yet to truly connect with the filmmaker's well-known style. Nightmare Alley was heavily in vain of the latter three films. Del Toro has noted how hard it is for him to find funding because executives and producers don't tend to believe that his type of films are a mainstream draw. Arthouse films tend to be weird, unconventional, or experimental type movies that focus on a certain niche. Mainstream movies are commercial pieces geared for entertainment towards the masses. The prime examples of these are Marvel/DC movies, Transformers, or Die Hard. That's not to say that arthouse films aren't meant to entertain, but mainstream audiences tend to reject out-of-the box pieces because it doesn't appeal to their senses. Mother! is a great example of this. Nightmare Alley came loaded with a great cast; however, Guillermo del Toro's feature just didn't spark much interest for most audiences.
Prestige Movies Have Been Failing at the Box Office Lately
Obviously, the pandemic played a role in Nightmare Alley's lack of a strong box office opening; however, the past year has really exposed the type of films audiences tend gravitate towards. Thus far, here's the list of top ten financially successful features at the domestic box office: Spider-Man: No Way Home, Shang-Chi and the Legend of the Ten Rings, Venom: Let There be Carnage, Black Widow, F9: The Fast Saga, Eternals, No Time to Die, A Quiet Place: Part II, Free Guy, and Ghostbusters: Afterlife. Notice that the top films are all big-budget action spectacles. Granted, A Quiet Place: Part II isn't particularly an action spectacle, but it's a movie that perfectly fits in the mainstream category. Even if you add the next ten films, which include Jungle Cruise, Dune, and Godzilla vs. Kong, it still features big-budget spectacles. Movies like King Richard, The Many of Saints of Newark, House of Gucci, The Last Duel, Westside Story, and The Little Things haven't done well because audiences done feel that those are event films that demand to be seen in theaters. Obviously, it's bad for filmmakers because it'll make it harder for guys like del Toro to get another one of these types of movies greenlit by a producer. However, there's a reason why studios keep churning out reboots/sequels/or superhero pics because they do incredibly well at the box office. Movies like Spider-Man: No Way Home may have a gigantic budget, but it's hard to argue against the massive success of these type of films. Oscar vehicles like the ones mentioned will likely find success on POV or digital, but it appears that most citizens aren't willing to shell out money for films like Nightmare Alley for the time being.