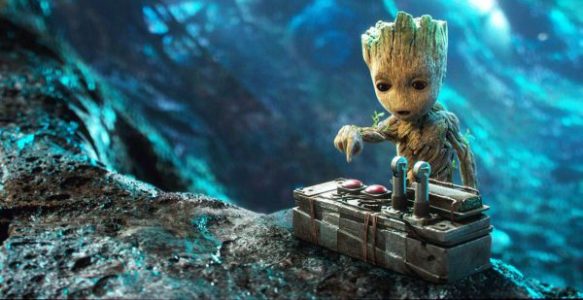 It's interesting to see things through the eyes of a child, isn't it? Not too long ago a 7-year old fan was watching Guardians of the Galaxy vol. 2 and came to a strange but noticeable observation. When baby Groot is eating his candy she noted that it looks like the same bowl that he was growing in not that long ago. That's a strange observation to make but it's one that this young fan obviously had her sights set on and found to be fairly intriguing. Even better, when her mother tweeted director James Gunn he went ahead and stated that she could tell everyone that she'd thought of it and that yes, it made sense. That's rather kind of him and it does show that he takes into consideration what fans of the movie think from time to time. When one goes back to look at the bowl that Groot was growing in and then compare it to the one he's munching candy out of it does make a lot of sense, but perhaps Groot feels some sort of attachment to the bowl, much like someone would feel an attachment to a part of their home. It's a funny thing to notice but it's also the difference between kids and adults when it comes to what we do notice and what we watch and take for granted. In the grand scheme of things, this is something that might be able to go by without a lot of notice or fanfare but it was interesting enough to point out and definitely get the attention of the director.
With the upcoming Guardians of the Galaxy 3, whenever it might come along, there already feels like a sense of finality since apparently it's going to be the last movie before the group will either disband or change up a bit as the MCU continues to roll onward. What will happen to the team is hard to say at this time but if anyone's going by the comics then there might be a little bit of heartache coming, or it could just mean that a few of the characters are getting retired and will be put to rest for a while before they're needed again. After all, at some point contracts are going to run out and actors are going to want to branch out. Chris Hemsworth has another project coming up and will be starring as Terry "Hulk Hogan" Bollea, so it's hard to say just how big his part in the next Guardians movie will be.
Groot is a character that's been around for longer than many people realize, but he's been understated quite a bit and not thrust into the forefront quite as much, otherwise, he'd be another commonplace character. Of course, a lot of people might not have known about the Guardians of the Galaxy until they entered the MCU, as the group started off very differently in the comics and didn't initially feature the lineup they have now. Drax used to look a lot different, Yondu was quite a bit different, and Nebula was definitely different. But that was back in the days before anyone like Star Lord had been pushed into the forefront, when Gamora was still more or less Thanos' favored daughter, as she was in the MCU, and Adam Warlock had already taken his place in the Marvel universe years before. Things have certainly been switched around since the MCU was started and some people have taken note and either really liked it, while others haven't fully appreciated it largely because the source material has been changed in such a big way. Of course, that's hard to blame on Disney since at one point they didn't have the Fox properties to work with, and at this time they still don't have several properties of Sony to work with. The Mouse House does have an impressive stable of characters at this time, and a handful of them haven't even been later for use as of yet.
Since baby Groot turned into teenage Groot between GOTG vol. 2 and Avengers: Infinity War, it feels safe to think that he might be an adult once again by the time vol. 3 rolls around, though we'll have to wait and see how that will pan out. In the meantime, it's fun to think that other fans might be sifting through the movies trying to find other Easter eggs that might be hidden or largely unknown to anyone except those that can look at the movies and see them from a different perspective. It is interesting to see how everyone's mind works in such different ways, especially when they're able to point out something that's right in front of us but that might have been missed in such an obvious way. Kudos to the young fan.