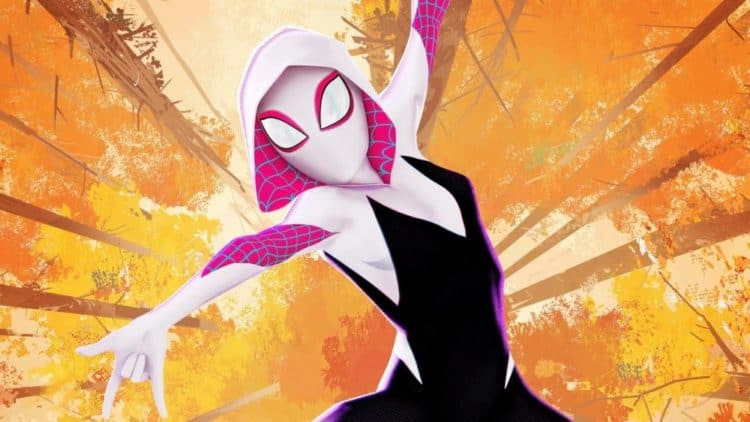 A trip into the multiverse, or Spider-verse, is in store if we want to see a Spider-Gwen solo movie any time soon and from what might be deduced from a lot of fans it's likely that they'd love to see it since over the years Spider-Gwen has been gaining quite the following. If you're not quite up on Spider-Gwen there's not much to say other than she comes from a reality where Gwen Stacy was bitten by a radioactive spider instead of Peter Parker, while Parker in turn was still something of a nerd that was bullied constantly until he came up with a formula that turned him into the Lizard in this reality, who was eventually killed by Stacy, who in turn was hunted by her own police officer father until she revealed to him who she was. The case was then turned over to Frank Castle, who's a detective in this reality, who was even more ruthless when it came to bringing Gwen in and eventually did come close to nabbing her but did manage to find out who she was. All in all her story already sounds like it might be gripping enough to put up on the big screen, now all we need is a cast, a director, and someone that's interested in producing the thing.
There's been a lot of comparisons between Spider-Gwen and Spider-Man over the years and Danielle Ortiz of Screenrant could offer you a few ideas on why Gwen is so special in her own right, but like any spider-enhanced hero she's become a different version of the original hero that started things off. One great part about her though is that her universe is quite a bit different from that in which Peter Parker became Spider-Man and it might be something the MCU might want to think about since we're already seeing a shift in the narrative as we head for the multiverse, so it's not too unlikely that her story would be extremely successful if taken to the big screen and doled out to the fans that have already taken a liking to her. Exploring different dimensions in the Marvel universe has worked out in the comics thus far so thinking that it might work in the movies could be interesting since instead of just expanding through one reality Marvel would be able to make use of at least a couple, hopefully not too many since it could get extremely confusing. The fact that Gwen has the ability to jump between dimensions as well is also something that might have to dialed down just a bit since the possibilities are endless, but then again the patience of the fans isn't always.
It might pay to wait just a bit to reveal Spider-Gwen again in a live-action movie if only because like it or not, the Spider vibe has died down just a little in terms of the MCU as the next phases are getting ready to go and people have become a little weary when it comes to the constant back and forth between Sony and Disney as to who's going to maintain dominance over the original webslinger. Obviously Sony's not letting go at this point and legally they have more pull than Marvel so it wouldn't appear that he's going anywhere if they decide to yank him back. But in terms of Gwen, she wasn't revealed until after Marvel sold the rights to Spider-Man, so it's fair game if the MCU wants to use her and bring her into the fold. In fact it might even appear feasible to name her as one of the top webslingers in the MCU if Sony decides to pack up their ball and leave the game. That sounds like it might be another mess waiting to happen but at this moment it does sound as though it could be a possibility, though the fans might find themselves duly confused and at a loss for words.
If she was brought in just because she's a female hero and because of a continued need for diversity then personally I'd say keep her in the Spider-verse and the comics but take some time to think about it. Right now the whole 'future is female' and 'girl power' and absolute need for diversity is all well and good but it's also walking a razor's edge as to how far the fans can be pushed before they start commenting on the continual changes to the MCU that have been occurring since Captain Marvel came on the scene. Keeping the movies as action movies that feature women as the male leads and also feature strong, empowered women that are fully capable and willing to help bolster the franchise is a tremendous boon, but bringing in new characters and tipping the balance in the MCU, which appears to be a goal according to Hoai-Tran Bui of Slashfilm, is bound to backfire on the company eventually.