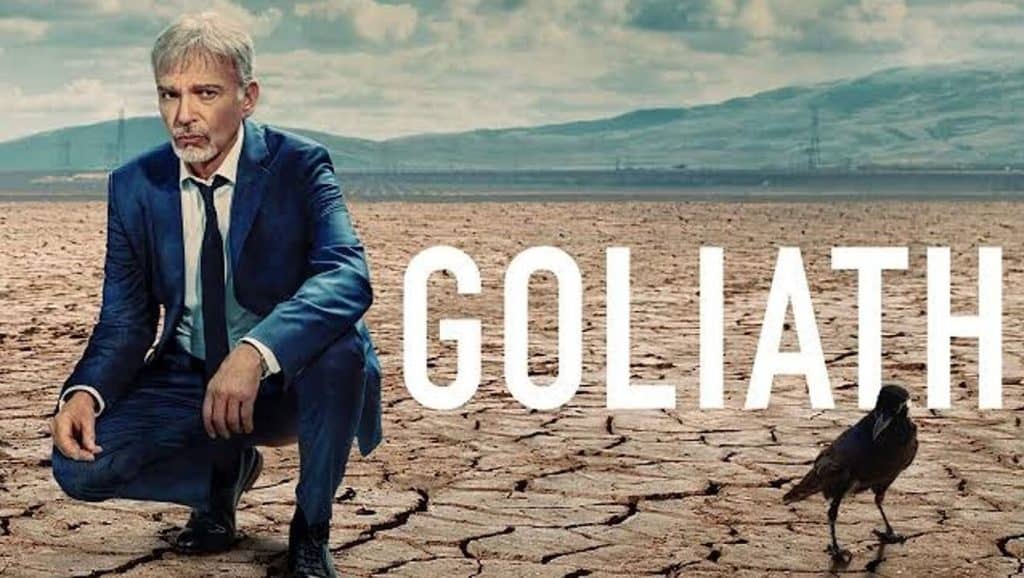 There's a show on Amazon Prime that's entered its fourth and possibly final season, and it's one of the most provocative shows around that a lot of people might not know enough about. Goliath is the story of Billy McBride, played by Billy Bob Thornton, and it's one of those that some folks might look at and instantly say 'nope' to since it is a lawyer program that features courtrooms, legal proceedings, backstabbing to the nth degree, and the type of characters that you'd rather beat the living daylights out of than watch. But that's also what makes it possible to draw in those that might not be interested otherwise since Thornton puts a spin on things with his own style in the same manner that he's done in a lot of different movies and shows, and it works in a way that's hard to figure out at first but is great since if you're into this type of show, or have at least enough interest in the possibility of what could happen, then you might find yourself hooked.
Billy McBride is a guy that's down on his luck, is separated from his wife, doesn't get a lot of respect from his daughter, and tends to drink a lot more than he should. What's learned about the guy in the first season though is that no matter how tough he talks, he does have a heart. The thing about Billy though is that while he is a decent guy underneath all the emotional and psychological mess that losing his wife, his home, and his place in a firm that he helped to build, he's also a very skilled lawyer that knows how to get himself into and out of trouble in ways that the average individual couldn't even fathom when it comes to the law. But another portion of his character is that Billy doesn't really know when to quit, which is a good thing and a bad thing all at once since it shows a willingness to keep fighting when others would find it prudent to back up and think for a moment before moving forward with the idea of looking for the legal KO.
Billy doesn't exactly make friends, though he does have people that are loyal to him, such as Brittany Gold, who's played by Tania Raymonde, who you might recognize as having starred in Malcolm in the Middle a long time ago. Okay, it feels like a long time ago at least. But there's also Marva, who is brought in during season one when Billy and Tania need help, and Patty, who brings him the case that kicks off season one, which has to do with an explosion at sea that has to do with a top-secret testing facility that was trying to illegally dump materials that they weren't supposed to have in the first place. The fact that his former firm, which is dominated by Donald Cooper, played by William Hurt, Billy's old partner, is representing the company that is responsible for the fuel dump and explosion, makes things even tenser since it becomes a grudge match between Billy and the people that ousted him, including his ex-wife and his ex-wife's lover. The absolute hatred felt in the first season was insane since there was a little love lost between Billy and the firm, but he took his feelings to such a dark place that it became an absolute pleasure to stick it to them.
While season 2 appeared to slow down initially, which is to be expected after such a finale for season 1, things have definitely picked up leading into season 3 and then season 4, when some folks were actually thinking that the fact that Billy was shot would be the end of it. That's a fair question really, but it's not a sensible one considering that the main star of the show isn't about to take the final ride just yet, especially when he's had so much to live for, that being the needed opportunity to stick it to another person he doesn't like. One of the biggest reasons that this show is great is the fact that Thornton is the kind of guy that people can believe when he plays a cantankerous character since he's so good at what he does.
One could almost think that should they ever met Billy Bob in real life that they would find out that this is his character and that he's no different off-camera as he is when he's on. Obviously that's not the case, at least as far as anyone knows, it's impressive to see Thornton operate on camera since the character of Billy McBride is someone that a lot of people might find to be endearing in a few ways, but others would likely avoid him like the plague. But you have to admit, he kind of makes the show what it is.
Tell us what's wrong with this post? How could we improve it? :)
Let us improve this post!