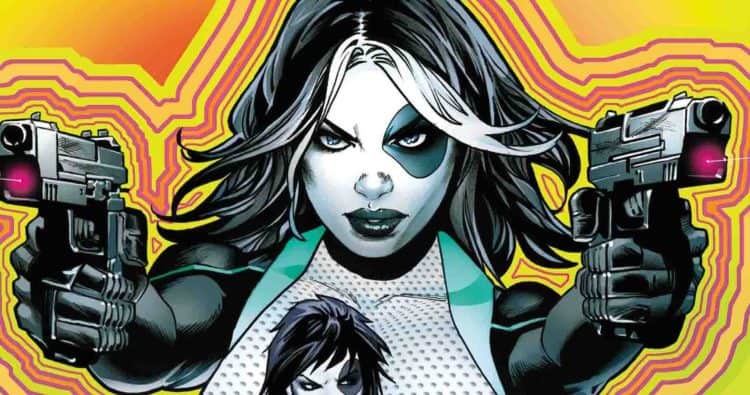 In a stacked cast that featured Cable, Juggernaut, and Brad Pitt as Vanisher, the biggest stand out was Domino. The former mercenary has the ability to manipulate luck. Digging deeper into her past beyond her appearance in Deadpool 2, Neena Thurman made her debut in the New Mutants #98 and has mainly been an ally for the X-Men. Despite her murderous background, the character is the opposite of Deadpool, which is to say she isn't a gleeful murdering psychopath. Like most mutants, Domino got her powers thanks to a top-secret government experiment called Project: Armageddon. Domino has a rich history when it comes to the comics, with one of her most notable alliances being with Cable. While Domino isn't as well-known as Deadpool or most Marvel heroes (because kid's cartoons don't exactly showcase mercenaries), the character has all the potential in the world to carry her own film.
Could you have imagined if Vanessa turned out to be Domino? It actually would've made sense if both met down at their secret organization for mercenaries then that could've been a fun set-up between the two characters. However, that would also mean that the lovely Zazie Beetz's wouldn't be in the role, which would've been a shame since she fits it like a glove. While Domino is somewhat similar to Deadpool, there are enough layers to her past to differentiate her from being labeled the girl version of Deadpool. What makes Domino unique isn't the fact that she's a mercenary, but her special luck ability. That slow-motion sequence with Domino running through the streets as the whole world is crumbling around her is one of the best moments of the film, and it highlights just how much fun filmmakers can have with this character's unique mutant powers. How does one have the ability to use luck as a power? How did Domino get into the world of mercenaries? Could a solo movie introduce us to the real X-Force? Deadpool 2 teases the world with the possibility of an X-Force and though it ultimately became a hilarious yet bloody and violent gag that saw most of the members dead in a brutal manner, it wouldn't be too hard to believe that the team could make an official appearance together sometime soon. Hell, the real X-Force may pop up in the upcoming Deadpool 3.
The key thing is that there's endless possibilities with a solo Domino movie. It can accomplish multiple goals for the X-Men universe. There's no telling when a new X-Men feature will come out, though we all know that the successful franchise will make a live action return someday. Domino can expand the X-Men world based on her story alone. She could go through the ranks of X-Men and be a prominent feature of the popular mutants. Or maybe she'll fly solo and find her own group to fight alongside, reintroducing Cable and their unique partnership. In some ways, Domino is the X-Men version of Black Widow. Granted, the two women have vastly different backstories and characters, but they're a strong centerpiece for female heroes. Even if choosing to not mix Domino and the X-Men together, it would still be cool to get into depth the partnership of Cable and Domino. Though Deadpool 2 never acknowledges the past these the two share, it doesn't mean that the two anti-heroes can't go out and venture on their own. There's a rich history and lore that the folks at Fox didn't really tap into. The X-Men franchise has mainly focused on Wolverine, Professor Charles Xavier, and Magneto, while never truly playing with the team dynamic that made the popular comic book series such a hot commodity.
Deadpool allowed for the world to expand a bit and correct some wrongs such as the better treatment of Juggernaut, and it would be great if the expansion continued by putting the spotlight on different heroes or villains in the X-Men universe. Domino doesn't have to be some R-rated, foul-mouthed feature. That's Deadpool's thing and it's best to let that be Wade Wilson's novelty and more importantly, let Domino carve a path that separates her from the "merc with the mouth". For years, studios have been trying to cash in their next female heroine and there's one stand right in front of their face. Zazie Beetz returning would be great, but even if the studio opts to go in a new direction exploring the world of Domino is definitely worth investing in. She may not be Wonder Woman, but if done right, the X-Men character can become as popular as the DC hero.