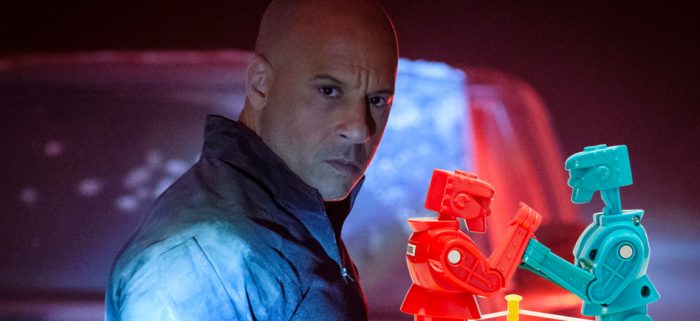 Every story has validity to it, but there are times when it would appear that people are willing to simply sit down and point out things they notice when trying to think up a story. Well, to be honest, that's how a lot of writers do it, so perhaps this idea for Rock 'em Sock 'em Robots movie isn't too far out in the ozone to be considered. Still, until we actually learn the whole plot and what's going to happen it feels as though this movie is going to leave the door wide open for mockery and laughter simply because it's kind of an odd idea to come up with for a movie, kind of like Uno. But until that moment when we do learn more, it's best to simply acknowledge that Vin Diesel is taking on another project with a big robot and a father-son type of story that will likely be meant to be very touching either teach some sort of lesson or leave the audience with a very good feeling, or both. This wouldn't be the first touching, sentimental movie that Diesel has been in since he's starred in movies such as The Pacifier and lent his voice to The Iron Giant, which means he's able to shed his tough-guy act just enough to become the kind of character that people can enjoy as more than a big buff guy that can fight.
But the idea of the movie is still something that's going to be up for grabs since all we really know at this point is that it will have something to do with two big robots or more that will presumably be fighting each other for one reason or another. Apart from that, not much is known since the details are kind of sparse at the moment. It's not even known at this point when it will start filming since Diesel is a very busy man at this time between the MCU, Fast and Furious, another Riddick movie that's coming out apparently, and various other projects that he has on the line. Trying to pin down when he'll have the time to make his appearance in this movie is too hard to say since it's likely that it won't be for a while. As of now, it would appear that it's an idea that's going to be pushed forward, but until we know when we'll just have to sit and wait. Right now Diesel is a hot commodity when it comes to a lot of movies and while a few of those might be reaching a close eventually, as the Fast and Furious franchise has a couple of more movies to go and there's no idea if Furya, the Riddick movie, will be the last or not, he's definitely still on for a lot of other ideas that will probably keep him going until he's old and gray. Somewhere in the middle, he's bound to take the time to make this movie unless the idea falls through, but fans are bound to keep hoping for the best.
Diesel definitely feels like one of those that came out of nowhere, but in all honesty, he's been around a while, and Pitch Black, the movie that introduced Riddick and really helped to kickstart his career, did wonders when it came to getting him noticed. Since then Diesel has been Hollywood gold, though he's definitely had a couple of movies that turned out to be duds, even if they were decent stories. But right now it feels as though the sky is just the view since he's headed in a direction that is making it clear that he's seeking legendary status, which some might want to claim he already has. They're not entirely wrong really since he's made it clear that he's one of the greater action stars in the business at the moment, but it almost feels as though he needs to do another couple of movies that show his softer side and allow him to develop a little more as a dramatic actor. Maybe this movie will be one of those that will allow Diesel to focus more on his dramatic persona than the action star he already is. That'd be a nice switch simply because while he's done it before, a little practice couldn't hurt, especially when it comes to being a well-rounded actor that people can look at and have faith in no matter what project he's about to star in. It can't be helped that the idea for this movie sounds a bit ridiculous since a lot of people wouldn't admit to thinking that Rock 'em Sock 'em Robots could possibly be made into a feature-length movie. But perhaps it will be a pleasant surprise when it finally does arrive. You just never know.