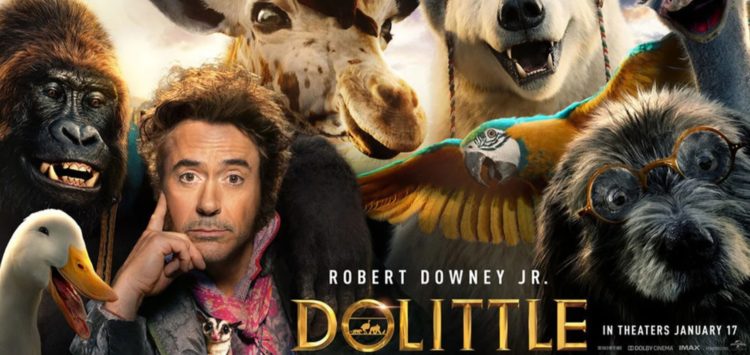 Robert Downey Jr. was coming off his incredible run as Ironman in the Marvel Cinematic Universe. This was the actor's first film since dying in Avengers Endgame. Reportedly, Dolittle was a passion project for him. Dolittle was the third remake of a franchise that doesn't particularly have a great history of solid films. This was the first film following a string of direct-to-DVD movies starring Kyla Pratt (who was the daughter of Eddie Murphy's Dolittle in the first two films). This time, the movie went in a different direction where the film takes place in 19th-century England. Playing John Dolittle, the doctor and his exotic animals go on an adventure to an island to find a cure that could help out the young Queen Victoria. Not surprisingly, the film was trashed by critics as it currently boasts an abysmal 14% on rotten tomatoes. More importantly, the film failed to reimburse back the $175 million production budget by only making $245.4 million worldwide. The film ultimately cost Universal Pictures $100 million. So, what happened? Despite the critical failure of Dolittle, it had an A-list cast and an appealing premise suitable for young children. Let's examine the issues that caused Dolittle to bomb at the box office.
The Film Looked Like A Confused Mess From The Trailers
Based on the original trailers, the movie comes across as a sentimental period piece, a swashbuckling adventure that is kind of grim and dark in tone. Given the subject matter, the film is definitely more adult than the previous entries as it surprisingly deals with death and several other adult themes; however, Dolittle is a kids film first and foremost. For goodness sakes, the climax of the film sees Dolittle pull a bagpipe out of a dragon's butt. Seriously. The trailer fails to communicate the overall plot, showcasing shots that say it's a complete film, but nothing more. The purpose of the trailer is to highlight a film's plot that doesn't give away the entire movie, yet does enough to excite and intrigue moviegoers. Dolittle fails to do that on all fronts, though it does enough to get the kids excited for Robert Downey Jr.'s latest movie. Animals crack jokes here and there. A tiger tries to eat Dolittle. Sentimental music that indicates sadness plays. These three examples showcase three different types of films. While there are images that would definitely attract kids, the sad music likely kept them from being enthused about the feature. Adults could likely care less about Dolittle since it clearly doesn't appeal to their tastes. Don't get me wrong, there's plenty of kids films that adults can enjoy too. Movies like Toy Story, E.T., and The Incredibles come to mind; however, the stories are quite clear for those three movies and are relatable to everyone who watches the film. Dolittle is not, and unfortunately, that message was conveyed through their trailers as well.
Stephen Gaghan Is Not A Well-Known Director Of Kids Films
Stephen Gaghan has written the Traffic, Havoc, and directed Syriana. The problem? His filmography doesn't have any kids features on them. Granted, it's not impossible for a filmmaker to veer out of their comfort zone, with Martin Scorsese notably doing Hugo, Todd Philips with Joker, and David Lynch with The Straight Story. However, according to various reports, the original cut of Dolittle was darker and Universal Pictures wasn't happy that the movie wasn't family-friendly enough. The studio hired Chris McKay (Lego Batman) to make scenes funnier and involve more talking animals. Still, it's Gaghan's name that's attached as the director, and since the filmmaker doesn't have any notable kids projects in his category then Dolittle needed to be great. The movies mentioned above showcased that Lynch, Scorsese, and Philips have the talents to deviate from their usual source material. It's hard to say the same thing about Gaghan. Since Dolittle clearly is the work of studio interference, it wouldn't be fair to state that he couldn't make the crossover successfully. However, with the film bombing critically, most audiences likely decided to skip the latest remake in favor of Bad Boys For Life.
Dolittle Was Overshadowed By Several Big Movies
The box office for the weekend of January 17, 2020 saw Bad Boys For Life garner over $70 million domestically. The new film has been highly anticipated since Bad Boys II came out in 2003, and it certainly helped that it received a strong critical rating going into the weekend. Even then, films like 1917, Jumanji: The Next Level, and Stars Wars: Episode IX – The Rise of Skywalker were playing in the crowded market. Dolittle had a solid domestic opening of $21 million, but bad word of mouth saw moviegoers opt for something better.
Tell us what's wrong with this post? How could we improve it? :)
Let us improve this post!