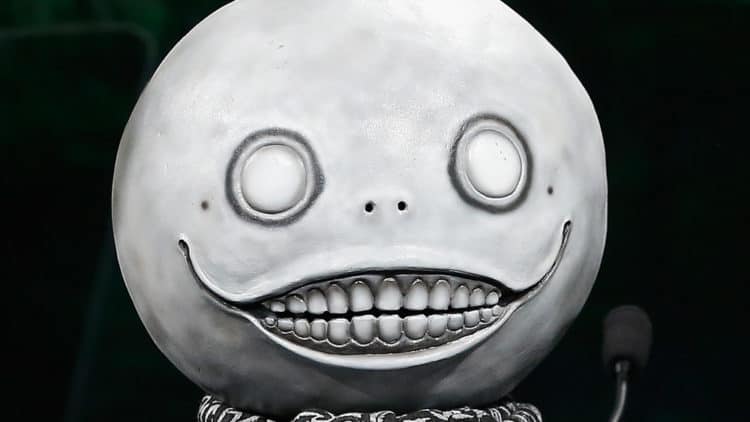 Directors can be every bit as eccentric as anyone else, as Yoko Taro, the director of Nier: Automata has proven. The kooky mask he wears when out in public though is something that a lot of people might find insanely disturbing largely because, well, it looks like something that might be featured as an insane spirit in an anime series or movie. The fact that he wears it so often is something that people haven't missed, but his reasons for wearing it range from not wanting to take attention away from the game that he has to promote to keeping a verbal promise to the producer of the game. that's kind of an odd reason to do anything, but apparently, the main gist of it is that he doesn't want to take too much attention away from the game and in order to avoid doing so he wears a mask that's modeled after a part of the game. Does that fail to make sense to anyone else? It's especially confusing since it would appear that this would draw even more attention to Yoko simply because people are bound to focus on the mask more than anything and not worry too much about the game, or consider it to be secondary to the reason why he doesn't want to show his face.
People do odd things, that's kind of hard to get around since it tends to happen more often than a lot of folks can keep up with. The reasoning behind Yoko not wanting to show his face sounds like it can switch when he needs it to and could possibly be something that is about keeping the focus on the game and less on him. This is a good thing and a bad thing at the same time since he is getting the credit he deserves for being the director, but this humble streak is something that's hard to deal with since it doesn't feel entirely genuine for some reason. It's commendable when people want the fans of their game to focus on the game instead of on who directed it, but one has to wonder just how often that really happens since the game usually does take precedence over who was responsible for it. There are plenty of people that enjoy knowing who put in the work for their favorite games, as it makes it possible to know whose work they prefer and who, to them, shows the greatest amount of style when it comes to gaming. But wearing a mask fashioned after something in the game and then claiming that it's to focus on the game and not the person that worked on it is kind of disingenuous since the opposite effect is likely to take place, as some folks have probably already guessed. It's not the worst or most devious thing that people can do, but it's definitely one of the most shameless if that's what is happening of course.
In a lot of cases, this would be about the time when someone might say that the director is attempting to stroke his own ego by appearing as humble as possible and professing that he doesn't know why people have reacted to the game as they have since he tends to think that he made one product when others treat it as something else. Crazy as some of us can get when creating something, there's still that level of control that we hold over our own creations that lets us know what we're doing and why, since otherwise the creative process would run amok. Again, it's not the worst thing that Yoko could have thought to do when keeping the focus on the game since it's not illegal and it's not even immoral, it's simply a bit ridiculous to think that he's doing this just because he doesn't want to take too much attention away from the game. That's one of the weakest excuses possible since it's a foregone conclusion that some players will look at who worked on what and some will actually care, but the majority won't be thinking about that as they play the game since keeping in mind who created the game, who directed it, and who did who knows what isn't one of the many thoughts going through the mind of a player when they're doing their best to win.
One could call that hubris, or they could call it something else since Yoko, for all that we don't know about him, could be a decent person running a marketing gimmick, or he could be someone that says they don't want the attention but then finds a way to get it without having to face up to being a little bit of a hypocrite. There are a few things to think about this, but none of them are bound to be that helpful.