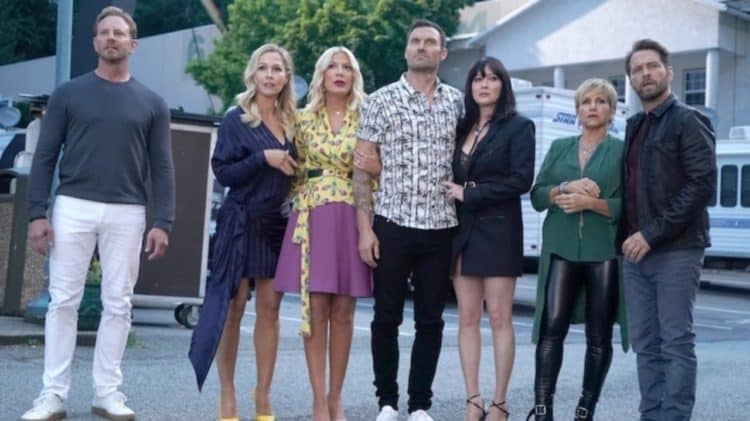 If you're an elder millennial or a young Gen-Xer, then you know Beverly Hills 90210 was a staple of our TV diet. We followed the twins, Brenda, and Brandon, along with their new friends from the moment they moved to glamorous Beverly Hills and started school in the ultra-posh 90210 neighborhood. Sure, it was a '90s teen drama, but we loved it. Many fans followed through with the spinoffs, Melrose Place, Models Inc., along with the other variants of the show. There's something about the idyllic beautiful California lifestyle that always drew us in, and it's still captivating audiences today.
Ratings & Relatability
The premier of BH90210 was a hit from the moment it premiered. Viewers from age eighteen to forty-nine, the most coveted demographic for advertisers and networks, turned the show on en masse to see the return of this beloved show. You can't really ask for more from a show than outstanding ratings, at least in terms of seeing more seasons. Frankly, we don't think there should be a debate at all with 3.36 million viewers turning up for the premier alone. Despite the president bagging on FOX big time this year, the station remains immensely popular. Part of the credit for this goes to their program selections. BH90210 is just another excellent example of a show picked by FOX that viewers love. Of course, it's not hard to see why attractive people in sunny California are a point of fascination. Despite the life-dramas that happen to the characters, that lifestyle is one which many Americans aspire to for themselves. We can see ourselves living on their street, spending time with gorgeous blonde bombshells and beach-body ready men.
Give The Fans What They Want
While not everyone is thrilled with the show, most fans are excited to see it on the air. When it comes to running a TV station, FOX has been in business long enough to know that when you give the people what they want, they will show up to collect it. Between the outpouring of fan love in the form of ratings and the media enthusiasm from reviewers, it would be silly to cancel BH90210.
Nostalgia
Obviously, we're nostalgic about our 90210 days, and we're not alone. Fans of the original are going gaga over new seasons with their old favorites. It shouldn't come as a surprise. After all, reboots are so popular for an excellent reason. People enjoy revisiting and expanding their favorite fantasy universes. From Battlestar Galactica to Sonic the Hedgehog and more, nostalgia with a twist is the order of the day with modern TV. Unlike most reboots, this one centers around the actors and actresses as fictionalized versions of themselves, the cast of the original show. Combining reality TV like elements along with a reboot drama as we watch them struggle to create a reboot is a fabulous new take on the old re-do.
Original Cast
BH90210 went its own direction with the reboot, a tactic which worked for other franchises. Dora, the Explorer and Pokemon's Pikachu, have both grown up a lot in their live-action movies. We wouldn't have blamed the show for choosing a new ensemble. Trying to resurrect the old glory as an edgier more modern Beverly Hills, would also have made sense. However, we're delighted they didn't take that path. Returning stars Jason Priestley, Jennie Garth, Ian Ziering, Gabrielle Carteris, Brian Austin Green, Tori Spelling, and Shannen Doherty were why we watched the show in its original form. Audiences gladly came back to see the 'where are they now,' reboot. The whole cast has undoubtedly changed since their time at fictional West Beverly High.
Noticeably Absent
Luke Perry's bad boy Dylan McKay was the ultimate teen heartthrob and hordes of screaming young women everywhere adored him. Naturally, you might expect to see such a great character/actor return to the new show. Sadly, neither Luke nor Dylan will be making an appearance. Fans of Archie reboot Riverdale love him as the lead's often troubled father. However, he won't be filming any more episodes of Riverdale either. For those who somehow missed the news, unfortunately, Luke Perry passed away from an ischemic cerebrovascular accident. He had a stroke on February 27th of this year and never recovered. Though he was rushed to the hospital, the staff there had to sedate him heavily, and he was on life support. On March 4th, his family finally had him taken off life support. We'll miss seeing him on screen, but at least we can take comfort in binge re-watching old favorites like 90210.
Season Two Spoilers
While the first season mini-series was excellent, season two is supposed to feature a show within a show. Finally getting to see where the fictionalized actors take their reboot is something we're looking forward to. Tori Spelling was already talking up the new season before the first one ended. Clearly, the cast is interested in the remake continuing, and that's not always easy to pull off. In fact, Shannon Doherty cited the death of fellow cast original Luke Perry as the deciding factor for her when it came to accepting the reprisal role. Hopefully, FOX won't do what they're so famous for and cancel BH90210 after just one season. We'd love to see the episodes of new Beverly Hills 90210 combined with the struggles of the actors and actresses who film it. Honestly, that would (hopefully will) be the culmination of the cultural phenomena that is the Beverly Hills universe.
Final Thoughts
We love BH90210 and find the additional complication of a show within a show to be a delightful twist on what is already a classic. Reboots can be hard to pull off, and not all of them succeed the way they deserve. However, this show is already so well-loved it's hard to imagine not seeing another season. We'll be waiting to see what FOX has to say about it with our fingers crossed. So many people grew up loving the first Beverly Hills 90210 it's evident there's a real market for it. Whether that is enough for studio execs remains to be seen. Do you want to see another season? Let us know why in the comments below.
Tell us what's wrong with this post? How could we improve it? :)
Let us improve this post!