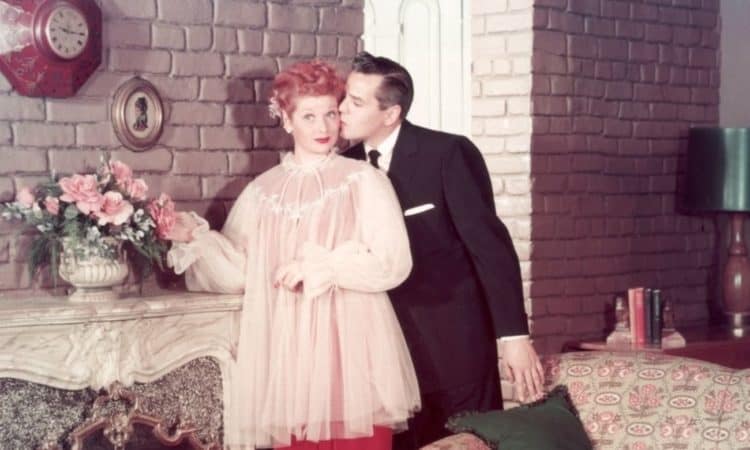 Another biopic is coming our way, and this time, it is something close to a lot of viewers' hearts. One of the most-watched television sitcoms that dominated the 1950's was, I Love Lucy. The sitcom was comedy gold, and an instant crowd favorite. The film, Being the Ricardos, allows us an intriguing glimpse into the real-life marriage and onscreen partnership of Lucille Ball and Desi Arnaz. Here are five reasons why we think the biographical drama is a must watch:
5. A trip down memory lane to a time when television sitcoms reigned supreme
I Love Lucy revolved around the colorful lives of New York City housewife, Lucy Ricardo, portrayed by Lucille Ball (The Lucy Show), and her bandleader husband, Ricky Ricardo, portrayed by Desi Arnaz (The Lucy-Desi Comedy Hour), who was coincidentally also Ball's real-life husband during that time. The storyline was simple yet amusing, as it followed Lucy's attempt at stardom by trying to appear in one of her husband's regular shows. It was hard to imagine that beneath the humor and laughter lied something deeper and more painful. The film explores this and much more.
4. It's an intimate look into one of television's most loved couples
It's sad to imagine that what happens onscreen does not always play out in real life. The sitcom might have been a massive career boost for Ball and Arnaz, but it also brought an immense amount of tension and stress into their marriage. We were so enamored by their onscreen chemistry and comedic timing that we ended up viewing them through rose-colored glasses. The film is a dose of reality, as it exposes their troubled marriage, and makes us realize that nothing is as it seems. The couple is seen facing a one crisis after another that could become detrimental to both their careers and marriage. It's a bittersweet feeling to see one of America's most lauded sitcom couples have to go through all this. It also serves as a reminder that we can't really picture what goes on behind closed doors.
3. A chance to know more about the life of a comedic icon
Lucille Ball was more than just a comedic icon. She was a trailblazer that paved the way for more women to wear more hats in Hollywood. The film allows Ball to step down from her pedestal, and show viewers a more human and relatable side. We get to see Ball as a successful woman who hit a rough patch in life. It is eye-opening to see how she was able to navigate and survive her personal crises, even though there were some casualties along the way. We were so used to seeing the bubbly and charming Ball onscreen, we sometimes forget that she, too is human, and also goes through a fair share of problems and trials.
2. The stellar cast that will bring the characters into life
Seeing the much-loved characters come to life is equal parts fascinating and goosebumps-inducing. Nicole Kidman (The Undoing) might not have been the first choice to play the iconic Lucille Ball, but this does not mean that she is not up for a challenge. The first photos of Kidman donning the iconic hairstyle and overall look was indeed nostalgic. Javier Bardem (No Country for Old Men) stars alongside Kidman as Desi Arnaz. The two multi-awarded actors have gone on to play such diverse roles in the past. It's not surprising if they will kill their portrayals this time around. The other cast members include J.K. Simmons (Whiplash), Nina Arianda (Stan & Ollie), Tony Hale (Veep), Alia Shawkat (Search Party), Jake Lacy (The White Lotus), Clark Gregg (The West Wing), Nelson Franklin (Black-ish), John Rubinstein (The Young and the Restless), Linda Lavin (Alice), Robert Pine (CHiPs), and Christopher Denham (Argo).
1. It's a family affair
Lucie Arnaz and Desi Arnaz Jr. serve as two of the film's executive producers. It's a pleasant surprise to know that the real-life children of Ball and Arnaz are also part of the production side of the film. This gives the movie a more personal touch, and an intimate approach. They showed their involvement in the filmmaking process, as they went on to defend the choice to cast Kidman to portray the role of Ball. Their approval means a lot, as they are the ones who know their parents best. It must feel surreal to see the depiction of real-life events play out on the big screen. It's definitely a treat for viewers, who get the chance to see one of their favorite comedians in a different light. We'll always love Lucille nevertheless!
Tell us what's wrong with this post? How could we improve it? :)
Let us improve this post!