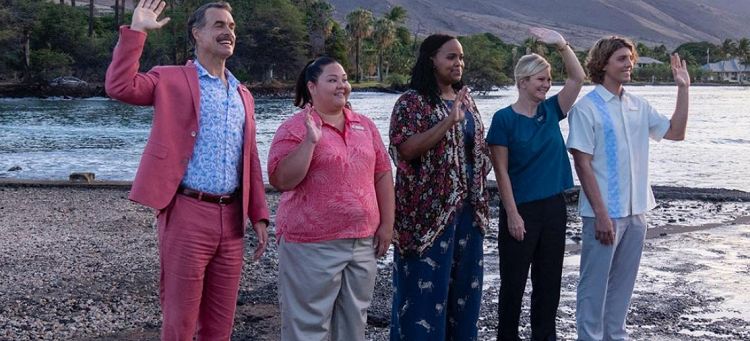 HBO's hit series, The White Lotus has been one of the most groundbreaking television shows, and for good reason. The slow build-up of the addictive story, paired with the catchiest of theme songs definitely ranks it to be one of the most binge-worthy shows in the recent year. The premise stands on a solid foundation that is backed by a unique whodunnit storyline and the quirkiest of characters, all brought together in the most unexpected way possible. It was almost impossible to hold back, and not watch all six episodes in one go. When a show starts off this good, it is not surprising if viewers have mixed reactions towards a series renewal. Some would hesitate on the idea of ruffling something that is already so original and innovative, while others feel that a story this good needs to be told further. Whether you are already satisfied by the season one finale, or rooting for something bigger and better, one thing is certain. There is no stopping The White Lotus from blossoming more, as it has officially been renewed for a second season
What is Behind the Series' Success?
The satirical comedy-drama has gained such a solid following in such a short span of time, and continues to do so. The series follows the hotel staff and esteemed guests of a high-end resort in Hawaii named, White Lotus, who is the real-life version of what you see is not what you get. Behind the warm welcome, wide smiles, designer bags, and expensive jewelries lie something far darker and unexpected than one could imagine. Viewers of the series were brought on a wild ride into the complicated lives of each of the characters that were as complex as complexity gets. To sum it all up, the season one finale ended with an accidental murder, an unhappy marriage, broken promises, and a whole lot of emotional baggage that would certainly exceed the maximum baggage allowance. The cast members of the series were also pivotal in making it a massive success.
All of them portrayed their characters with such conviction, which made each episode gripping and exhilarating. The main ensemble included Murray Bartlett (Tales of the City) as resort manager Armond, Natasha Rothwell (Insecure) as resort spa manager Belinda, Connie Britton (Dirty John) as company CFO and hotel guest Nicole Mossbacher, Steve Zahn (Diary of a Wimpy Kid) as Nicole's husband, Mark, Fred Hechinger (Eighth Grade) as Nicole and Mark's awkward teenage son, Quinn, Sydney Sweeney (The Handmaid's Tale) as Nicole and Mark's sassy and opinionated daughter, Olivia, Brittany O'Grady (Black Christmas) as Paula, Olivia's friend, Jennifer Coolidge (The Secret Life of the American Teenager) as troubled resort guest, Tanya McQuoid, Jake Lacy (I'm Dying Up Here) as spoiled mama's boy and newly married hotel guest, Shane Patton, Alexandra Daddario (We Summon the Darkness) as Shane's wife, Rachel, and Molly Shannon (Divorce) as Shane's overprotective mother, Kitty.
Unraveling the Future of the Acclaimed Series
One theme resonated loud and clear during the entirety of the first season, and that was that the wealthy always seem to get their way. The story is told from a place of privilege, and social inequality is portrayed in countless of scenes. By the season finale, the resort's wealthy guests go back to their posh and comfortable lives, while the staff back in the resort are left to pick up the pieces, and forced to just accept and deal with all that has happened during the eventful past week. In the upcoming season, it would be refreshing to see things pan out differently. Give the little voices a chance to shine and experience life's little wins for a change. Think of it as a chance for them to have their cake, and eat it too.
The showrunners have thrived in depicting disparities in life in such an entertaining way, it's exciting to see what other twists and turns they have in store for the show's highly-anticipating fans. Filming of the new season hasn't begun yet, and news on what to expect is still limited, but the show's creator, Mike White, recently announced in an interview that the upcoming season will go through changes. The series will be set in a different hotel, and new cast members will be introduced. He also added that he would be interested to explore an anthology-style approach for the series, similar to what the Marvel Cinematic Universe (MCU) is doing, so that cast members from the previous season can have the chance to reprise their roles. The possibilities are wide open, and the opportunities endless. It's only onwards and upwards from here.