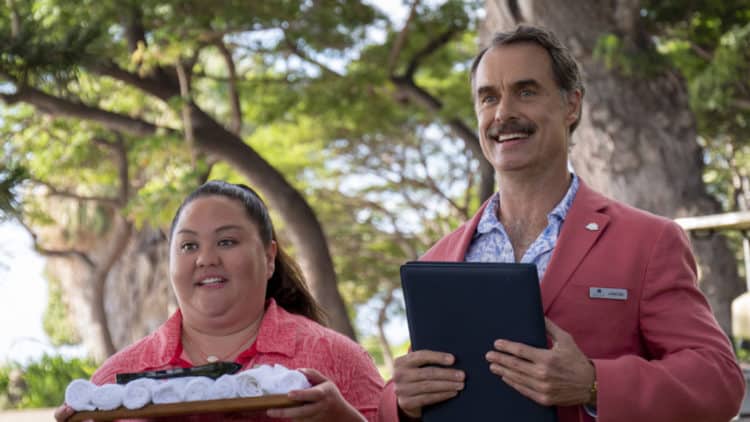 It's been more than 30 years since Murray Bartlett made his on-screen debut. During that time, he has managed to become an international star and he's gotten the chance to work with some of the biggest names in the entertainment industry along the way. Murray has proven time and time again that he has what it takes to play a variety of characters. This has allowed him to work across genres. He is best known for his role in shows like Looking and Guiding Light. Murray has also appeared in several movies over the years. Recently, he's been getting lots of attention for his role in the new HBO Max series, The White Lotus. Continue reading to learn 10 things you didn't know about Murray Bartlett.
1. He's Australian
Murray was born and raised in Sydney, Australia but we weren't able to find much information on his upbringing. He began his acting career in Australia and it didn't take long for him to become a star. He relocated to the United States in the early 2000s and has been living there ever since.
2. He's A Formally Trained Actor
Murray's career has been the perfect balance between hard work and natural talent. Murray studied at the National Institute of Dramatic Art (NIDA) in Australia where he earned a degree in performing arts in 1991. Several other successful entertainers have attended the school including Cate Blanchett, Sarah Snook, and Mel Gibson.
3. He's A Producer
Murray has spent the majority of his career in front of the camera, and there's no denying the fact that acting has always been his main focus. However, he has ventured over to the other side of the camera. In 2012, he produced a short film called Noor. To date, that is his only production credit.
4. He Isn't Very Active On Social Media
Throughout his career, Murray has built a dedicated fan base that includes people from all over the world. While a lot of those people would probably love to follow him on social media, they might be a little disappointed by the fact that he's not very active. Instagram is the only platform where he has a verified account, and he doesn't post very often.
5. He Was In An Episode Of Sex And The City
Sex and the City was easily one of the most popular shows of the 2000s, and Murray will always be able to say he was a part of it. In 2002, Murray appeared in an episode of Sex and the City as a character named Oliver Spencer. The role marked the first time he was cast in an American production.
6. He Has Spoken Out Against Racism
Despite the fact that he isn't very active on social media, Murray has still made it a point to use his platform to take a stance on the things that are important to him. In June 2020, he made a post showing his support for the Black Lives Matter Movement with the caption, "I stand with Australia's First Nations people in solidarity, love, compassion, and an uncompromising commitment to reconciliation and equality. Same story different soil. BLM!"
7. He Likes To Garden
While we don't know much about Murray's life outside of acting, a video on his Instagram profile shows that he enjoys gardening. Unfortunately, he never updated his followers on how his gardening journey is going or what kinds of plants and vegetables he was growing.
8. He Always Wanted To Work With Mike White
Usually, it's the script or the character that instantly draws an actor to a role, However, in the case of The White Lotus, it was the show's creator, Mike White, that Murray was most excited about. Murray told TV Insider, "I've always wanted to work with Mike White [White Lotus' creator/executive producer/writer/director]. He wrote this amazing complex character who goes on this roller coaster ride. It's kind of a dream for me in that Mike is someone I really wanted to work with. He wrote this show in August and we started shooting it in October. The scripts are so rich, complete, and complicated. It was so excited to read them. I would have played any role in this but the fact that I got to play Armond is amazing."
9. He Has More Than 50 Acting Credits
No matter how long someone has been in the entertainment business, booking a role is always cause for excitement. That's because even the most talented and well-known actors are never guaranteed work. Murray has been fortunate to work consistently over the years and his resume reflects that. Murray's IMDB page shows that he currently has 52 acting credits.
10. He Used To Work In Hospitality
Like most actors, Murray had to work some odd jobs before his career took off enough for him to be able to support himself. While talking to TV Insider, Murray shared that he used to work in the hospitality industry although he didn't go into detail about what his job was.
Tell us what's wrong with this post? How could we improve it? :)
Let us improve this post!