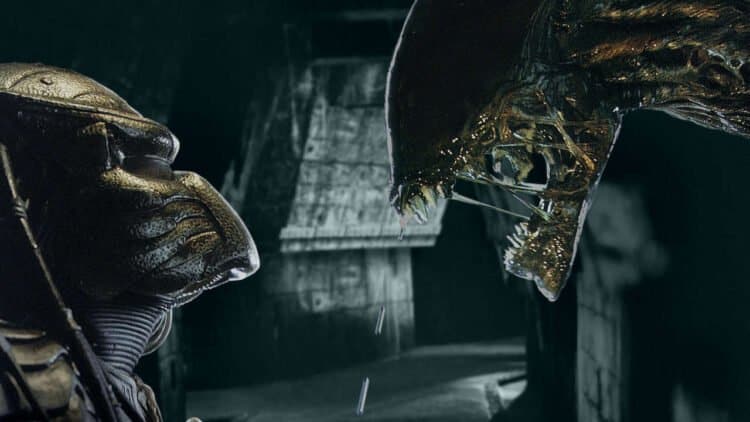 Out of all the crossovers ever concocted for the big screen, Aliens vs. Predator was one of those that carried a great deal of potential, largely thanks to the insanely dangerous nature of the combatants. Within their own movies, both aliens managed to show how inherently dangerous they were, and how they were miles above an average to a highly-trained human being, even if they tended to underestimate their prey at times. The xenomorphs are a living weapon in a big sense, while the Predators are as close to the ultimate hunter as anyone has ever seen. But when pit against each other it becomes obvious that they're just about as deadly as each other. Without their weaponry, the Predators are at a serious disadvantage, particularly when the xenomorphs show that they can learn and anticipate their enemies. Worse than anything though is the fact that the Predators actually hunt the xenomorphs for sport, as it was shown in AVP that a captured queen had been cryogenically frozen within an ancient temple that had been built by humans under the guidance of the Predators.
There are a lot of criticisms to make concerning this movie, but one of them is that the human presence kind of muddied the waters in a big way when it came down to the fight between the Predators and the xenomorphs. Seeing all three species is indeed better than just seeing two of them, but it felt as though the group of mercenaries and scientists didn't work as well as it could have in showing how the three species might deal with each other in a life or death situation. No disrespect to Sanaa Lathan, who played the main character that would be standing in the end, but she could have been made out to be a lot tougher. And the xenomorphs almost felt playful compared to the ones seen in Aliens years before.
This movie was meant to be the ultimate meeting between the ultimate predators, and yet it felt like an expedition gone wrong, and two of the three hunters were killed before they were allowed to do much of anything. In a way, that makes sense considering that to be lax with xenomorphs around is akin to suicide since the creatures don't take it easy on anyone. But Predators have been written about in many books taking on the xenomorphs, and all but the most reckless are well aware of how to conduct such a hunt. The story was enough to explain this lack since the three hunters were looking to prove themselves and endure their rite of passage, which means that they weren't seasoned veterans and were prone to making mistakes. But somehow the fight still felt as though it could have taken up more time and been allowed to stretch out for a bit longer, perhaps taking the predators and xenomorphs throughout the temple instead of being confined to one room where two of them would meet their end. Technically, one of them ended up in another chamber, but the general idea is that two of the hunters met their end in the same general region of the temple.
Rebooting this movie would be kind of interesting since how good it might do would be a matter of who was assigned to take on this project. There are a few directors that might work with the style that has been developed over the years, since the Predator and Alien movies have a very dark lean to them, even though the former has usually dealt with far more color and less muted hues that tend to give the movie a much darker look. How the reboot would be approached is interesting to think about since putting these two creatures together is always a lot of fun, even though AVP: Requiem was kind of a tough movie to watch given that it was kind of ridiculous in some spots. The fact is that things have become kind of stale when it comes to the two franchises, especially since the ideas that have come out as of late aren't so far out as to be absolutely terrible, but they're also less than what many fans want to see.
It might actually help to see these two species hook up at some point in the future, as this has been written up in the novels that have been in circulation for years. Not only does this put humans on a much more even level with both species, but it gives a better reason for seeing the three species interact with each other. Seeing a reboot of this movie on the way to the theaters might worry a few people, but it's fair to think that a lot of fans might be willing to give this idea chance, whether it came to the big screen or became a series on a streaming channel.