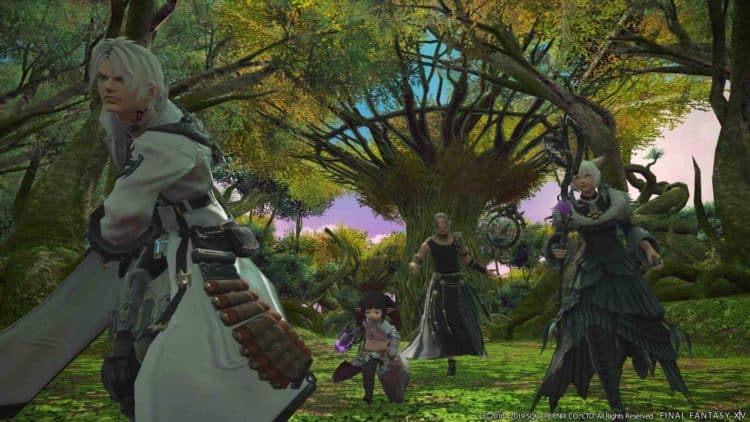 Final Fantasy 14 had a shaky start to say the least. It was so shaky, in fact, that the original version was taken down and remade from scratch by a new development team. A reception so terrible that the game had to be scrapped and work started over would be enough to sink almost any developer, but not SquareEnix. When the game was released again after extensive reworking as Final Fantasy 14: A Realm Reborn, the new version proved to be a resounding success and the game has been doing a respectable business ever since. So respectable that it is one of the few MMOs (Massively Multiplayer Online games, for the uninitiated) that has never given up the subscription model to switch to the now more common free to play system.
For context, Star Wars: The Old Republic, an MMO made by the famed studio Bioware and, obviously, based around the beloved Star Wars franchise, added a free to play option after only a year of existence as a subscription-only game. The MMO market is highly competitive and saturated with good titles, so it takes a lot to retain enough of a loyal player base to be able to rely on subscription fees to keep the servers running and fund new expansions. Final Fantasy 14's servers have been running for eight years now. There have been four major expansions made for the game, each of which generally being considered vastly superior in story terms to the original while also enriching the gameplay with new raids to beat and new classes to master.
Fans were well satisfied with it. Yet recently a strange phenomenon has occurred, with new players arriving in heretofore unprecedented numbers, leaving many in the MMO scene, both player and developer, scratching their heads. In contrast to Final Fantasy 14, World of Warcraft had a much more successful launch and has carried that success on through the decades, reigning as the King of MMOs despite a seemingly neverending cavalcade of supposed WOW-killers being released over the years. There is little doubt that Warcraft will continue to be successful for developers Blizzard, but its crown has been sitting a little wonkily on its head lately. Veteran players have been complaining over the simplification of its gameplay for a while now, so much so that a parallel version named World of Warcraft Classic was launched which retained all the features of the older, more popular versions of the game. The main game kept on going, however, and kept on being updated and changed.
Those changes would seem to have been too many. World of Warcraft's last expansion Shadowlands was disappointing to many. It triggered an exodus from the game, with players moving on in search of greener pastures. With its solid reputation, Final Fantasy 14 was an obvious choice for many. One of those many was the popular Twitch streamer Asmongold, who started playing FF instead of WOW and as such brought many of his followers over with him. Other streamers followed suit. There were so many new players looking to sign up for the game that SquareEnix had to temporarily ban the creation of new characters since their servers were being overloaded with new arrivals. They have since addressed that issue and expanded server capacity to cope, but the fact that they had to struggle at all speaks to their sudden success.
It helps that Final Fantasy 14 is cross-platform, allowing gamers on PC and the consoles to play together. Doubtless if also helped that the exodus from World of Warcraft happened at a time when the PC version of Final Fantasy 14 was discounted by 60% as part of Steam's summer sale. In addition, allowing former subscribers to play for free for an extra fortnight as part of the Make it Rain promotion has helped to facilitate this sudden rush of players towards the already popular, and now very popular MMO. It is a summery time in the offices of SquareEnix today. But no doubt it is a bit chillier over at Blizzard HQ. Between this and a lukewarm reaction to the upcoming Overwatch 2, as well as the exodus of a great many of Blizzard's long-standing employees such as Jeff Kaplan, things are looking grim for the gaming juggernaut.