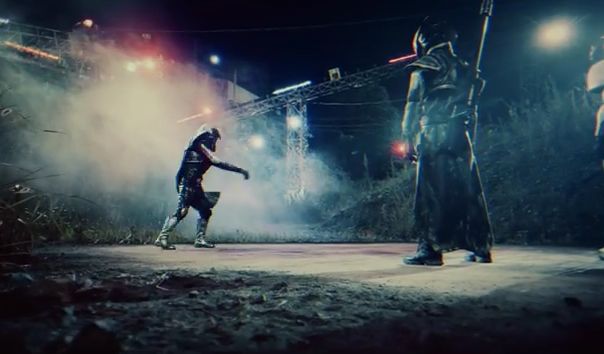 If you haven't played Destiny 2 yet then you might not understand the live action dance trailer below. If you have, then you should already know about the emotes that are present in the game that allow your character to perform certain movements that can be seen as taunting, celebrating, or just busting a move because you feel it's necessary. In a lot of games there are various ways to taunt your opponents and even demoralize them but there's nothing quite like dancing in celebration to sour an opponent's mood after they've lost.
The video clip below starts out normal enough by presenting gameplay that is very believable, at least until you discover a lone Guardian busting a move off to the right. The two up on the rise have to look again to believe what they're seeing, but soon enough they wander down to see what's going on. In the meantime the Guardian on the ground doesn't even break stride as they continue with their fancy footwork, showing off to such a degree that the two newcomers are left standing there watching. It's only when the first one beckons the other two to join in that they finally start moving and showing that they too are worthy of the dance floor.
It doesn't take long after that for more characters to join in on the fun as the dance floor soon becomes crowded with those willing to show that they have the moves that are worth watching. Just looking at them is seems more than a little difficult. I mean really, how would anyone be able to dance around in all that armor? Whatever the case the lot of them do just that as they go back and forth with each other, busting some sick moves as they continue their dance off.
To be quite honest this game looks just awesome, even by the standards of someone that's not so into gaming anymore. I'm a person that grew up on Mario Bros. and Street Fighter, but as the graphics have continued to improve throughout the years I and many others in my generation have seen video games become something that no one could have ever predicted way back when. At one point they were a pleasant distraction from a normal run of the mill life. Nowadays they're a worldwide phenomenon that has gripped millions upon millions of players online and at home.
The graphics alone are a good enough reason to play video games today, as many of them have gone 3D and offer a wide, panoramic scope of action that can't be rivaled by anything from the 80's and 90's. Those of us that cling to the old Nintendo and Sega games are those that enjoy the simplicity, but it's also extremely impressive to try playing a game like Destiny 2, if only to experience the superior level of gameplay and what's been called an awesome story line.
Getting to watch them all dance in a live action trailer is just a bonus.
https://www.youtube.com/watch?v=vII1AGyantY
Save
Tell us what's wrong with this post? How could we improve it? :)
Let us improve this post!