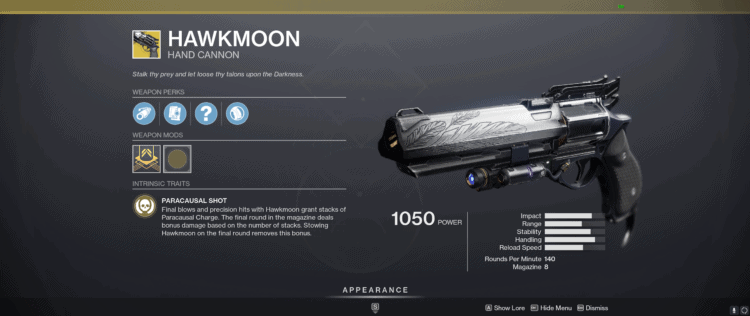 Exotics are by far the biggest part of the Destiny universe with guns like Monte Carlo, Anarchy, Gjallarhorn, and of course Hawkmoon and armor like Transversive Steps, Mask of Bakris, and the Heart of Inmost Light. Destiny really wouldn't be Destiny without its wide array of Exotic weapons and armor; these Exotic weapons and pieces of armor really give Destiny its identity Recently, Bungie reintroduced a fan-favorite Exotic Hand Cannon known as Hawkmoon, but what exactly is it? What exactly is the story behind the fabled Exotic Hand Cannon Hawkmoon? Why do Destiny players love this weapon with such passion? Let's find out!
What is Hawkmoon?
Hawkmoon is an Exotic Hand Cannon that was initially introduced in Destiny 1 as a PlayStation exclusive. When The Taken King released, Hawkmoon as well as various other Exotics that were previously exclusive to the Sony platform were then unlocked on Xbox as well. The Exotic perk on Hawkmoon in Destiny 1 was called "Holding Aces" and it allowed two more random bullets in the magazine to deal considerable bonus damage. This worked in tandem with Luck in the Chamber that allowed one random bullet in the magazine to also cause considerable bonus damage. The other perks on Hawkmoon in Destiny 1 included Accurized Ballistics for more range and impact, but increased recoil, Field Choke for more range and impact, but increased recoil, and Aggressive Ballistics for more predictable recoil and enhanced impact, but shorter range and more recoil. You could also choose between Hammer Forged for improved range and accuracy, Quickdraw to allow you to draw the weapon unbelievably fast, and Speed Reload to reload the weapon quickly. In Destiny 2, Hawkmoon changed quite a bit. Instead of Holding Aces, the Exotic perk on the gun is now "Paracausal Shot" in which final blows and precision hits with Hawkmoon grant stacks of Paracausal Charge. The final round in the magazine deals bonus damage based on the number of stacks. Stowing Hawkmoon on the final round removes this bonus. It is also the first Exotic weapon that can roll with random rolls. Hawkmoon is a 140 round per minute Hand Cannon with 8 rounds in the magazine, but this can be increased to 10 after completing the Hawkmoon Catalyst. The perks you can get on Hawkmoon in Destiny 2 include:
Barrel Perks:
Arrowhead Brake (Greatly controls recoil, increases handling speed)
Chambered Compensator (Increase stability, moderately controls recoil, slightly decreases handling speed)
Corkscrew Rifling (Slightly increase range and stability, slightly increases handling speed)
Extended Barrel (Increases range, decreases handling speed, moderately controls recoil)
Fluted Barrel (Greatly increases handling speed, slightly increases stability)
Full Bore (Greatly increases range, decreases stability, slightly decreases handling speed)
Hammer-Forged Rifling (Increases range)
Polygonal Rifling (Increases stability)
Smallbore (Increases range, increases stability)
Legendary Traits:
Opening Shot (improved accuracy and range on the opening shot of an attack)
Rangefinder (Aiming this weapon increases its effective range and zoom magnification. Increased projectile velocity while aiming Rocket Launchers and Grenade Launchers)
Moving Target (Increased movement speed and target acquisition when moving while aiming down sights)
Killing Wind (Final blows grant increased mobility, weapon range, and handling for a short duration)
Snapshot Sights (Faster time to aim down sights)
Eye of the Storm (This weapon becomes more accurate and boosts handling as your health gets lower)
Hip-Fire Grip (Increases accuracy, stability, and precision hit targeting when firing from the hip)
Quickdraw (This weapon can be drawn unbelievably fast)
Surplus (Increases handling, reload speed, and stability for each fully charged ability)
Legendary Grips:
Combat Grip (This weapon's recoil direction is more vertical, greatly controls recoil)
Heavy Grip (This grip is weighted for recoil control, increases stability, decreases handling speed)
Polymer Grip (This weapon's grip is made of lighter material, increases handling speed)
Smooth Grip (This weapon is slightly easier to hold and aim, slightly increases stability, slightly increases handling speed)
Textured Grip (The friction on this weapon's grip is particularly strong, greatly increases handling speed, slightly decreases stability)
That's just about everything you need to know about Hawkmoon across Destiny 1 and Destiny 2! Do you like the gun better now or back in its prime in Destiny 1? Personally, I never got a chance to use the weapon back in the good ole days, because I played Destiny on Xbox, but now that it's available on PC, I find the gun pretty cool, but underwhelming. I would say the best thing about the gun is the headshot hitmarker sound and the bird caw that plays when you shoot the gun. Let us know what you think about Hawkmoon in the comments!