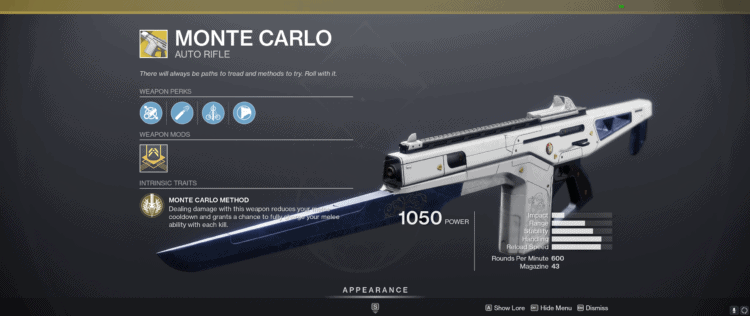 As you probably know, Destiny has always been known for its wide assortment of Exotic weapons and armor. These weapons and armor are unique to the Destiny universe and are beloved by so many in the community. Bungie has brought some of these fan-favorite Exotics from Destiny 1 and reintroduced them into Destiny 2. Monte Carlo is one of these fan-favorite weapons that made its return to the Destiny franchise with the 2019 release of Destiny 2: Shadowkeep. So what is Monte Carlo and why do players like it so much? What's different about this Exotic Auto Rifle from its Destiny 1 variant? Let's find out!
What is Monte Carlo?
Monte Carlo is one of the most powerful Exotic Auto Rifles in Destiny. It was first introduced in Destiny 1 as a PlayStation exclusive that could be obtained randomly from strikes, engrams, loot chests in Raids, or as a random completion reward for PlayStation users. The gun became available for Xbox players to obtain with the release of The Taken King in 2015 where it can still be obtained as a random drop from Year 1 activities and legacy engrams. The Destiny 1 Year 2 variant of the gun can be obtained from the Wrath of the Machine Raid, a Raid Reprise, Trials of Osiris, Nightfalls, the King's Fall Raid, and can be sold by Xur, Agent of the Nine for 23 Strange Coins. It's a bit different in Destiny 2, however, as there is no dedicated place you can farm it, it's a random drop from any source either as a completion reward or a random enemy drop. Though, you can still purchase it from Xur if he is selling it.
Monte Carlo Perks (Destiny 1)
In Destiny 1, Monte Carlo had some fantastic perks to choose from including:
CQB Ballistics (Greatly reduced recoil, significant penalty to range)
Smart Drift Control (Predictable and controllable recoil, penalty to range)
Aggressive Ballistics (More predictable recoil, enhanced impact, shorter range and more recoil)
Hip Fire (This weapon has bonus accuracy while firing from the hip)
High Caliber Rounds (Oversize rounds built to stagger targets and leave them reeling)
Send It (Increases range and accuracy)
Field Scout (Increases carried ammo capacity)
The Exotic perk on the Destiny 1 variant of Monte Carlo is known as "Monte Carlo Method" and it states that dealing damage with this weapon reduces your melee cooldown and grants a chance to fully charge your melee ability with each kill. This was incredibly powerful in Destiny 1 and had some amazing synergy for builds that focused on melee abilities.
Monte Carlo Perks (Destiny 2)
The perks on Monte Carlo are a bit different in Destiny 2, with some brand new perks including:
Fluted Barrel (Greatly increases handling speed, slightly increases stability)
High-Caliber Rounds (Shots from this weapon knock the target back farther, slightly increases range)
Markov Chain (This weapon gains increased damage from melee kills and kills with this weapon. Melee kills grant ammo for this weapon)
Composite Stock (This weapon has a versatile dual-purpose stock: slightly increases stability, slightly increases handling speed)
Markov Chain is a brand new perk on Monte Carlo and it's what truly sets the Destiny 2 variant of the weapon apart from the Destiny 1 version. The increased damage and ability to grant ammo on melee kills is great. The Exotic perk on the Destiny 2 version of Monte Carlo is actually the same thing as the Destiny 1 version; dealing damage with this weapon reduces your melee cooldown and grants a chance to fully charge your melee ability with each kill.
Monte Carlo Catalyst
Unfortunately, we have yet to see any sign of the Monte Carlo catalyst in Destiny 2. However, we do know that it exists somewhere in the database according to Light.gg and it will (supposedly) require 700 kills with Monte Carlo to unlock. Alongside the basic benefits that catalysts provide such as giving the weapon the ability to generate Orbs on multikills as well as gaining a tracker that will display the number of combatants defeated and other various Masterworked capabilities, I would love to see it get a boost to range and stability. I think it would also be interesting (although entirely unreasonable) to see Bungie give it an alternate fire mode – or maybe a pair of Exotic gauntlets – that would allow players to consume their melee ability and increase Monte Carlo's damage even more. You could say Monte Carlo would be able to pack a bigger….punch.
Monte Carlo Stats (Destiny 2)
Impact: 21
Range: 50
Stability: 60
Handling: 64
Reload Speed: 81
Rounds Per Minute: 600
Magazine: 43
Aim Assistance: 50
Inventory Size: 52
Zoom: 15
Recoil:80
Bounce Intensity: 20
Bounce Direction: Tends Right
Tell us what's wrong with this post? How could we improve it? :)
Let us improve this post!