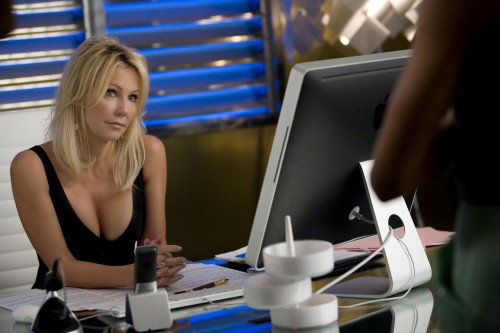 When people think of the 1990s, Melrose Place is probably one of the first shows that come to mind. Spanning almost the entire decade, Melrose Place was full of drama and intense romance, and it introduced viewers to some pretty iconic characters. Unfortunately, however, some of the characters left a more positive impression than others. Either way, it says something that these people are still on our minds more than 20 years since the show's final episode. Out of them all, though, Amanda Woodward tops our list of the best character on the show. Sure, she may not have always been the most likable, but sometimes that's what makes a character so special. Keep reading to find out why we think Amanda Woodward was the best character on Melrose Place.
Amanda's Storyline
Portrayed by Heather Locklear, Amanda Woodward was introduced during season one. She was initially a recurring character but became a main part of the show starting with season two and continuing for the rest of the series' run. During that time, she had one of the most interesting storylines on the show. Not only was Amanda good-looking, but she was also all about her business – a quality that made her appealing and intimidating. Although she initially seemed extremely well put together, it was revealed that Amanda had a very difficult upbringing. Her parents were abusive which resulted in Amanda becoming tough and disconnected. She had also become a master manipulator which is something that became apparent at several points in the show.
Amanda had also been married to an abusive man who she faked her death to get away from. When he finally realized that she was alive he went to confront her. He quickly learned that she wasn't the same woman he'd known before. He ultimately ended up dying while trying to chase her in a fit of rage. Over the course of the show, we saw Amanda go through lots of changes that included several relationships. We even saw her become a fugitive, which again resulted in her faking her death at the end of the series.
Why We Think Amanda Was The Best
We've already established that Amanda wasn't always the easiest character on the show to like. In fact, was actually the kind of person that lots of viewers probably loved to hate. However, she may have just been the most interesting and well-rounded. Despite her tough exterior, Amanda showed several moments of immense kindness throughout the show. For example, fans will probably remember when Amanda had Jo Reynolds' back after Jo killed her husband in self-defense. Even though there were lots of things about Melrose Place that were too dramatic to be realistic, there was always something about Amanda that felt very real. From a character development standpoint, she was interesting, layered, and endearing. Like most people, Amanda had multiple sides.
She did her best to make a great life for herself despite the circumstances she came from. The fact that she was an abuse survivor also added another layer to Amanda's character. She proved time and time again that she was the kind of person who could get through anything, and that's always an admirable quality. No matter what kind of obstacles were thrown in her way, Amanda didn't let anything stop her. On top of that, the fact that Amanda could sweep just about any guy off of his feet made her character even more interesting. Plus, Heather Locklear did a great job of bringing Amanda to life. She made the character so believable that it's impossible to imagine anyone else in that role.
Amanda Woodward 2.0
When viewers said bye to Amanda in 1999, she had just faked her death along with Dr. Peter Burns so that the two could avoid prison time. They went on to move to a deserted island and it was somewhat assumed that they lived happily ever after. However, when we were reintroduced to Amanda in the 2009 Melrose Place reboot, she was back in California and was getting arrested for being part of a theft. Her storyline in the reboot was introduced with the idea that it would be picked back up during season two. Unfortunately, we never got to see how things panned out for Amanda because the reboot was canceled after the first season. Since Amanda had a history of being slick and somewhat invincible, we'd like to believe that she was able to eventually weasel her way out of any legal trouble. Hopefully, Amanda would've also returned to her role as a main character.