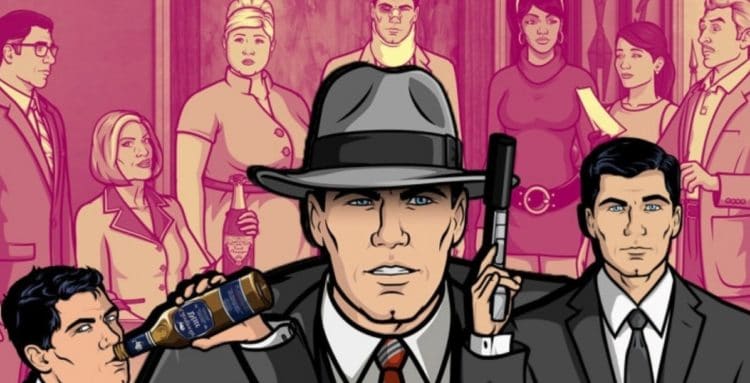 When Archer first came to the small screen it seemed like something of a joke, a spy show that featured one of the biggest bumblers to ever come along. It hasn't really changed throughout the years as the cartoonish quality of the show has been played upon over and over, but it would almost seem that despite everything, Archer might not end for another decade or more depending on how people come to think about him. Ben Travers of IndieWire seems to think that the tenth season might not be the end as it would appear that the creator of the show might be thinking along the same lines. Why this is so is anyone's guess but there are plenty of theories concerning just why this would be so. A lot of shows throughout history have known when to pack it in, while some have stuck around and somehow managed to get better, while others have managed to get steadily worse. With an animated show however it would seem that things can keep going so long as the creator and the writers can come up with a story line that people will be willing to follow.
So far a lot of people are still of the mind that season 10 will be the end of the road for this character, and some might even want to see that since quite honestly he's been around for a while and might need a fitting end so that something else can come in. That seems like a rather argumentative thing to say since quite honestly a lot of people might want to pull for Archer to come back, but the idea that the show will be gone after season 10 is something that opens up new ideas and a block of time in which something else could possibly come in and grab the attention of the people. One overriding truth of TV programming is that no matter what's on there are going to be people who will sit and watch the programs that are being dished out on a regular basis. After all, there was something before Archer and there will be something after. The fact that he's been around so long is a good indication that those that have been watching all this found the animated show endearing as well as amusing. Some of us might have watched the show for a couple of minutes and gone 'meh', but many folks found something about the program that was nothing short of hilarious.
In a big way Archer is kind of like a cross between James Bond and Get Smart with more of the latter thrown in to make the show absolutely hilarious. It worked after all since the show has been running since 2009. Since that time though things have changed and the landscape of TV and society has changed along with it in a lot of ways. Archer is still a show that many people appreciate, but it might be time to wrap it up since some folks believe it should have ended somewhere between seasons 7 and 9. But that's a lot of conjecture since a lot more people seemed to think that he was destined to keep going, and might still if the writing remains good enough to propel him from one adventure to another. Given that the show has already gone down some of the kookiest routes possible it's fair to say that the writing could possibly get as crazy as it wants to be and people would continue watch. After all, folks tend to want something that makes them laugh and at the same time makes them want to keep watching, hooking them in a way that makes it possible for them to drop everything and sit in front of the TV when they can to watch their favorite shows.
A decade ago it did seem as though Archer wouldn't last more than one season, but here we are now, trying to think past a 10th season while wondering if Archer is going to keep going or if the creator is going to shock the audience as he simply goes away. Something seems to indicate that it wouldn't be as traumatic as Game of Thrones and wouldn't even be as confusing as the last episode of My Name is Earl, but it would definitely be felt all the same. People tend to want their shows to keep going for as long as they so long as the stories are kept plausible and easy to follow. Whether Archer will be able to do that or not is kind of hard to see since quite honestly the show has done so many things at this point that it feels as though it might start stumbling over its own feet in an attempt to come up with something new and innovative. But hey, that's one opinion.