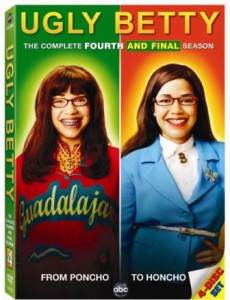 I miss Ugly Betty. I watched the show religiously every week on Thursday nights, but dropped off in the final season when it moved nights. As I watched the episodes for the final season DVD, I realized how much I missed this show, with its crazy characters and even crazier storylines.
I know that the ratings tapered off in the third and fourth seasons and I wonder if it's because the storylines got a little bit TOO crazy. But if you watch the season four episodes you'll realize that the show's heart is still there. I know that the series ended on a somewhat ambiguous note, with Daniel and Betty meeting up in London, England. It's unclear what their future will hold and whether they'll get together, but it still ends on a happy note. The whole "leaving town to go start a new, glamorous life in a foreign country" ending is kind of a plot device, but the show is so cheerful and hopeful that you can't help but forgive it. There's a part of me that balks at Betty's transformation, thinking that it goes against the original spirit of the show, but I suppose that change is necessary, even with fictional characters.
Becki Newton and Michael Urie always stand out as Amanda and Mark and Vanessa Williams remains impossibly gorgeous as Wilhelmina Slater. Bonus features for the DVD include bloopers, deleted scenes and a featurette with Newton and Urie frolicking around in the Bahamas. Disney has sent us a few videos from the bonus features to share with you, including some bloopers and a few deleted scenes.
Ugly Betty Season 4 DVD will be released on August 17.
The world of high fashion takes on a whole new, hilarious meaning in Ugly Betty: The Complete Fourth and Final Season, available on DVD August 17, 2010 from Walt Disney Studios Home Entertainment. There are underdogs and then there is Betty Suarez, the ultimate 'fish-out-of-water.'Her efforts to fit in with her colleagues at a glossy magazine may bring unintentionally hysterical results, but they also have audiences rooting for their favorite fashionista. The collectible four-disc release allows viewers to complete their collection and relive every endearing moment of this heartwarming and irreverent comedy with all 20 final-season episodes uninterrupted, with never-before-seen bonus features.

Betty sure has come a long way! She is finally coming into her own and getting what she's worked so hard for. But what she doesn't realize is that she's starting over in so many ways, and if she wants to play in the big leagues she needs to keep up. Ugly Betty: The Complete Fourth and Final Season focuses on her transformation — both personally and professionally — and how she will navigate these new waters as only she can. If Betty wants to succeed, she will once again have to rely on her heart, perseverance and intelligence — along with some help from her family, friends and a few unlikely allies.

'Ugly Betty'stars America Ferrera as Betty Suarez, Eric Mabius as Daniel Meade, Tony Plana as Ignacio, Ana Ortiz as Hilda, Judith Light as Claire Meade, Becki Newton as Amanda, Michael Urie as Marc, Mark Indelicato as Justin, Daniel Eric Gold as Matt Hartley and Vanessa Williams as Wilhelmina Slater.
Tell us what's wrong with this post? How could we improve it? :)
Let us improve this post!