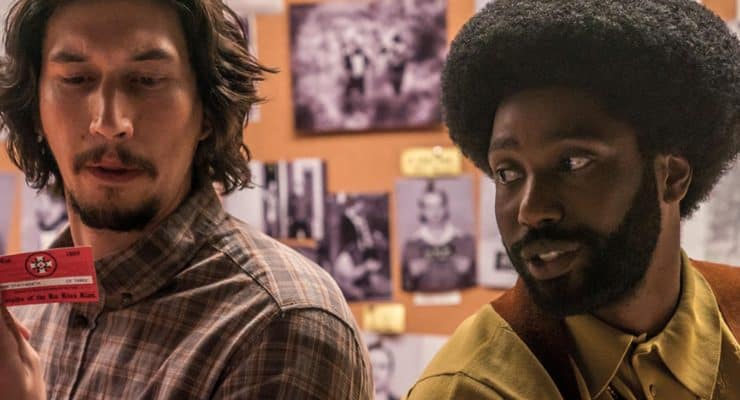 Because he will, that's why. But seriously Adam Driver is one of the many actors that's just been getting better the more he's been seen and with every role is learning a little something that he might be able to take into his next role. Some folks might think that he's wasted in Star Wars as Kylo Ren, but at this moment he's serving as a bad guy that's greatly conflicted and knows that there is a path to redemption, he just chooses not to take it. In the meantime he's been in several other movies and done just great, as with BlacKkKlansman as you see above. He's also been in movies such as This Is Where I Leave You and done awesome as a narcissistic man with severe oedipal issues that has no sense of responsibility at all. And then he turns around and can act out the part of a young officer that's willing to make the claim that a murder was carried out by zombies when no one else is willing to even accept the explanation. The Dead Don't Die isn't quite out yet, but already it looks like it's going to be a lot of fun.
Thus far he's actually won a couple of awards for his time in Star Wars and for BlacKkKlansman, but no Oscar just yet. He's been nominated for the latter but while it might seem that he's been doing his absolute best it still feels like he has more to give and is just hitting his stride. If people don't recall, Adam has been around for a decade and more and has been a busy man since he came on the scene. While a lot of his appearances on TV and his movies might have come and gone and failed to get as much attention as they should have there's still the idea that it doesn't matter since what he's doing now is the accumulation of those many appearances. With just about any actor one could easily cite movies and TV shows that they frequented or visited in their past, and some might remember. Some might not and would base their like or dislike of said actors upon their more recent works. In this case, Adam has been tearing it up on the big screen in a number of ways in a lot of different roles that have shown his versatility and his ability to fit into a movie in his own way. In some instances his characters might seem a little over the top or even a bit muted, but it's always the intent he's had with each and every role.
Every actor has films that don't go anywhere and either aren't meant to or were simply an attempt to make something they believed in come to pass. Adam has a whole list of credits to his name that didn't do much according to some, but have been helping him to build his reputation all the same. Few if any people ever come to Hollywood and simply start winning awards out of the blue, as it takes a good deal of work, sacrifice, and talent to really reach for that top spot during the Academy's. He's already made a great stride in reaching for that brass ring since he's been nominated in the Academy's at least once, and who knows how many more times he might be nominated in the years to come. There's a lot of hope that he's going to be one of those that lasts for a good long time and finds a way to push past whatever barriers are put in his way. Already it would seem that he's outlasted a few people in his career, or at least outpaced them in terms of talent and skill. There's no doubt that he's going to win an Oscar one of these years, it's just a matter of when at this point, not if.
For those that might like to doubt that he actually has what it takes it would be wise to take a look at his credits, what he's done, and what he's capable of since a lot of actors can claim awards but they can't claim the same range that Adam has. This is a guy that can seem quiet, calm, introspective, even shy, and then becomes a smooth-talking player before becoming a regular, plain old working man trying to do his job to the best of his ability. The rumor about the Academy Awards being political and favoring only those that are being groomed to win the awards or picked as favorites isn't entirely unfounded since if the Academy's were being run entirely on merit there are many people and movies that would have been awarded throughout the years and many that would have no chance. But Adam does seem like one of those that will be impossible to deny at some point.