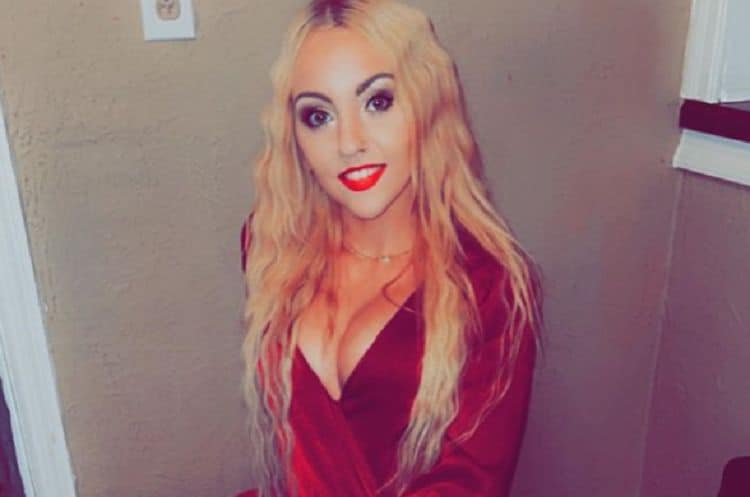 Since its debut in 2018, the WE TV series Love After Lockup has documented the relationships between inmates/people who have recently been released and their partners. While there have been a couple of somewhat successful stories, there have also been quite a few that will leave you scratching your head. Nicolle Bradley's relationship with her boyfriend, Daonte, is one of the latter. The two met while Nicolle was in jail and Daonte quickly fell in love. Nicolle on the other hand, seems to have more interest in what Daonte can do for her than having a relationship with him. However, could there be more to her than what we see on the show? Of course. Keep reading to learn more about Nicolle Bradley.
1. She And Daonte Don't Appear To Be Together Anymore
Anyone who has seen even a minute of Daonte and Nicolle's story on Love After Lockup would probably agree that their relationship didn't have a lot of potential. It was obvious (to everyone except Daonte) that Nicolle wasn't that interested. Needless to say, it appears that the couple has gone their separate ways. Typically, this would be considered a spoiler, but I don't think anyone will be surprised by this split.
2. She's Bisexual
Nicole is a proud member of the LGBTQ+ community and the fact that she is bisexual is something that she eventually shared with Daonte. Although he didn't have a problem with her sexuality, he did have a problem with the fact that she had been hooking up with a woman while she was in jail.
3. She's A Proud Aunt
Since Love After Lockup is meant to focus on Nicolle's love life, viewers don't get to learn much about her family. However, we have learned that family is something that is very important to Nicolle and she takes lots of pride in being an aunt. Hopefully, she will be able to set a better example for her nephew as he gets older.
4. She Allegedly Has A Connection To Another Love After Lockup Star
The reality TV world is full of lots of twists and turns, but here's one that a lot of people never saw coming. According to several sources, Nicolle Bradley has known fellow Love After Lockup star Lacey Whitlow for years. Allegedly, the two have even made adult films together in 2016. If this is true, then Lacey likely played a role in getting Nicolle on the show.
5. She's Married
Are you ready for yet another plot twist in Nicolle story? Nicolle is currently married to a woman. It's unclear exactly when they tied the know, but it looks like they got engaged sometime in 2020. It's unclear whether or not this is the same woman she was having a relationship with while she was locked up.
6. She's Active On Social Media
Now that Nicolle is a reality TV star, there are a lot of people who would love to keep up with her on social media. The good news is that she's pretty active on Instagram and TikTok. That said, it's been a while since she's posted on either platform which could possibly have something to do with the fact that the show is currently airing.
7. She's A Dog Person
Knowing that someone loves animals can always give you a little bit of insight into their personality. For those who were wondering, Nicolle definitely seems to be a dog person. Nicolle's Instagram shows a few pictures of her hanging out with some adorable pups. It's unclear, however, if she has a pet of her own.
8. She Likes Her Privacy
Just because Nicolle is on a reality TV show doesn't mean that she wants to share all of her personal business. Outside of things involving her love life, Nicolle hasn't shared much personal information. However, this could change once her season of the show is finished airing.
9. She's Gotten Some Backlash From Viewers
Since being introduced on the show, lots of viewers have criticized Nicolle for the way she appears to be using Daonte for money. Some people think that her willingness to take advantage of him says a lot of negative things about her as a person. Others, however, feel that if Daonte chooses to be in La La Land, it's his own fault.
10. She Met Daonte On A Pen Pal Website
Typically, people don't go out of their way to fall in love with someone who is serving time, but when it comes to relationships Daonte isn't like most people. He signed up for a pen pal website that gave him the opportunity to write to inmates, and it didn't take long for him to feel connected to Nicolle.