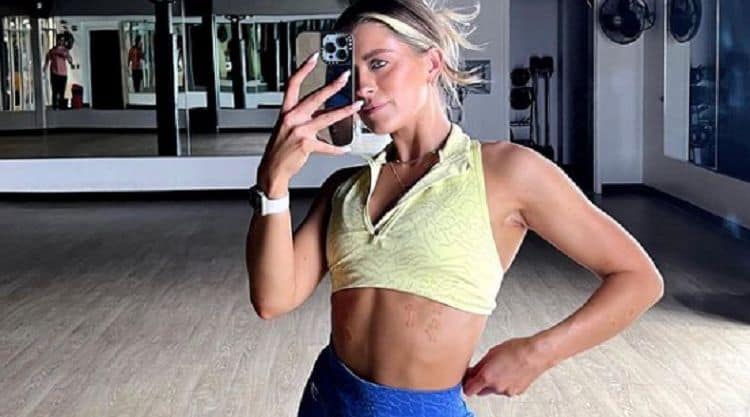 When Whitney Simmons began posting her workout videos online, she had no idea just where that would take her. She didn't know it would launch her into a career that literally did not even exist as an option when many of us were growing up. She had no idea she'd become one of the most influential workout app designers, one of the most influential online personalities, and someone who changes lives on a daily basis. She's an inspiration to all, and it's time we learn more about the woman behind the Alive workout app and what she's like.
1. She's a YouTube Star
When she's not busy working out, she's busy sharing workouts online. She is a YouTube star with a huge online presence, and her entire deal is all about health, fitness, and living a healthy lifestyle. Her following across her many social media platforms is massive, and her success is inspiring.
2. She is a Designer
When she's not working out or being an influencer, she's also making clothes. She's recently partnered with a huge company called Gymshark to create a line of workout gear for her favorite fans. The entire line is designed with the concept of comfort as well as style. She wants her buyers to look good, feel good, and still have functionality in their workout clothes.
3. She is an App Designer
She also has an app. She's created the Alive App for those of us who want to follow along, work out, get advice, and find out how we can live a healthier lifestyle, too. It's a widely popular app that has a lot of fans, and we can see why. It's immersive as well as functional, and it's easy to use.
4. She is into Balance
If you ask her what she loves most about what she does, it's finding the balance in living well. She's into living a good life, but also one that is both healthy and functional. She knows that her followers want to have a good time, they want to indulge from time to time, and they want to stay fit and healthy. Her entire goal is balance and finding a way to make it all work for everyone.
5. She Focuses on Mental Health
In addition to her outer fitness, she knows that she has to care for her inner health, too. Her mental health is not always on par, as it is with the rest of us, but she knows when she has to focus more on that than anything else, and she makes it work for herself. She is capable.
6. She is Engaged
When she began dating her boyfriend, she was just into him from a crush she had at the gym. She was so excited about their date, and she hoped it would go well. We imagine she had no idea just how well it would go, though. Now they are engaged to be married, and she's an advocate for talking to that crush you have at the gym or anywhere else.
7. She's a Dog Lover
She's also a dog lover, and all the best people are. She has the most adorable pup, and she is not shy about sharing her doggie love with the world. While her dog is not making regular appearances in her work outs – that might not be safe – the sweet pup does make some regular appearances in photos on social media, and we are here for it.
8. She's Funny
She might be a serious fitness buff, business owner, and entrepreneur, but she is making it clear to anyone who follows along that she likes to have a good time, and that she is someone who is good at that. She is funny, and she doesn't take life too seriously.
9. She Works Hard
She is a woman who works tirelessly, and it shows. Her business is successful because she puts in the work. Her time is dedicated to working on herself, her business, and to helping the rest of the world love themselves a bit more.
10. She Tries to Maintain Some Privacy
She shares a lot of her life online, but she does work on keeping some things private. She doesn't share too much of her personal life details with the world, but she does give us all an occasional glance into her personal life. We sometimes see snippets of her fiancé and their sweet relationship, and it constantly reminds us she is just like all of us.Designer
Tell us what's wrong with this post? How could we improve it? :)
Let us improve this post!