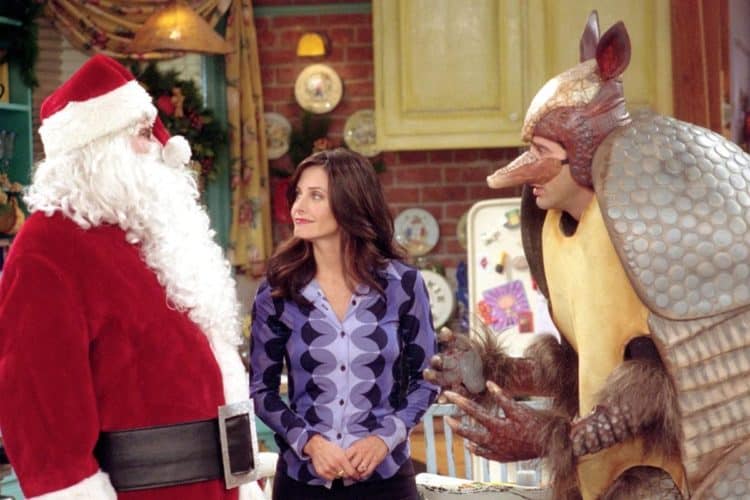 Friends gave us one too many happy moments. When Phoebe ( Lisa Kudrow) wasn't composing a classic original, Monica was taking her cleaning obsession too far. When the Gellers weren't wowing us with their sibling goals, Gunther was showing up for Rachel. When we weren't learning life lessons from Rachel, we were experiencing the very best of Chandler Bing's sarcasm. Through the show's ten-season run, there were numerous joys, but there were also extremely low moments when some of them could barely get by. These times somehow seemed to balance life out, and were a reflection of real-life highs and lows:
1. Rachel Was Yet To Find Her Magic Beans
A visit from Rachel's ( Jennifer Aniston) posh friends reminded her of the life she had thrown away. All of a sudden, a slumber party with the girls didn't seem like a good idea. Rachel was sulking the whole time, feeling like her life was wasting away and the future did not seem to be any brighter. "…everyone I know is either getting married or getting pregnant or getting promoted, and I'm getting coffee. And it's not even for me!" She complained. Monica tried to talk Rachel into doing 'this amazing independent thing' but it only resulted in Rachel and Phoebe being dragged into the somber mood. According to Phoebe, Rachel hadn't found her magic beans, just like Jack from Jack and the Bean Stalk. The sad mood spread through the night, with the three ladies ordering in, and Phoebe declaring that she didn't even have a 'pla-'.
2. Monica Was Overwhelmed By Her Breakup With Richard
The relationship between Monica and Richard was going just fine until Monica ( Courteney Cox) brought up the subject of children. Monica wanted to have children with Richard but he would only agree to have kids 'if I had to.' That quickly fueled a breakup. For three nights in a row, Monica did not sleep at all, which was very unlike her. All around her were reminders of her former boyfriend; cigars, hair. "I'm so tired of missing him. I'm tired of wondering why he hasn't called," She told Rachel. To remind herself of Richard (Tom Selleck), Monica smoked his cigar, all while rooted to the couch and dressed in Richard's t-shirt. That was the perfect time for her dad to show up for a little 'monicuddle'. " I just wanted to make sure that you're okay," Jack Geller ( Elliot Gould) told his daughter. He'd apparently seen Richard, and the guy wasn't doing well either. According to Jack, Richard was doing worse than when he broke up with Barbara.
3. Joey Struggled With Unrequited Love For Rachel
Joey ( Matt LeBlanc) was a ladies' man. Within the group, he was the one most likely to get lucky if the three of them walked into a bar. With his famous way of asking, " How you doin?", Joey's charm was undeniable. Twice, however, he fell in love. It was unlike Joey to try to get serious with any girl, but he couldn't help it when Rachel became his roommate. Joey tried to convince himself that it was just a crush, but it wasn't. He fell, madly, deeply, head-over-heels in love with his friend, and try as he would, he could do nothing to stop it from happening. It didn't help that Rachel didn't feel the same way at the time. Joey went on a rant when Gunther ( James Michael Tyler) asked for his order. He simply wanted the woman he loved to love him back. Things got worse when Phoebe brought him a happy dog. Joey was so depressed, that he made the world's happiest dog a sad one. " He will cheer you up," Phoebe had said, but the shock was on her.
4. Ross Missed Out On Taking Rachel To The Prom
The love Ross has for Rachel was undeniable. He fell in love with her when they were so young and simply never stopped. Seeing as Monica and Rachel were friends, it only made sense that they'd meet at Ross's ( David Schwimmer) house with their prom dates. Rachel's date, Chip ( Dan Gauthier) was running late, prompting Ross to take over. For Ross, that was a moment he had been waiting for. He'd dreamt of Rachel for the longest of times, and finally, he was going to be the one that takes her to the prom! An excited Ross got dressed up in his very best black suit, grabbed a couple of flowers, and when he was ready to walk down the stairs to meet Rachel, he saw her walking out of the house with Chip by her side. Ross was devastated, so was everyone else when they played back the tape years later. Lucky for him, Rachel was in the room, and when she saw what had transpired that night, she walked up to Ross and lost herself in the moment. It had taken years, but Ross finally got his dream girl.
5. Chandler Went Through Phases To Get Over Kathy
Love triangles weren't so rare on Friends. Sometimes someone was eyeing someone else's girlfriend. It happened a lot with the guys, but surprisingly never with Monica or Phoebe. Rachel found herself caught in the murk between Ross, Joey, and Charlie ( Aisha Tyler), and, in true Joey fashion, he once shared a love interest with Chandler ( Matthew Perry). Chandler was first interested in Kathy ( Paget Brewster), but when he discovered that Joey also liked her, he allowed them to date. It turned out that both Joey and Kathy were aware of Chandler's feelings, and eventually, the pair got to date. They broke up because Chandler thought she was cheating, and to get over her, he had to go through a couple of stages. Phase one of the breakup involved being in sweatpants, and for that, there was nothing Joey and Ross could do. Phase two, getting drunk and going to a strip club, was Joey's favorite, and even though he swore he'd never miss it, he did and the girls took over. The third phase involved picturing himself naked with other women, and the girls helped with that too. So helpful they were, that they got to the fourth phase where Chandler didn't want to ever have a relationship.
Tell us what's wrong with this post? How could we improve it? :)
Let us improve this post!