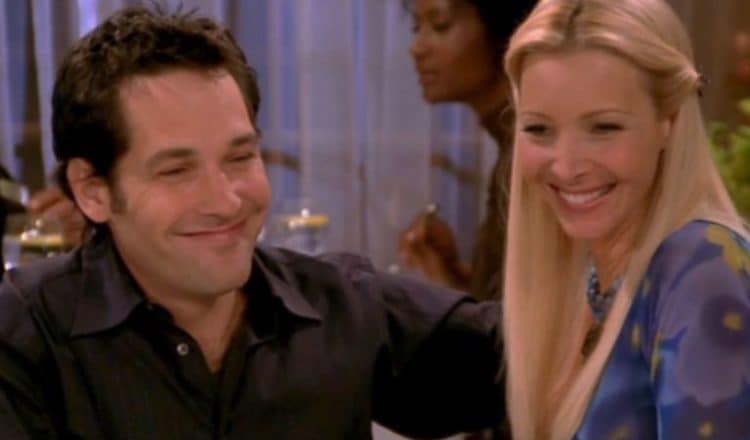 The classic NBC sitcom, Friends, took the small screen by storm during its ten-season reign from 1994 to 2004. It's simple yet relatable premise was a good example on how a series did not need much in order to become a hit. The show's massive success could be attributed to good writing, a stellar cast, and a storyline that could be hilarious and heartwarming at the same time. The pacing of the show was also consistent until the end. We basically felt like we were bidding goodbye to some of our best friends by the time the series finale was airing. Cue in the water works. Apart from forging a special bond with our new "Friends" on the sitcom— Rachel, portrayed by Jennifer Aniston (The Morning Show), Monica, portrayed by Courteney Cox (Scream), Ross, portrayed by David Schwimmer (The People v. O.J. Simpson), Joey, portrayed by Matt LeBlanc (Man with a Plan), and Chandler, portrayed by Matthew Perry (17 Again), we were also entertained by the number of stars that guested on the show.
5. Giovanni Ribisi as Frank Buffay, Jr.
We were able to get to know more about Phoebe's past whenever he family members made an appearance on the show. One memorable family member was her half-brother, Frank Jr., portrayed by Giovanni Ribisi (The Wonder Years), who Phoebe shared a common past with. They were both abandoned by their biological father, who walked out on them at a young age. The half-siblings were oddly alike in many ways and were able to form an unexpected bond. Phoebe eventually became more involved in Frank Jr.'s life by volunteering to be a surrogate mother to his child that turned out to become triplets. Blood can really be thicker than water, and Phoebe proved this with her newly established relationship with Frank Jr.
4. Tom Selleck as Dr. Richard Burke
Before Chandler came along to become Monica's love interest, she first fell in love with Dr. Richard Burke, portrayed by Tom Selleck (Magnum P.I.), a handsome ophthalmologist who was 21-years her senior, a divorcee, and also a close friend of her parents. It was an unexpected pairing that surprisingly worked. Dr. Burke served as a stable partner to Monica, as he made her feel cherished and wanted. Their age gap did not also become a problem at first, as he was mature enough and secured about himself. This worked well with Monica's controlling and overthinking attitude. The pair eventually broke up because Monica wanted to have children, while Richard was already contented with being a father to grown-up kids and a grandfather to their children. Their relationship may not have worked out, but their time together was well-spent.
3. Reese Witherspoon as Jill Greene
We first got to know Rachel was a spoiled child who was at a crossroads in her life. She left her groom at the altar and went to New York City hoping to find herself. We were able to understand her character more as the seasons progressed, and after her family members guested on the show. One of those family members was her youngest sister, Jill Greene, portrayed by Reese Witherspoon (Big Little Lies). Jill ran off to New York City to look for Rachel after being cut off by their wealthy father after she buys a boat for her friend. She attempted to start anew just like what Rachel did, but this turned out to be easier said than done. It was amusing to witness Rachel and Jill argue over the most mundane things and tackle conflicts, just like any normal sibling relationship. It gave us a glimpse of Rachel's life before she moved to New York City and made her character even more relatable.
2. Hank Azaria as David
Phoebe's love life was as colorful as her personality. We first got to see Phoebe fall madly in love with David, who was also known as "David the Scientist Guy", portrayed by Hank Azaria (Huff). He had a unique chemistry with Phoebe that sadly did not last for long, as David's character had to relocate to Minsk for work. It was always interesting to witness the many stages in Phoebe's life. There was definitely no dull moment. David was also a memorable character because of his stutter and lack of fluency in speaking, which were magnified whenever the group of friends got together with him. He was a fun character that brought joy to Phoebe's life, albeit short.
1. Paul Rudd as Mike Hannigan
Phoebe was finally able to find her better half in Mike Hannigan, portrayed by the ageless Paul Rudd (Ant-Man). He joined the cast during season nine of the series, and first made an appearance as a random guy that Joey randomly selected to be Phoebe's blind date. It was a chance encounter that turned out to become a blessing in disguise. Mike was gentle soul that complement Phoebe's eccentric personality. He allowed Phoebe to be herself, and was a silent supporter who always had her back. The couple finally got married by season ten, and ended the season with a bang by changing his name to "Crap Bag" after Phoebe changed hers to "Princess Consuela Bananahammock". It was matchmade in heaven, to say the least.
Tell us what's wrong with this post? How could we improve it? :)
Let us improve this post!