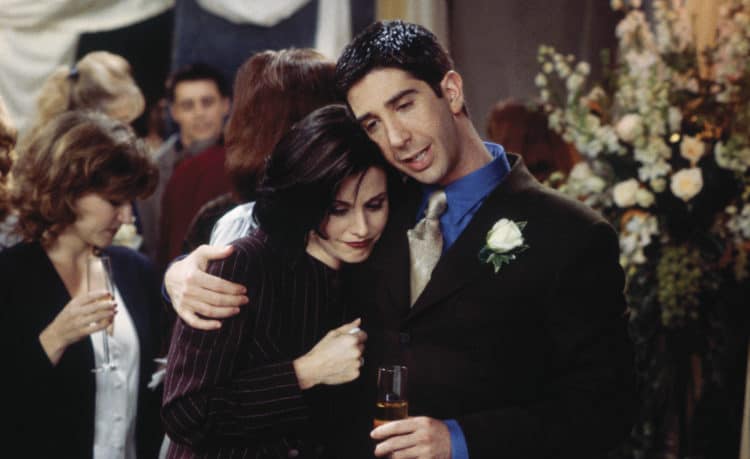 Being the only sibling on the show, Monica and Ross added an interesting dynamic to Friends. When they were not spilling each other's secrets all over the place, Ross would try to mess with Monica for banging his son's head. Ross was obviously their parents' favorite, who could do no wrong in their eyes, while Monica, though perfect to the bone, often got the short end of the stick. Even though they fought a number of times, they still had moments when they showed love to each other were ultimate sibling goals. Here are some of those times:
1. The Time They Performed The Dance Routine
What says 'siblings' more than a dance routine you both know and enjoy so much? Ross and Monica ( Courteney Cox) grew excited when Joey ( Matt LeBlanc) was invited to be part of Dick Clark's New Year's Rockin' Eve. The pair had grown up watching the party and was excited to finally be part of it. While Joey had his eyes set on Janine (Elle Macpherson), Monica and Ross were busy trying to make it to the television shots. For some reason, the cameras kept missing out on them. The pair decided to make a couple of quirky moves that would get the attention of the selection guy to no avail. Getting to the platform so they would be on television was proving to be hard. " I know what would get us on the platform," Ross said. He suggested 'The Routine' which they had not performed since middle school. The routine had gotten them an honorary mention in the brother-sister dance category. True to Ross's instincts, the selection guy finally got on board, but he only wanted their shots for the bloopers show.
2. The Time Ross Was Having A Boy
Even though Ross's ( David Schwimmer) ex-wife Carol (Anita Barone) had since moved on, the two still had a baby on the way. As a first-time dad, Ross was in complete panic mode. This became evident on the day Carol was to deliver, but prior to that, Ross hadn't even known the gender of his child. Ross was in conversation with Monica and Phoebe when Rachel let it slip that Ross was having a boy. " I know, and I'm sure your little boy is not gonna grow up to be one." Rachel ( Jennifer Aniston) said. As if he'd not heard her the first time, Ross asked, 'What! I'm having a boy?' just to confirm. Rachel was feeling guilty and tried to play it cool. " In fact, you are not having a boy." She said, all while wishing she could take the moment back. Knowing they couldn't hide it anymore, the mood in the room quickly changed to joy. Rachel, Monica, and Phoebe jumped up in excitement. Monica, clearly the most enthusiastic one, leaped from the couch and proceeded to share the most adorable hug with Ross. Her brother lifted her in the air while shouting, "I'm having a boy!"
3. The Time He Kept Monica's Big Secret
At one point, Monica's parents were worried about her love life. So much, that her mom thought it would be good for the son of their good old friend, Richard, to link up with Monica. Unknown to them, Richard's 'twinkie in the city' was in fact their own daughter. Given that at a later time, Monica and Ross would out a lot of secrets, it was surprising that, during a visit to their parents, Ross kept his mouth shut. Monica got to learn about Richard's 'twinkie in the city' from her parents when she was hiding in the bathroom. Turns out Richard's (Tom Selleck) new love interest had him glowing, and he was falling in love. Hearing the good news inspired Monica to come out with the truth. Judy ( Christina Pickles) was the first to learn that Monica was seeing someone. When she asked Ross, he tried to avoid answering the question directly. " Mom, there are so many people in my life. Some of them are seeing people and some of them aren't," Ross said. As soon as Monica started making the reveal, Ross tried to stop her. Eventually, she embraced Richard, and when Judy called Jack (Elliot Gould) into the room, Ross was quick to grab the bat his father was carrying. Things got heated and Ross broke the tension by bringing the guests in, who sang happy birthday to Jack.
4. The Time Ross Gave Chandler The Big Brother Talk
Even though Ross and Chandler (Matthew Perry) had been friends for a long time and had seen each other through a lot of phases, his loyalty was always to family. He showed this in the biggest way when Chandler was set to marry his sister. " What I'm gonna say to you, am not saying it as your friend. I'm saying it as Monica's older brother." Ross insisted. He even went further to say that he was not talking as Chandler's best man either. " You guys are getting married tomorrow, and I couldn't be more thrilled for both of you. But as Monica's older brother, I have to tell you this…" Ross took a deep breath and put on a stern 'big brother' face. " If you ever hurt my little sister, if you ever cause her any unhappiness of any kind, I will hunt you down, and kick your ass," Ross warned while looking directly into Chandler's eyes. Chandler, known to be the funny one, was incredibly amused. Not even Monica herself believed Ross's threat, but at least he tried.
5. The Time Ross Dated A Hoader
In a twisted turn of events, Monica's obsession with cleaning met Ross's love life. Never before had the two coincided as they did when Ross dated Cheryl ( Rebecca Romijn). On the outside, Chery was an eye candy who would drive any man crazy. Her apartment, on the other hand, would drive the same man out as quick as he came in. Upon entry into the stuffy place, Ross could barely get a place to sit. He tried to talk her into going back to his apartment instead, but Cheryl was having none of it. She said Ross's place had a weird smell, forgetting that she was the pot, calling the kettle black. Ross couldn't stand the garbage and complained to Joey when he left. He liked Chery so much, that he made an effort to come back. The second time wasn't a charm either. An attempt at making out ended with Ross killing a rat. When he finally broke up with Cheryl, Monica was at her doorstep, ready to clean. Chery slammed the door in her face, but it was worth the try.
Tell us what's wrong with this post? How could we improve it? :)
Let us improve this post!