Miami is home of many dreams, ideals, and different cultures. But for The Real Housewives of Miami, it is also the home for second chances.
After its lackluster and contrived first season, the Real Housewives of Miami returns to Bravo tomorrow with a revamped second season, featuring new Housewives, a new look, and an apology for last year's hot mess of an inaugural season. Most people (including myself) felt that the show would undoubtedly be canceled like its D.C. counterpart was due to its lack of watercooler factor, but Andy Cohen must have seen something worth salvaging with this batch of women by giving them a renewal and shutting up the naysayers in the process.
However, it is commonly said that first appearances are everything, and it is highly understandable if a lot of viewers still have enough of a bitter taste in their mouth from RHOM's first outing to even tune in to the new season. So why should anyone return back to the Magic City with the Real Housewives of Miami? Two words: major improvements.
Just like The Real Housewives of Vancouver and the current season of The Real Housewives of New York City, the opening credits for RHOM have taken on the glossed over fashion show look, which is a vast improvement over its stale and rushed into from last season. Could this be a cursor to an advance in quality? Yes… and no.
The premiere focused mainly on introducing the latest women to join the Real Housewives Sisterhood (Joanna Krupa, Dr. Karent Sierra, Lisa Hochstein, and Chef/Lawyer/Writer Ana Quincoces) and their respective family members, while the reamining cast members (Lea Black, Marysol Patton, and Adriana de Moura Sidi) were given equal time for viewers to be reminded of their relevance. The episode also featured the return of everyone's favorite Housewife mother, Elsa Patton, who clearly steals every scene she's in. While some people feel that too much Elsa is bad for the soul, she was the only saving grace from last year, so why not milk that money-maker again for this year?
Within the hour and 30 minutes of the premiere, we find out that one of the new Housewives might have been unknowingly involved with another housewife's beau, but through text messages only; a resident Miami Housewife has separated from her husband; and another Housewife has to deal with her sister and boyfriend not getting along with each other. If any of those issues seem like a retread of the Real Housewives of Orange County, the Real Housewives of Atlanta, and all the Real Housewives shows, then you are not alone. But at least there is 'natural conflict' driving the women this year, instead of that horrid battle between Cristy Rice and Lea Black over tickets to Lea's Annual Gala. Again, improvement.
There is also some old money vs. new money vibe going on between the women,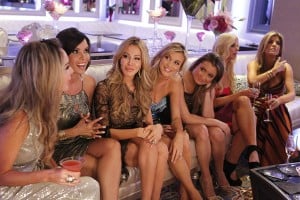 which sounds ridiculous since most of these women are either first generation millionaires or their husbands/fiancées are the ones with the old money. Speaking of money, there is one positive note about this Real Housewives cast and that has to be they these women have their own and don't rely on their husband's money to keep up with the Joneses. Well… except one Housewife, who calls herself both a "Professional Housewife" and her husband's "business card" because of all the work her plastic surgeon husband has done on her. Seriously, instead of telling him to bring home some groceries from the store, she asks for Botox injections with no shame in her game whatsoever. In other words, she might be my favorite one of the bunch.
So should you give the Real Housewives of Miami a second chance? If you are a Real Housewives savant then I say yes. If you are not, my answer remains, because at least you won't have the odious taste of RHOM's previous season in your mouth and memory. The show is a clean slate through and through with no mention of last year's events (except one returning Housewife's marital status) or the horrid duo of Cristy Rice and Larsa Pippen, who were kicked to the curb due to moving out of the city and being completely and utterly foul.
If the first episode is any indication then The Real Housewives of Miami is headed towards a "comeback kid" status, but while the show has "improved" in some areas, they have a long way to go before we can truly forgive them for the rushed job of its premiere season.
With that said, I'm actually optimistic about its chances. Will you be?
The Real Housewives of Miami season two premiere airs tomorrow night @9/8c on Bravo, or you can watch it now on Bravo On Demand.
Photo Credit: Charles Trainor/Mark DeLong/Bravo
Tell us what's wrong with this post? How could we improve it? :)
Let us improve this post!