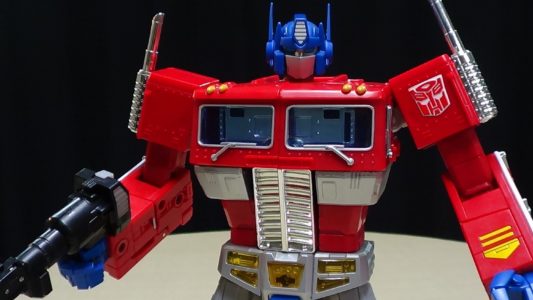 Who would have ever thought that Optimus Prime would become such a Hollywood jerk? It's kind of easy to see Megatron being this way given that the Decepticons are expected to be evil and conceited and the kind of beings that would likely hurt a person's feelings for no good reason, but Optimus? Well, he is a big name in Hollywood and while show business doesn't change everyone it obviously changed the leader of the Autobots in a very negative way. Just imagine if there were outtakes for the Transformers movies, in the same manner, they did for A Bug's Life and other animated movies, that would likely be hilarious since it might happen that some of the Autobots could possibly feel that Optimus isn't really the most effective leader at times for a number of reasons. One is that he talks too much, such as in the middle of battle, before the battle, and after the battle. The guy just has to make a speech about everything for some reason, as though it's a requirement that has to be met when people need a morale boost. During battle? When lasers and bullets and everything else are zipping around your head and the enemy is getting ready to take you out in one decisive move? Optimus is a great leader when it comes to inspiration and being able to fight alongside his troops, but his timing really needs some help.
Thinking of what he might be like outside of the movies though is kind of funny when it's taken in this context since it's easy to think that Optimus might be kind of a diva that isn't seen as the nice guy, while Megatron is really the irritating bad guy that doesn't care much about anything if it doesn't have to do with him. On top of that, does anyone remember the Go-Bots? They actually did predate the Transformers by a slim margin but were never as popular. For one reason or another the Go-Bots never really caught on, but they hung on for a few years before finally being canceled, while the Transformers have been around in one form or another for quite a while now. As far as pop culture and many of the fans are concerned, the Go-Bots were a second-rate idea that somehow came first, a precursor of sorts to the Transformers that didn't have enough edge to them and therefore didn't stand much of a chance next to the next robots in line to take over. That's kind of rough really, thinking that a person had the idea first and had to give it up when another franchise blew them out of the water so easily. The Transformers even took several ideas that the Go-Bots managed to come up with first and ran with them, but thankfully in a much different way that made them a lot more popular and couldn't be called outright plagiarism.
When thinking of Optimus Prime being kind of a jerk though it might be hard for some fans since he's almost always been seen as the Autobot leader that's brave, truthful, and so righteous that it kind of makes a person roll their eyes since it takes a lot for Optimus to fight dirty, or something close to it. Remember in Dark of the Moon when he was nearly beaten by Sentinel Prime and had to be saved by Megatron, he was pretty cold-blooded when he ended Sentinel's life. Obviously there wasn't much choice since Sentinel had proven he couldn't be trusted, but the idea of ending it in that manner was enough to make it clear that Optimus could only be pushed so far. Plus, he's not exactly a saint when it comes to battle since he's ripped off the heads and appendages of other Transformers, always with some justification since it was in the heat of battle, but rarely with what one might think of as compassion. So making Optimus into a jerk that's all about himself and his career isn't too big of a stretch but it is kind of amusing since it takes the high and mighty Autobot leader and brings him down to a level where people aren't used to seeing him. In this way it kind of puts a new perspective on Optimus since most of the time he's so valiant and forthright that it's kind of hard to believe he puts up with half of the stuff that his Autobots get up to.
But Optimus does have other failings, such as pride, and not knowing when the battle is lost. It nearly took the extinction of the Autobots to make him realize that it was time to cut and run and live to fight another day. So when stating that Optimus has faults, there's no doubt that he has a few.