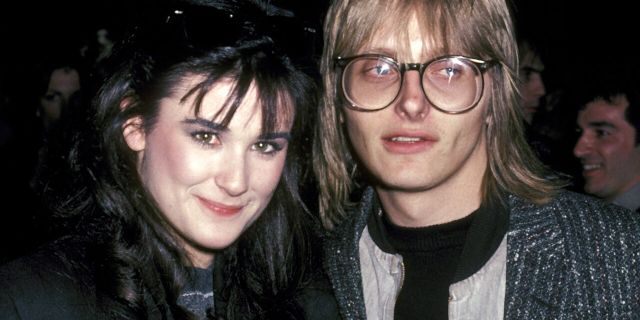 Many of you know Demi Moore, but are you aware that the surname she uses is not her father's? Demi has kept the name of her first husband, Freddy Moore, whom she married at 17. Freddy is a renowned musician who played in several bands, including Boy, The Nu Kats, The Kat Club, and the Flaming Pachucos. Most people had forgotten about him, but now that Demi's memoir has hit the shelves, they are curious to know who the man mentioned in the book is. Here is everything you need to know about Freddy.
1. His bride-to-be cheated on him before their wedding day
Nothing hurts as much as knowing that the person you love has been dishing out their love to someone else. Infidelity has been grounds for divorce in many marriages and had Freddy Moore known about Demi's unfaithfulness, he would not have married her for sure. The actress had been cheating on her boyfriend, Freddy, with Paul, and she could not help but do it even on her bachelorette night. According to Paul Carafotes, Demi climbed through Paul's kitchen window to sleep with him, and the next day, she wed Freddy Moore.
2. He is vengeful
Revenge is a dish best served cold, and Freddy knows how to serve his vengeance. When Demi confessed about her infidelity to Freddy, she should have expected him to get mad and perhaps divorce her. It is not clear at what point Demi confessed, but the couple remained married for five years. However, Demi claims that as soon as Freddy knew she had cheated on him, Freddy moved on with Renee, a 14-year-old to whom he had given guitar lessons. Demi noticed that Freddy and Renee sparked a connection, so she knew that as soon as she was out of the picture, Freddy would marry her.
3. He has married three times
Demi was right to suspect that Freddy would stick with Renee because he married her in 2005. Before that, Freddy came to know that what goes around comes around. In 1971, he married Lucy Moore, and the couple remained strong until their divorce in 1980. However, he also cheated on his wife with Demi. When Demi first crossed paths with Freddy, she was 16 and jumped into life with Freddy without caring much about Lucy. They began dating, and as soon as Freddy divorced Lucy, he married Demi; they later divorced in 1985. It took Freddy another 20 years before finally tying the knot with Renee.
4. He has been suffering from Alzheimer's since he turned 60
Renee fondly recalls how she and Freddy, whom she refers to as the love of her life, would stay for hours talking until early miring. It was such a beautiful experience when Freddy was still in the best shape, mentally, especially. Unfortunately, after 35 years of marriage, Freddy was diagnosed with Alzheimer's at 60. It was shocking news considering that Renee's father had a child at 60; hence, she felt the age to be "young." Renee has, therefore, been raising awareness about the disease and encouraged people through her blog to talk about how Alzheimer's affected their families.
5. He is determined to read his ex-wife's memoir
There have been dirty details revealed in memoirs, and maybe celebrities hope that it will help sell their books. For instance, Mario Lopez, in his "Just Between Us," revealed how he lost his virginity at only 12 years of age. Sex always sells, and even Clive Davis disclosed in "The Soundtrack of My Life" that Janis Joplin had offered to perform a sexual activity to make their relationship meaningful. Demi must have learned from the best because she detailed out her infidelity. For Freddy, it must be hard for other people to know about the ugly details of his marriage. So Freddy said that he would read the book as fast as he can.
6. Why he divorced Demi
You would think that Demi cheating on her bachelorette night was all it took for Freddy to call it quits, but you would be mistaken. Freddy dealt with more than her infidelity, yet she had convinced him to divorce Lucy. According to Pressreader, he could never quench Demi's thirst to be loved or liked. She, therefore, flirted and drunk uncontrollably. Unfortunately, Demi is not the quiet type once drunk; she would become angry and depressed, barely saying a word to her husband. Still, her young age was to blame because at the time, she was only 17 and was yet to live her life; hence took every chance to go out and come home at 4 am.
7. He pantomimed being a cat
Some people take their work too seriously, and Freddy is among them. When he started performing, he took on the stage name "Skogie," a name that his band later adopted. However, he then changed the band name to The Kats and changed the moniker to a cat called Freddy, according to Celebrity Net Worth. Freddy began pantomiming as a cat in line with the on-stage persona of Freddy, the cat.
8. His film involvement
Freddy was multi-talented, and besides his music career, he also was involved in filmmaking. In 1982, he started alongside his then-wife, Demi Moore in the movie "Parasite." It was Demi's first significant film role, and Freddy was cast as Arn. The sci-fi horror movie got lots of negative views from critics who opined that it had poor special effects. In 2010, Freddy went on to showcase his talent as an animal trainer in "Los Encinos" the movie explored forgiveness and tragedy by paralleling the lives of a Mexican immigrant and a struggling ranch family in South Texas.
9. He thinks Demi Moore's memoir is crazy
Freddy had remained hidden from the prying eyes of the media, but he recently resurfaced, and the eager paparazzi had some quick questions. Freddy was seen in Los Angeles for the first time after Demi's memoir was released. In a short clip, Freddy Moore thinks the stories in Demi's book are crazy.
10. He used school to avoid serving in the Vietnam War
By 1968, Freddy had graduated high school and was of age to serve in the military. However, he did not want to be in the War, so he enrolled for a course in Music Theory and composition at the University of Minnesota. It was only broadening his knowledge in music since he already used to write his songs before then.
Tell us what's wrong with this post? How could we improve it? :)
Let us improve this post!