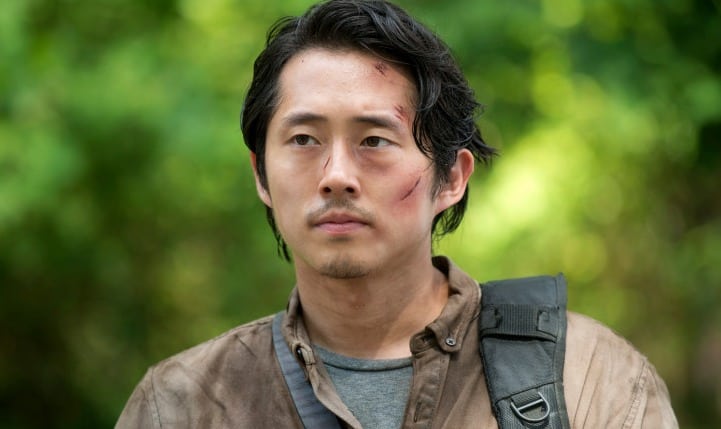 It's been a few years since The Walking Dead fans have had to deal with one of the most painful, and as Joanna Robinson of Vanity Fair reminds us gruesome deaths on TWD, and some folks have been wondering just what the future held for Steven Yeun after his time on one of the most popular shows of the past decade. It's been kind of obvious that he was moving on from TWD since there were a couple of close calls in there that had people wondering if Glenn had somehow been written out before his time or in a way that would make it slightly less painful than the comics, but as most of us saw back in 2016 the highly emotional impact that the show delivered with Glenn's demise was right on target and yet somehow less than well-received as many people, even those that knew it was coming, could believe.
Since then however he's been prominent on the TV scene and has remained present in movies as well. Steven has managed to show that hes' got the necessary acting skill to branch out from the character of Glenn since quite honestly he's been working since before TWD and was determined to go on after. It's a bit difficult for some people to see him up and walking around since Glenn's death did take a pretty hefty toll, but it almost seems as though some people might call it a blessing now that the show has been seen to be losing fans with each passing season, sometimes with each passing episode. The whole idea that he was the glue that held the show together isn't all that accurate but he was definitely one of the most loved characters. Since that time however he's kept fairly busy and had a few voice roles in animated shows as well as a lot of live-action roles, one that's landed him an award. Yes, as you can imagine he's won a couple of awards for TWD as well since his time there was well spent and earned him a great deal of respect and renown.
As far as being a major player in the movie industry it does seem as though he has what it takes, though barring any sudden reversal of fortune he might never really go beyond the whole aspect of Glenn at his best and worst when it comes to the movies. Something about Steven just seems a bit too innocent at times even when he's doing his best to play a part, while that might be the case, it's also a part of what's kept him so popular at this point. Andy Crump from The Hollywood Reporter has commented on how his part in Mayhem has really pushed the bar for him as a character and it's completely true that he's taken on a new persona, but as great as it is, and it is without a doubt, it seems that he needs just that final push in the right direction to be seen as someone that's completely utterly reliable for more than one reason. At this point he's the kind of guy that you could seemingly go to and be at ease since it's obvious that he can take on a role and make it work. So all in all, thinking that he's anything but a major star is kind of silly.
In a way it seems as though Steven could really break through in any genre that he needs to since despite his appearance and his reputation from TWD his skill is versatile enough to allow him to find a place in just about any production that could make use of him. That kind of ability isn't all that rare as some might think, but it is extremely valuable since it means that these types of people are the kind of puzzle piece that conforms to fit the role they're hired for and can become what is needed rather than fighting back now and again in an attempt to allow their own creativity to take center stage. So far it would seem that Steven is able to bring his own creative streak to whatever project he's on and make it mesh with whatever vision he's being given to work with. That's what makes a successful and timeless actor, someone that can step up and be the kind of person that's needed for just about any production, and one that can ride the wave and do what's needed to make the overall production work instead of stroking their own ego. In this regard Steven has definitely been seen to be quite skilled.
At this point he's been moving forward without much of a look back and has a role on a show coming out in 2020, so it's safe to say that his star is still on the rise.