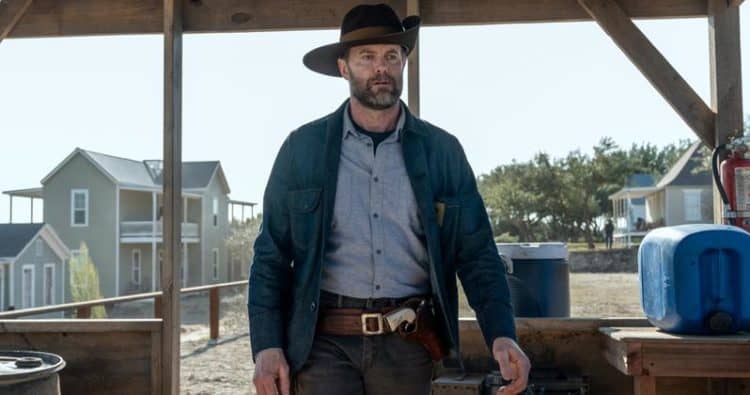 If there's any further proof needed that Hollywood tends to keep those that work together in the same orbit from time to time, the connection between Fear the Walking Dead and Deadwood would be another since Garret Dillahunt and Keith Carradine have been seen together in Deadwood a while back. Any fan of both shows would remember that Carradine, who portrayed Wild Bill Hickok, was gunned down by Jack McCall, who was of course played by Dillahunt. It's kind of interesting to see how Dillahunt, who played John Dorie Jr., was followed up by Carradine, who came in playing the role of John Dorie Sr. Some might look at this and say 'who cares?', while others are bound to appreciate the connection since FTWD has definitely been leaning heavily into the western genre for a while. The sad fate of J.D. Jr. was bound to touch a few people in a big way, but seeing Sr. step into the story was probably an interesting twist that a lot of people didn't see coming and possibly enjoyed. Some fans might not care that much as they could be broken up about J.D. Jr., but it's still fun to see this happen every now and then since actors that have had a decent sense of chemistry with one another in the past might work just as well in another program. Of course, the idea is that Dillahunt and Carradine wouldn't be working together again given what happened to Jr., but it's still a connection that a lot of people would be bound to notice. Any connection between various shows, especially if they're given Easter eggs as a way to connect a little further, is usually appreciated by the fans.
Some folks either don't see it or don't care to see it since they want to continue forward with the overall story and not worry too much about anything that might be a part of their peripheral vision. Hey, everyone has their own way of watching their favorite shows, and trying to connect them in any way might not be what they want to worry over. But it's still a fun and interesting connection when stars that worked together on other shows are seen in the same project, even if it's not at the same time. Fear the Walking Dead has done this before after all, and the more astute among the fanbase might have noticed when Kim Dickens, Madison, and Dayton Callie, Jeremiah, were on the show together for a while. The two actors also participated in another show if people remember, Sons of Anarchy. In a way, recycling actors from one show to another, from one movie to another, is kind of interesting since it's not always expected and yet there are times when it works in such a great way that a person can't help but think that something like this is planned out far in advance. While that doesn't sound entirely feasible it's also an interesting thought. But one thing about this is that the familiarity that some actors have with each other and thereby the connection they share could be why it happens in the first place. If someone works well with another individual or feels the need to reach out and mention that there's a part up for grabs then it's not hard to think that actors do mention such things frequently to each other. It's kind of a hastily laid out theory, at the very least it speaks of a stronger connection between the Hollywood elite that people don't always highlight.
Or maybe I'm just talking out of turn since a lot of roles still need to be auditioned for in order to get the best actor for each role. However it happens, it's kind of fun to see various actors that have starred in other shows and movies together show up in the same project once again, whether they're acting side by side or in very different capacities. The use of various actors to fill different roles alongside those they've worked with before is usually a nice treat for the fans since at that point they've already seen the actors together and know that there is enough of bond that the actors can and will turn in a great performance. Even when they're working together, the connection is hard to miss and fans get a kick out of it since giving people a familiar face to look at is often a good idea simply because they can invest in the character the individual is playing a little quicker. And if anyone's been paying attention all these years, getting people to invest in character is a difficult thing indeed. The quicker it can happen, the more a person is bound to enjoy the character, and hopefully, by extension, the show they're starring in.