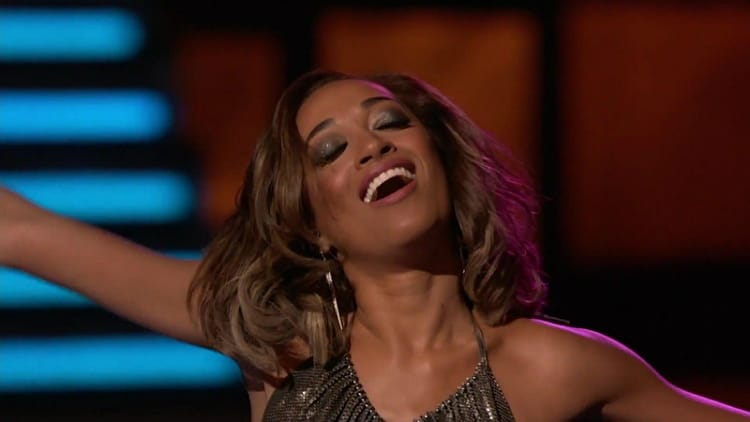 Season 3 of The Voice boasts one of the more successful members of the show's alumni – season winner Cassadee Pope. However, another favorite that season was Amanda Brown. Remember her? If not, here's a little refresher.
Who Is Amanda Brown?
Amanda Brown came to The Voice season 3 with a successful career as a background singer for the likes of Adele and Alicia Keys. Her own style of singing was a mix of soul, pop, and rock. Yes, that is a thing. Some may have found this confusing… You would think that her blind audition choice – "Valerie" by Amy Winehouse – would have given all the judges a clue.
Winehouse was a vocal artist with a multi-genre style as well. It's probably why only Cee Lo Green turned for her. However, he paired with hardcore r&b singer Trevin Hunte on the Mariah Carey classic "Vision of Love." That set her up to be stolen by rocker Adam Levine. (Coaches Christina Aguilera and Blake Shelton also tried to steal her.)
The Moment Amanda Brown Stole America's Hearts
The rest was history! Brown made it clear that her heart belonged to rock when she chose "Paris (Ooh La La)" by Grace Potter and the Nocturnals. Then, for her first performance of the live shows, she blew everyone away with "Dream On" by Aerosmith.
This quote is from Rolling Stone:
That quiet thud you heard across the nation as she strutted across the stage in her leather pants and bitch heels was 12 million jaws hitting the floor as Brown hit the high-note screams of Aerosmith's "Dream On." There's another handful of shows until the finals but they could just call it now and spare the rest of the contestants their awkward interactions with Christina Milian in the Sprint Lounge.
Frankly, this is still one of the best performances in the history of The Voice! Unfortunately, it peaked at number 13 on the iTunes charts – outside of the top 10 & 10x bonus range.
The Amanda Brown Elimination from The Voice Season 3
Ultimately, Amanda Brown made it to the top six before what tends to happen to the best singers occurred. She was eliminated after Melanie Martinez – making Brown the 5th place winner. This was only season 3, so the sense of a pattern hadn't hit yet…
Rolling Stone: "It seemed impossible that America would send Amanda Brown packing, but that's just what happened (…)Brown's elimination seemed to catch many viewers by surprise, as shocked reactions had her still trending on Twitter a full 15 minutes after the fact."
Or, to put it more bluntly.
TVLine: "(…)somebody got straight-up robbed by America."
Brown was more gracious and philosophical about it.
The Journey of Amanda Brown Since The Voice Season 3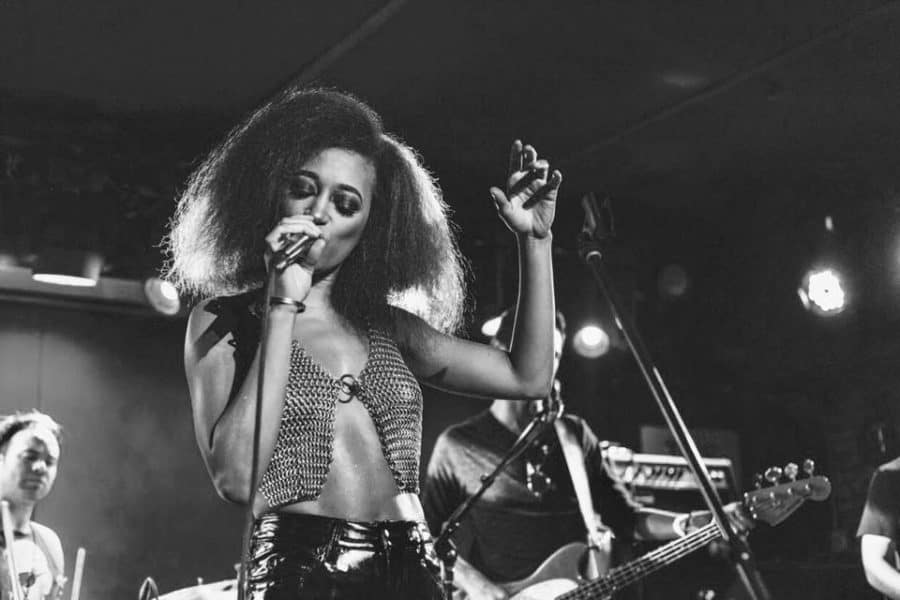 Honestly, if personal talent and work ethic were the only factors in these things Amanda Brown would already be a star. Unfortunately, that's not how the music business works. (Haven't you noticed?) You need the right publicity, connections, luck, and timing. The Voice helps contestants with the first two. The second two aren't controllable.
One of the first things that happened after Amanda Brown was eliminated was that she got invited to be one of the musical guests for the 17th annual Stevie Wonder benefit Christmas concert: House Full of Toys. 2013 had a number of cool musical things happen. She performed at the lifetime achievement gala for Ben Vereen and sang two duets with Michael Bolton on Fox and Friends.
Brown also recorded a couple of songs. One was a cover of a James Brown song for the soundtrack of the movie Identity Thief. The other was that she contributed a song for the EMW Music Group Shuffle – which was done to raise money for the VH1 Save The Music Foundation. Her contribution to the album is called "Fly Away." It's an amazing pop/soul track that I had no idea existed. This song getting no radio play is criminal!
(You can buy it for downloading here: Amanda Brown – "Fly Away")
Amanda Brown – Opening Act & Backup Singer Extraordinaire
What a night! So grateful to this lady for her generosity, frankness, and love. Congrats again @Adele! ❤#grammys #grammys2017 #bandfam pic.twitter.com/rLqdVVRK7X

— Amanda Brown (@Amanda__Brown) February 13, 2017
While working on her debut album and doing periodic performances of her own, Brown continued to have several cool gigs as both an opening act and as a backup singer.
June 2015
She was the opening act for the indie pop-folk band The Weepies.
November 2015
For the NBC Emmy-nominated special, "Adele Live in New York City" at Radio City Music Hall (it aired in December) she was one of Adele's background vocalists.
February 2016 – July 2017
Brown then was one of the main background singers on Adele's world tour.
January 2018 – September 2018
On the Killers current tour, she's been one of the background singers. In January and February, she also got to be their opening acts!
Amanda Brown Today – Her Debut Album and Tour!
On May 12, 2018, Amanda Brown had the official release party of her debut album Dirty Water at NYC's Mercury Lounge! The album itself was released on May 11.
With Dirty Water, she's taken what she's learned through years of studying the craft of song and created a collection that's bursting with both swagger and tenderness. It's a triumphant mix of Brown's risk-taking, pop-savvy, finely honed rock-alternative sound.

Keith McNeil, The Hype magazine – May 18, 2018
The tour for Dirty Water kicked off with that Mercury Lounge show. She's been performing across the country – eleven shows in all. Her final show is June 14 in Chicago.
However, the first single, "Believers" dropped in February. Here's the video release she put out in April!
Doesn't she sound amazing! It's wonderful to see this alumni from The Voice out there making great music on her own terms. You can learn even more about Amanda Brown by checking out her website: www.amandabrownmusic.com. It also has links to all the outlets where you can buy your copy of Dirty Water!
Tell us what's wrong with this post? How could we improve it? :)
Let us improve this post!