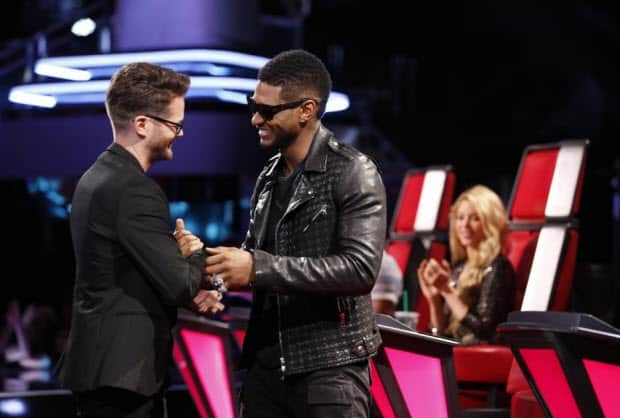 The journey on Season 6 of NBC's hit show The Voice has taken us from hundreds of hopefuls to eight final contestants. Per usual, the Tuesday night show saw two contestants go home after Monday night's live performances. The one-hour episode, filled with performances, had several announcements of who was safe. Here they are:
First, Team Usher takes the stage for a performance. This comes after host Carson Daly announces what we already knew – Gwen Stefani and Pharrell Williams will be hosting the show next season with Adam and Blake. I can dig it. After Team Usher's performance we have our first saves.
Christine Grimmie from Team Adam is SAFE!
Sisaundra Lewis from Team Blake is SAFE! (Duh)
Kristen Merlin from Team Shakira is SAFE!
Josh Kaufman from Team Usher is SAFE!
Look what we have here! One player from every team. That's a start. Next up, Shakira hits the stage to perform with her team. (Usher's performance was better). And the next saves….
Audra McLaughlin from Team Blake is SAFE!
Delvin Choice from Team Adam is SAFE!
Jake Worthington from Team Blake is SAFE!
How interesting! We predicted Jake to be on the bubble yesterday. Glad to here he survived!! And here we go – Kat Perkins, Bria Kelly and Tess Boyer must perform on the spot to safe themselves. After their performances the vote is in America's hands. I thought all three performances were decent. Tess Boyer's was "ehh". To be honest, I couldn't tell who would be saved. It was Kat Perkins!
The show continues next Monday at 8 PM for some more live performances. It's still anyone's competition to win (shaking my head – Sisaundra Lewis).
[Photo via Trae Patton/NBC]